Problem waste drop-off events
| | |
| --- | --- |
| | We currently can't accept paint and soft plastics at our Recycle It Saturday events. Please scroll down to the 'What you can't drop off' section to learn how to dispose of these responsibly. |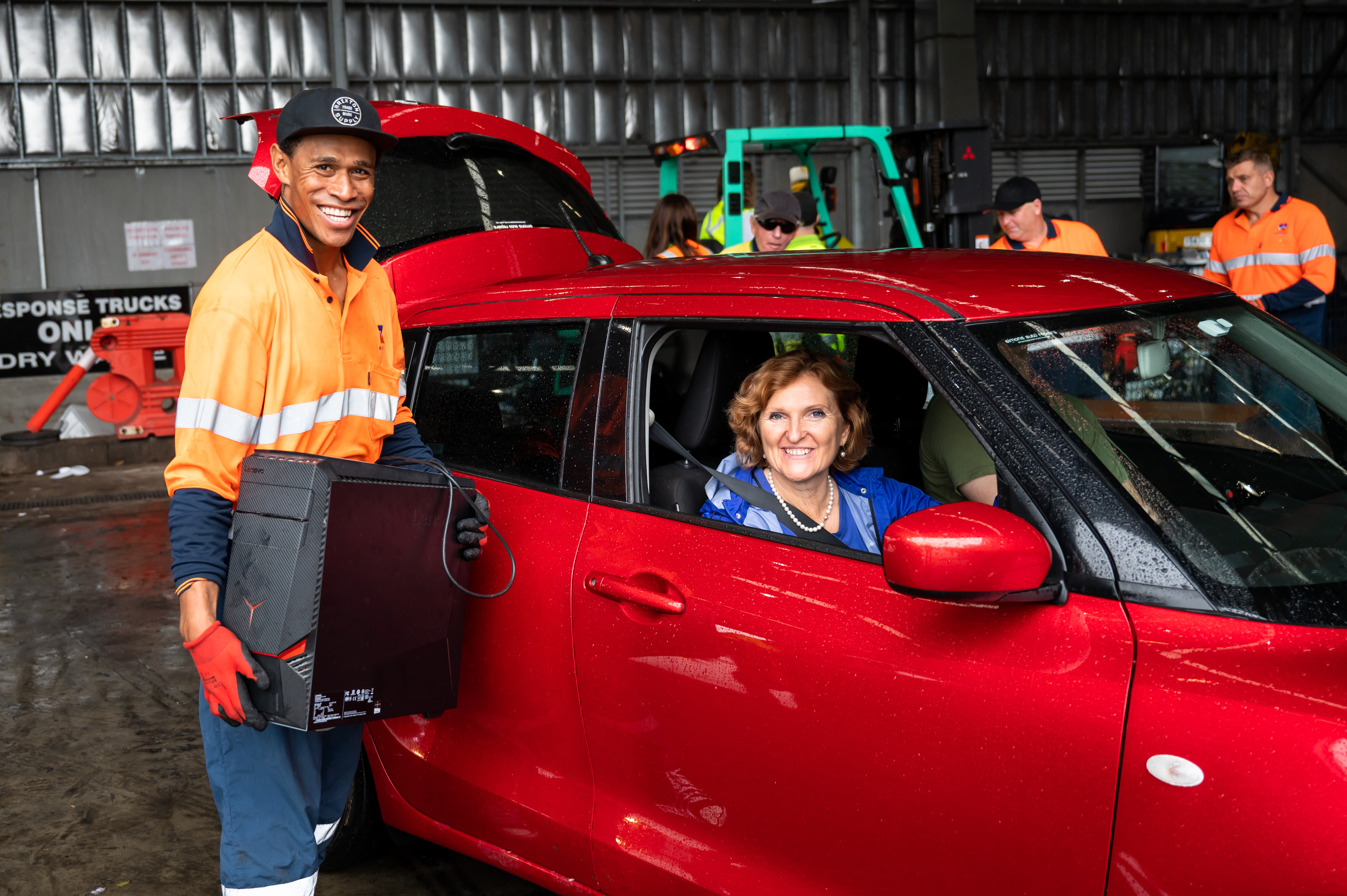 Photo credit: Cassandra Hannagan
Join us for Recycle it Saturday
Recycle a range of household items for free at problem waste drop-off events throughout the year. Problem wastes cannot be recycled through standard facilities and often require specific machines or processes to recycle them. Only certain materials are accepted at these events, so please have a look at the list of materials below.
The next Recycle it Saturday event is open to residents of Waverley Council, City of Sydney, and Woollahra Council and is scheduled for:
Other events to mark in your calendar are scheduled on the following dates:
Saturday 25 November 2023
Things to know
These events are contactless. To ensure the health and safety of our employees and communities, physical distancing measures will be in place. If you're unwell, please stay home.
Proof of address may be required. Please bring your ID with proof of address in case you're asked.
This is a drive-through event. Stay in your vehicle. Our team will show you where to drive and we will unpack your vehicle for you to ensure everyone is staying safe.
Separate your items. Before you arrive, group items into different bags or boxes - we suggest using cardboard boxes that you can leave with us for recycling. Pack these in your boot, backseat or trailer so we can safely remove them.
People walking or cycling are welcome and can access a separate drop-off area.
What you can drop off
Please see below for a list of items that will be accepted at the drop-off event. Please click on each item for additional information.
Aluminium coffee pods
Bring them inside a tightly sealed plastic bag to stop leaks.
Batteries
Batteries including car batteries. To reduce fire hazards, tape the battery terminals on both ends with regular, non-conductive tape, like duct tape, clear sticky tape or electrical tape. We can accept up to 3 car batteries per vehicle, pedestrian or cyclist.
Bulky cardboard
Flatten large, bulky or excess cardboard, unless you're using it to pack other items for recycling.
E-waste
We accept items that have a plug, a power cord or a battery. This includes:
Household appliances: vacuum cleaners, microwaves, toasters, mixers, blenders, kettles, heaters, coffee machines, irons, pedestal fans
Entertainment and home office equipment: televisions, laptops, computers, computer accessories such as keyboards, printers, photocopiers, fax machines, scanners, servers, projectors, stereos, gaming consoles, DVD players, DVDs, CDs, VHS tapes and video recorders
Phones: mobiles and landlines
Cords, chargers and headphones
Power tools: drills, circular saws, power boards, electric lawnmowers, electric trimmers, electric leaf blowers. No gas or petrol powered items
Vapes and e-cigarettes: make sure they're empty of any liquid
Batteries (no car batteries).
Don't forget to delete your data before dropping your device off. The recycling process doesn't include data wiping.
Packing tip: Bring old electronics in a cardboard box where possible
Globes
You can bring all types of household light globes (halogen, LED, incandescent) and fluorescent tubes. Please take care in handling the bulbs as we can't accept broken bulbs or tubes.
Household gas cylinders
Household gas cylinders are accepted, including nitrogen, SodaStream and LPG bottles.
Mobile phones
Mobile and landline phones are accepted. Before recycling your phone, please remember to delete your data. It's your responsibility to wipe the data from your devices. Before recycling, consider donating to The Reconnect Project.
Polystyrene
We accept clean polystyrene / styrofoam including polystyrene from furniture or delivery packaging, food containers, or food grade polystyrene, provided they're clean. Remove all tape and glue and bring smaller pieces in a box or bag.
We do not accept polystyrene peanuts, bean bag filling or foam wrap.
Small metal items
Items must be less than 10kg in weight and made mostly of metal. The following household items are accepted:
Metal kitchen items: pots and pans, baking trays, knives, cutlery, colanders, steel bowls. No whitegoods.
Metal handheld tools: hammers, screwdrivers, wrenches, nails, nuts and bolts, nail clippers
Metal dust bins and wire coat hangers. No plastic-coated hangers.
Reusable drinking bottles and bottle caps
Keys and metal locks
Jewellery made from metal only, including gold and silver. No jewellery containing pearls, gems or other non-metal items.
Textiles
We accept clothing, linen and toys in resalable condition. This includes handbags, shoes, and hats. All items must be clean and in good condition for second-hand sale. Only drop off items you would consider giving to a friend.
We do not accept carpets, rugs, pillows, fabric, underwear, socks, jewellery, broken or unclean toys.
Used printer cartridges
Including inkjet cartridges, laser cartridges, toner bottles, fuser and drum units, fax rolls, print heads, waste hoppers/containers collectors and kits.
Note that only brands participating in the Cartridges 4 Planet Ark program are accepted: Brother, Canon, Cartridge World, Epson, HP and Kyocera.
X-ray, CT and MRI scans
Take X-ray, MRI and CT scans/film out of envelopes. Envelopes and paper scans and envelopes can go in your blue lid recycling bin at home.
What you can't drop off
Paint - water and oil-based
We currently can't accept any paint at our Recycle It Saturday events. If you have paint to recycle, hold on to it for now or dispose of them at one of the EPA Households Chemical CleanOut events.This external link will open in a new window We hope to accept paint again at our drop-off events later in the year.
In the wake of the REDcycle collapse, the Recycle It Saturday soft plastics processor have reached capacity and can no longer take household soft plastics. At present, residents need to dispose of them in their red lid bin until further notice.
Business or construction waste
Learn more about Waverley Council Commercial waste and recycling service by visiting our page.This external link will open in a new window If you need further assistance recycling those tricky items, visit the Planet Ark's business recycling directory.This external link will open in a new window
Hazardous waste, chemicals, pesticides
These items can be recycled at a Household Chemical CleanOut event. To find drop-off locations and dates, visit the Household Chemical CleanOut website This external link will open in a new windowor call NSW environment line on 131 555.
Smoke alarms, fire extinguishers
These items can be recycled at a Household Chemical CleanOut event. To find drop-off locations and dates, visit the Household Chemical CleanOut websiteThis external link will open in a new window or call NSW environment line on 131 555.
Whitegoods, mattresses, furniture
These items can be collected as part of Waverley Clean Up Collection service. Visit our page to know more and book a clean up.
What is problem waste?
Problem waste is a term used to refer to items that cannot be easily recycled and do not break down well in landfill. If not disposed of responsibly, they can cause environmental and health problems such as leaching toxic or hazardous substances into our soil or contaminating surface and groundwater. These items require special processes to recover, recycle or make the safe for disposal.

Problem waste includes electronic waste (e-waste), like TVs and computers (basically anything with a battery or a plug). It also includes items like paints, chemicals, gas bottles, motor and cooking oil, and even tyres.
Need more information?
For any queries, please check back on this page for more details closer to the event date or email environment@waverley.nsw.gov.au to sign up to our e-news.