Book a clean-up collection
Call 9083 8000 to book a Clean Up Collection
Are you a Waverley resident who has unwanted bulky household items that you'd like to get rid of? We can collect some types of household goods for you. You are entitled to 2 free 'Your Call' clean-up collections plus 1 free scheduled collection each calendar year. Most of the items we collect will go to landfill, so consider at all other options for reuse, donation and recycling prior to putting items out for collection.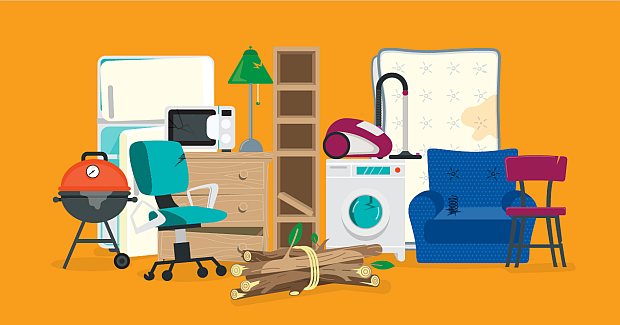 Annual scheduled clean-up collection
To find the scheduled collection date for your address, look up your waste calendar online. No booking is required.
You must present your waste for collection on the Sunday evening before the date of your scheduled clean-up collection.. Please note the collection for each zone can take up to five working days to complete.
Book a 'Your Call' clean-up collection
Carefully review our list of acceptable items
Call Customer Service at 9083 8000 to make your booking.
If booking spaces are available you may book a bulky household goods collection up to 1pm the day before your garbage collection day. If no bookings are available, or it is later than 1pm, your booking will be scheduled for the next available collection day. Residents are encouraged to book their collection as early as possible to secure a collection booking on their preferred day. Residents can book up to two Your Call clean-up collections per year.
Booking for numerous apartment units?
If you're a strata or property manager and would like to book a clean-up collection for numerous apartments on the same day, please contact our Customer Service Centre on 9083 8000 to discuss this option.
Acceptable items:
Furniture
Whitegoods
Mattresses (limit of two singles or one queen or larger per collection, and no other items may be presented during the same collection)
General household items
Bulky garden organics (cut into 1 m pieces)
Mirrors (max 100cm by 100cm; must be wrapped in a blanket/sheet)
Carpet (must be rolled and tied; two people must be able to lift it)
Paint cans (empty only)
Electronic waste (only if you cannot attend one of our problem waste drop off events)
Items we do not accept:
Due to Work Health and Safety reasons, there are some items that we are not able to collect in clean-up collections as they require special handling to be disposed of or recycled safely.
We can't collect
Instead, it's better to...

Household garbage & recyclable materials

Use your household recycling, garden waste or garbage bins

Hot water heaters and oil heaters
Take them to Sita at Rockdale, call 1300 651 116
Paints, solvents, chemicals or other hazardous materials
Contact Household Chemical Cleanout on 131 555 or find your nearest Community Recycling Centre.
Gas cylinders or fire extinguishers
Contact Household Chemical Cleanout on 131 555 or find your nearest Community Recycling Centre.
Car parts (e.g. engine & chassis parts), car batteries, tyres or oils
Contact Household Chemical Cleanout on 131 555 or find your nearest Community Recycling Centre.

Asbestos

Check with EPA NSW on asbestos disposal at certain landfills

Excavation material (e.g. sand, soil or rock)

Check state waste regulations

Heavy items that cannot be lifted by two people, such as exercise equipment
Find a private waste contractor to collect and dispose of this item.
Construction and demolition materials (e.g. tiles, cement, sawdust, bricks, fence palings & plumbing fixtures)
Check state waste regulations
Commercial or industrial waste (e.g. cooking oils)
Check for recycling contractors
Large rolls of carpet which cannot be readily handled by two people

Find a carpet recycling contractor or organisation

Large pieces of glass or mirror (greater than 100cm by 100cm)
Find a private waste contractor to collect and dispose of this item.
External and internal doors
Find a private waste contractor to collect and dispose of this item.
Bean bags filled with polystyrene balls


(creates a litter issue when this item is compacted in the truck)

Find a private waste contractor to collect and dispose of this item.
Household batteries
Bring to the Waverley Library or Customer Service Centre problem waste stations during operating hours

E-waste (electrical appliances)

Bring to the next problem waste drop off event. or visit the Waverley Library or Customer Service Centre to drop off small e-waste such as mobile phones, batteries and ink cartridges.
Smoke detectors, fluoro globes and tubes
Return to a Community Recycling Centre near you
How to present your items for collection
If you do not present your items correctly, and within the guidelines we provide, your collection may be rejected and you will be responsible for the cost of clean-up and disposal.
Ensure you only present large, bulky household items for collection. Small items should go in your general waste bin.
Place your clean-up material on the kerbside the night before your booked collection day in a tidy pile that doesn't block roadways or footpaths. If your items are put out too early, passers-by may add to the pile, and the entire pile may be considered illegal dumping and rejected by our cleansing crew.
Remove doors from fridges and other appliances.
Be sure to box or bag your items for easy removal.
Mirrors of any size must be wrapped to prevent the glass from shattering.
Make sure that your pile of items is no more than 2 cubic metres (one trailer load). See graphic below.
Ensure that bulky garden organics are bundled and cut into one-metre lengths.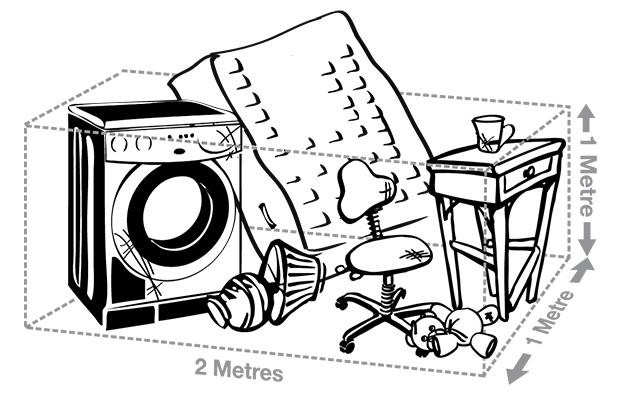 What happens to items collected in clean-up collection?
Waverley Council's clean-up collection service helps to reduce the cost and pollution associated with illegal dumping, and is not designed to recover resources. We are unfortunately unable to recycle, repair or reuse most items collected aside from mattresses, large metal items and certain whitegoods. Mattresses (made of cotton and metal springs) and whitegoods (made mostly form metal) and other metal items are separated out at the transfer station and recycled. All other items collected in clean-up service are sent to landfill at this time. Council continues to research ways to divert these items from landfill.
Before booking a clean-up, have you considered other ways to re-purpose your unwanted items? Whether it be hosting a garage sale, selling items online, repairing or donating, check our Avoiding Waste page for all sorts of ways to reduce the amount of materials going to landfill.
More information
For more information, or for any further questions, please contact Customer Service on 9083 8000.
Need more information?
To make a booking or ask a question about our Clean up Collection service email us or c

all Customer Service on 9083 8000