Dogs
Buying a puppy is exciting. They are cute and a bundle of energy. However, other than their obvious needs, there are a few legal requirements:
By 12 weeks, puppies must be microchipped and after six months, they must be registered on the NSW Pet Registry. For information on how to register your dog or cat, please see our Animal Registration page.
Dogs must wear a collar with its owner's contact details when out.

Under the NSW Companion Animals Act there are strict rules governing the control and behaviour of dogs, dog owners and commercial dog walkers in public places.
Remember, making your dog easily identifiable with up to date contact information on it's collar, increases the chances of it being returned to you if it is lost.
Microchipping & registration
The NSW Pet Registry is a database of microchipped and registered cats and dogs that live in NSW. This is the official database in NSW for registering your animal in accordance with the Companion Animals Act 1998. Microchipping your pet and keeping the details up to date is the most effective way to help ensure your pet can be returned to you if it becomes lost.
All cats and dogs must be microchipped by 12 weeks and registered by 6 months of age. The registration fee is a once-only payment, which covers the cat or dog for its lifetime. For information on how to register your dog or cat, please see our Animal Registration page.
In addition to being microchipped and registered, under the Companion Animals Act 1998 all dogs are required to wear a collar or tag that shows the name of the dog, and the address or telephone number of the dogs owner.
Walks – On leash, off-leash walking & prohibited areas
Dogs need regular exercise and taking your dog for a walk is the perfect way for you both to have fun and socialise, and it's great for mental and physical health.
When taking your dog for a walk, dog owners are responsible for acknowledging appropriate signage.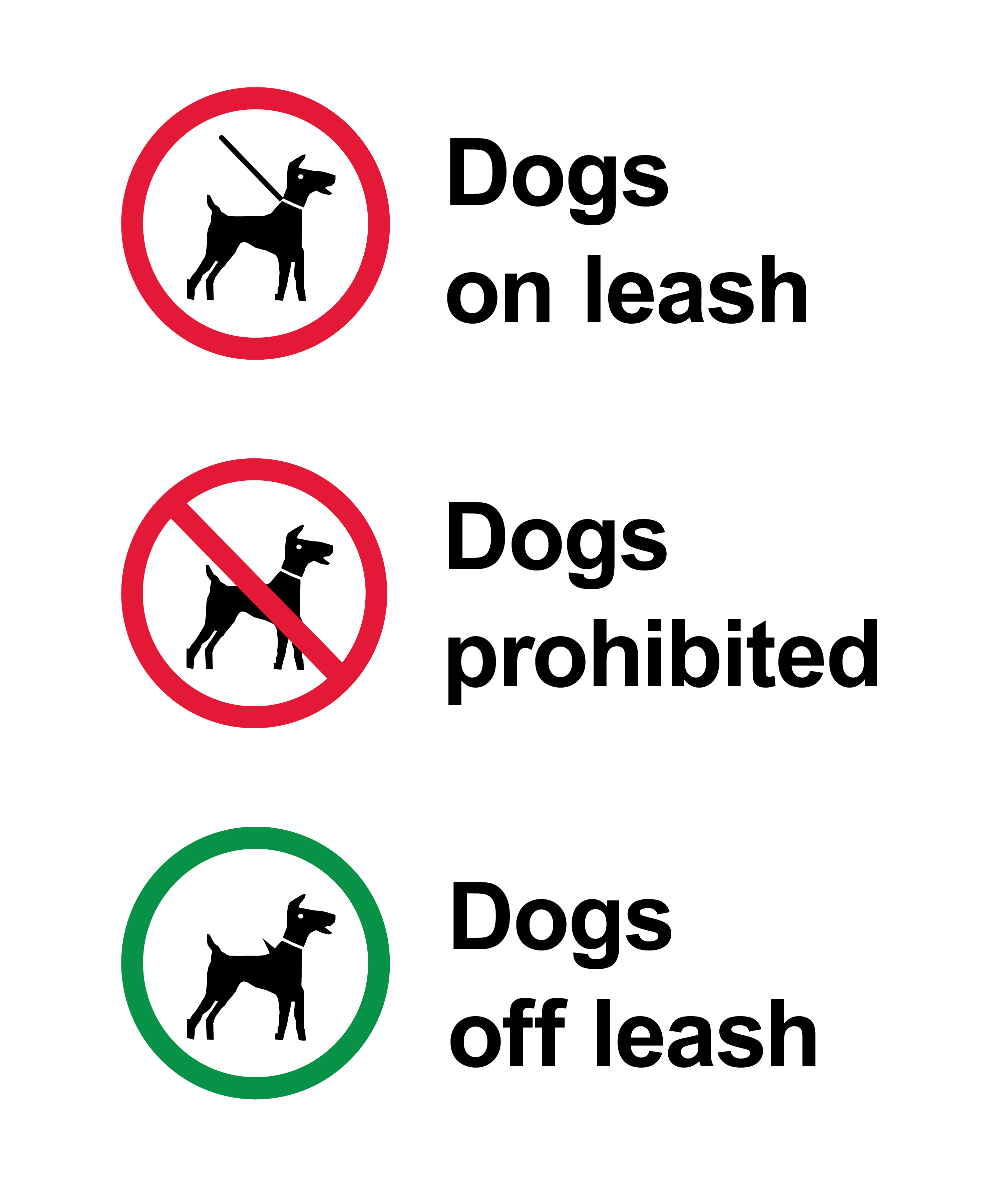 Importance of keeping dogs on leash
Under the Companion Animals Act 1998, dogs must be kept on a leash in all public places except in designated off-leash parks. This means when your dog is outside your home, it must be on a leash. The penalty for not having your dog on a leash may exceed $330.
Not all dogs are friendly, and not all people like dogs. Some people and dogs can be intimidated by even small dogs running up to them. Never let your dog jump up on people or run up to a dog that is on a leash.
Laws are in place for a reason, so that everyone can enjoy walking in a safe environment without risk of being approached by unleashed dogs. Please respect other owners and their need for space.
Off-leash areas in Waverley
We have many off-leash areas in or near Waverley. View our dog walking areas for a full list of parks and open spaces where dogs can exercise and socialise off-leash.
The following rules apply in our approved off-leash areas:
Dogs must be supervised and under effective control at all times
Dogs must not harass people or other animals. Any dog displaying aggression or anti-social behaviour must be removed from the dog off-leash area immediately
Dog owners are responsible for acknowledging appropriate signage, including time limits in off-leash areas
Dogs must not be permitted to dig holes
Dog waste is to be immediately picked up and disposed of in the bin/s provided
Dogs must be on a leash when entering and exiting off-leash areas
These rules are in place to ensure the safety and enjoyment of off-leash parks for everyone. Council Rangers regularly patrol these areas and may issue fines for breaches.
Additional guidelines:
Always be ready and equipped to put your dog back on a leash at any point
Establish good behaviours first; untrained dogs are best kept on a leash
Know your dogs temperament; if issues have happened in the past, then perhaps it's time to make the call and keep your dog on its leash. Off-leash dog walking is not for every dog. Instead, make use of other appropriate public areas for walking your dog.
For further information about your responsibility as a Dog Owner in public spaces, please download our Dogs in Public Places brochure.
Prohibited areas for dogs
The following are dog prohibited areas in keeping with the NSW Companion Animal Act (unless signposted otherwise):
Beaches and pools (including beach pools).
Sport and recreation areas, such as sports fields, memorial parks, ovals, pitches and courts (subject to Council determination and signage).
School grounds.
Childcare centres.
Within 10 metres of any children's play areas
Shopping complexes
Bushcare sites
Wildlife protection areas (subject to Council determination and signage).
Food preparation and consumption areas, such as public barbeque facilities, although there are some exemptions to this as detailed below-

dogs must be a minimum of 10 metres from any area where food is prepared or consumed unless the food is being consumed in an outdoor dining area. In this case, a dog is permitted to be in the area as long as it is leashed, on the ground, and is not fed by the owner. If the outdoor dining area is within an off-leash dog park, the dog is permitted to be unleashed, fed, and sit on the owner's lap as long as they do not make contact with any utensils or the table and chairs.
Please respect these restrictions they are in place for the safety and enjoyment of the whole community.
A person with a disability is entitled to be accompanied by an accredited assistance animal into or onto any building or place open to the public, including public transport.
Council Ranger Authority
The NSW Companion Animals Act 1998 sets out the regulatory provisions for the management of domestic dogs and cats. Council Rangers have delegated Authority to enforce the provisions of the Act. Rangers also perform a range of other important regulatory roles for Council.
NSW Police are also Authorised Officers for the purpose of enforcing the Companion Animals Act and can be contacted in emergencies (such as dog attacks).
Council Rangers have Authorised Powers for the purposes of exercising the Council's functions. This includes:
Request your full name and residential address
Ascertain identification information from a companion animal (i.e. scan your dog or cat's microchip)
Failure to comply with these requests may result in a penalty being issued.
Council Rangers also have authorised powers to:
Issue a Penalty Infringement Notice
Issue a Notice, Order or Declaration for Nuisance, Dangerous, Menacing or Restricted dogs
Seize dogs or cats in certain circumstances
Barking dogs
Barking, in addition to whining, howling and growling, is a dog's way to communicate. Occasional barking is a normal way to get your attention.
However, dogs shouldn't bark excessively and disturb neighbours. Constant barking can be a sign of boredom, loneliness or pent-up energy. Excessive barking can be serious and cause strained relations with surrounding neighbours, some solutions could include:
Make sure your dog gets at least an hour of daily playtime and exercise, early morning is often best. The amount of exercise a dog needs varies from breed to breed. Discuss your dog's exercise needs with your vet to ensure they are being met.
Determine the cause of the behaviour i.e. does it have enough shelter, toys? Is it bored, or is it near a busy pedestrian thoroughfare? Once you know, then try different tactics to help fix the problem.
Consult your local vet or a recognised animal behaviourist for advice. Some dogs have behavioural problems such as separation anxiety, which might need specific treatment and training.
Councils can issue a Nuisance Order for dogs that continue to bark. For more information and tips on dealing with barking dogs see the EPA's 'Dealing with barking dogs' fact sheet.
Lost dogs
Make sure you take all reasonable care to stop your dog from escaping. Council will impound dogs roaming free in public areas. All dogs must have a readable identity tag to assist with locating the owner.
Report your missing dog to Council.
Check local vets and pounds. Councils pound is Sydney Dogs and Cats home
Ask around the neighbourhood and check with your neighbours
Put a post on your local community Facebook page
Keeping your dog's microchip details up to date is the best way to ensure it is returned to you if it gets lost.
Notify Council within 14 days if any change occurs in your dog's details e.g. you change your address, you change your contact details or you sell or give the animal away. You can update the details online on the NSW Pet Registry directly or by completing the Change of Owner Details form or Change of Address Notice and submitting it to info@waverley.nsw.gov.au.
Remember, if you want a dog, there are plenty at the pound who would love a new family. For a small adoption fee, you can give a dog a new lease of life.
Looking after your dog
The Companion Animals Act 1998 was designed to benefit pets, their owners and the wider community. The Act covers all dogs and cats in NSW and provides guidelines for pet owners to follow, to ensure their pets are happy, healthy and not a problem to the community.
Being an owner of a companion animal is a big responsibility. As a dog owner, you have the responsibility to look after you pet's basic welfare needs.
Your dog will need;
an appropriate balanced diet
clean cool water at all times
adequate shelter for all weather conditions
veterinary care
socialisation
training and exercise
The RSPCA's Knowledge Database is a great resource for information on how to best care for your dog.