Illegal dumping
Report illegal dumping
You can report illegal dumping easily and anonymously using Rid Online, Snap Send Solve or by calling our Customer Service Centre on 9083 8000.
If you see household items, such as furniture or electrical appliances, tree and plant clippings or building and construction waste dumped by the side of the road or in the bush, reporting the incident can help us find the offender and hold them accountable. By submitting a report you are also helping Council to develop a database of illegal dumping incidents. This will enable hot spots to be identified and monitored, and strategies to be developed to help reduce dumping.
Fines and enforcement for illegal dumping
Illegal dumping can incur an on the spot fine of up to $4,000 for individuals and $8,000 for corporations in addition to liability under the POEO Act.
Council's Waste Enforcement Officer regularly patrols the local area, investigating illegally dumped material and issuing Clean-up Notices and/or fines to illegal dumpers.
Surveillance cameras are used in Waverley Council to deter and respond to incidences of illegal dumping.
Waverley Council is a member council of the Sydney RID Squad, which provides illegal dumping prevention and enforcement services for our residents. The Sydney RID Squad is a regionally-based team specialising in preventing and combating illegal dumping, co-funded by the NSW Environmental Protection Authority and member councils. The Sydney RID Squad is made up of highly experienced investigators who follow up on reports of illegal dumping to identify, and if appropriate, prosecute those responsible, while also educating our community about how to dispose of their unwanted items legally and sustainably. T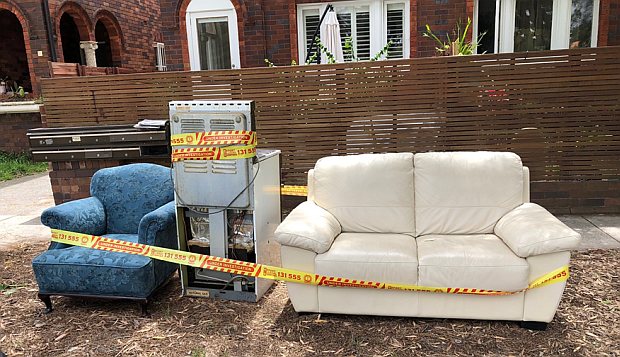 Why is illegal dumping a problem?
It is illegal to leave residential or commercial waste on public land such as streets, laneways, parks, footpaths, car parks or waterways.
Dumped rubbish harms the environment
It pollutes our waterways through the stormwater system and attracts vermin such as rats, mice and cockroaches.
It attracts additional dumping and other illegal behaviours
These areas become unattractive to the local community.
It can be a health and safety hazard
Dumped waste can be dangerous to people, particularly when it includes sharp objects, asbestos and glass.
It's costly to the Council and the community
A significant proportion of ratepayers' money is spent each year on cleaning up illegally dumped rubbish and taking action against offenders.
Waverley Council services and resources to help prevent illegal dumping
Council provides a range of convenient and offer free services to help all residents to dispose of their bulky household goods and problem wastes without resorting to illegal dumping.
Free clean-up collection services
Households are offered up to three free bulky goods clean-ups per year, including one scheduled and two 'your call' clean-up collections. The service is provided to help residents responsibly dispose of unusable or unrepairable bulky items. Learn more or book a clean-up.
Drop off events for hazardous items
Many hazardous materials, such as electronic appliances, chemicals, and batteries can be responsibly disposed of at drop off events or permanent collection facilities. To learn more visit our tricky waste item web page.
Support for waste avoidance and recovery initiatives
Waverley Council is proud to support a range of activities to help keep material circulating within the economy, in alignment with the NSW EPA's Waste and Sustainable Materials Strategy 2041 and Circular Economy Policy. Council supports various reuse initiatives such as the Garage Sale Trail, The Bower Reuse and Repair Centre, and hosts ongoing reuse and repair workshops on a variety of topics.
Subscribe to our Second Nature e-news to receive information about upcoming events.
Case study: 2018/19 illegal dumping grant program
Waverley Council received a grant from the NSW EPA in July 2018 to test a range of behaviour change strategies. The grant was a NSW EPA Waste Less, Recycle More initiative funded from the waste levy. Waverley Council focused on five key hot spot streets with a high incidence of reported dumping activity, and involved a range of interventions, such as additional out of hours patrols and investigations, site beautification, surveillance, and community engagement and education. The project reduced illegal dumping incidents by an average of 48% across the project area.
More information
Please contact Customer Service on 9083 8000 or visit the EPA website.
Need more information?
Phone our Customer Service at 9083 8000