Book a clean-up collection
Are you a Waverley household with unwanted items you would like to get rid of that don't fit in your normal bins? We will come and pick it up for you! You are entitled to 2 free 'Your Call' clean-up collections plus 1 free scheduled collection each calendar year.
To book your clean up, Call customer service at 9083 8000.
Before booking a clean-up, have you considered other ways to re-purpose your unwanted items? We've compiled a list below to help you discover ways to easily keep items that are still in good condition out of landfill.
Host a garage sale or clothing swap event:
Garage sales or clothing swaps are a great way to re-home items you are finished with and make a little extra pocket money. Win win! Advertise your own, or register for the annual Garage Sale Trail!
Sell online:
Advertise your items on your local 'Buy Swap Sell' group or on Facebook's "Marketplace". You can also post an advert on sites like GumTree or EBay. These are great avenues to give away or sell your items.
Repair:
Check out Repair Café's near you. Often times an item just needs a bit of tender loving care to be good as new. Save your item from landfill and save yourself some cash by repairing instead of buying. The Bower (link) often hosts repair cafes.
Donate:
Ask a friend or family member if they want the item.
St Vincent de Paul store accept donations, mostly of clothing, but also other household items. The one located at Spring St, Bondi Junction allows donations at the store during working hours. Find your closest Vinnies Shop by typing your suburb in here.
The Smith Family have donation bins and retail stores around town where you can donate your unwanted clothing items that are still in good condition.
The Bower offers a free collection for second hand items that are still in good condition such as furniture, appliances, household goods, salvaged building materials, bikes, books and more.. Learn how to donate here.
If you're unable to repurpose, repair or recycle your unwanted item, call customer service 9083 8000 to book in your clean up collection. Note that Council requires 8 days' notice to make a booking.
Things to know before it goes:
To ensure you have a successful kerbside clean-up experience, please follow these steps when making your booking:
1. Review our list below of acceptable items for the Clean-Up Service
2. Call Customer Service Centre at 9083 8000 to make your booking at least 8 days prior to your chosen collection day. Please note, your clean-up collection day corresponds with your garbage collection day.
3. Read your confirmation letter that is emailed or sent by mail.
4. Place your Clean-Up material on the kerbside the night before your booked collection day in a tidy pile. Please note that if your items are put out too early, it may lead to dumped rubbish and may result in a rejected Clean-Up Service.
5. Put small items into bags and boxes and remove doors from fridges and other appliances.
6. Make sure that your pile of items is no more than 2 cubic metres (one trailer load).
7. Ensure that bulky garden organics are bundled and cut in lengths no longer than one metre.
8. Place the Clean-Up collection sticker on a visible surface of your pile.
Items we will collect:
Furniture
Whitegoods
Mattresses (limit of 2 items per collection)
General household items
Bulky garden organics (cut into 1 m pieces)
How to display your material: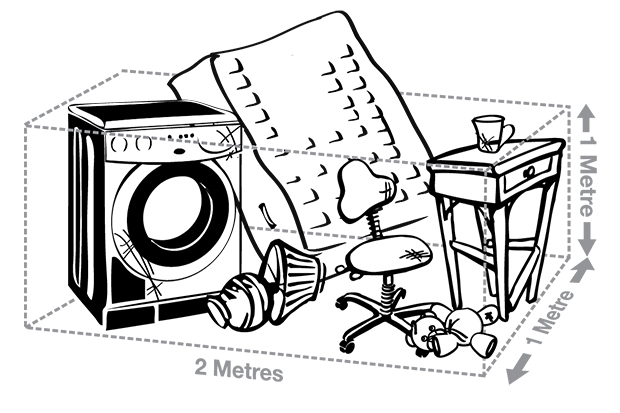 For more information on your collection, and to ensure your cleanup collection runs smoothly, please read your confirmation letter in detail.
Need additional collections?
If your household has used both free clean-up collection services for the calendar year, you can request an additional pick up for a fee of $63 per 2 cubic metres. This includes anything from a single item such as a fridge or mattress up to 2 cubic metres (one trailer load).
Credit card payments may be made over the phone when contacting our Customer Service Centre at 9083 8000.
Collection Restrictions:
Unfortunately due to Work Health and Safety reasons, there are some items that we are not able to collect as they require special process to be disposed of or recycled safely. We've compiled a list in the table below to assist you with identifying items that we are not able to take in your booked Council clean-up.
We can't collect
Instead, it's better to...

Household garbage & recyclable materials

Hot water heaters and oil heaters

Take them to Sita at Rockdale, call 1300 651 116
E-waste (electrical appliances)
Drop off at your next free local e-waste drop off event or visit the Waverley Library or Customer Service Centre to drop of mobile phones, batteries and ink cartridges.

Paints, solvents or chemicals
Car parts (e.g. engine & chassis parts), car batteries, tyres or oils
Gas cylinders or fire extinguishers
Other hazardous materials

Contact Household Chemical Cleanout on 131 555

Asbestos

Check with EPA NSW on asbestos disposal at certain landfills

Excavation material (e.g. sand, soil or rock)

Check state waste regulations

Construction and demolition materials (e.g. tiles, cement, sawdust, bricks, fence palings & plumbing fixtures)

Check state waste regulations

Commercial or industrial waste (e.g. cooking oils)
Check for recycling contractors
Large rolls of carpet which cannot be readily handled by two people

Find a carpet recycling contractor or organisation
More information:
For more information, or for any further questions, please contact Resource Recovery Hotline on 9083 8000.
Quick links
Need more information?
Phone our Resource Recovery Hotline 9083 8080
Subscribe to our Enviro newsletter
Get the latest news and tips on creating an environmentally sustainable community, free eco-wise workshops and events, delivered straight to your inbox each month. Read some of our latest newsletters online now, or subscribe by clicking the button below.


Subscribe now