Strategic Asset Management Plan
SAMP4 is Council's fourth Strategic Asset Management Plan. This plan builds on and updates previous SAMPs, identifying the extent of works necessary to bring our assets to an acceptable condition as defined by the community. It details the cost of those works, and does this within the context of Council's Integrated Planning & Reporting (IP&R) Framework including our:
The purpose of SAMPs is ultimately to achieve sustainability in asset management. We define sustainable asset management as everything we have to do to make sure our assets are maintained at a satisfactory standard in a "quadruple bottom line" sense.
SAMP4 summarises the actions required to continue with our progress towards sustainability in asset management.
Achieving sustainable asset management requires Council to integrate its strategic asset planning with its financial planning through the IP&R Framework. Targets for asset condition have been checked with the Waverley community through the community engagement process required under the IP&R legislation. The agreed targets have then been incorporated into Waverley Together 3 under Direction G6 – Waverley's assets are well maintained for their current purpose and for future generations.

Costs to meet these targets as set out in SAMP4 have been translated directly into Council's Long Term Financial Plan 4 (LTFP4).

The method used in our SAMPs is consistent with the IP&R Framework. Details of how the methodology has been applied and how it is consistent with the IP&R requirements are provided in Chapter 2 of SAMP4.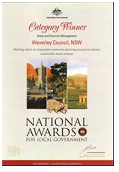 In 2010, Waverley Council won the Federal Government's National Award for Local Government in Asset and Financial Management for developing the SAMP estimating and community consultation methodology.

Implementation and validation of our methodology has led to it being the subject of significant interest by the local government sector across Australia, and Council has addressed various industry forums on its implementation (for an example, see the paper presented to the Western Australian Local Government Managers Association Finance Professionals Conference).
May 2017 Update
We are currently on track to reaching our target to maintain and improve assets for the local community. Recent accomplishments include:
Upgrades to over 200 footpaths throughout the LGA resulting in a 5% increase of these assets (now rated Condition 1 and 2);*
Upgrades to 100 roads, 200 footpaths, 50 kerb and gutters, and 15 parks throughout the area;
A funding program for important coastal and retaining infrastructure including our much loved coastal pools, beach promenades and sea walls, with a recent major upgrade to Bronte Pool;
We're on track to have 90% of all stairs and fences in Waverley in Condition 1 and 2 by 2019/20; and
We've improved the condition of street trees well ahead of schedule.
*Assets are rated from Condition 1 to 5, where Condition 1 is new or excellent condition and Condition 5 is poor or unserviceable.