Bondi Junction raingarden
We have built 3 bioretention gardens (raingardens) in the Bondi Junction commercial area which will drain into Centennial Parklands.
The new raingardens form part of important environmental and streetscape improvement works. One is located on the corner of Hollywood Ave and Ebley St, while two others are on the northern and southern corners of the intersection of Gray St and Bronte Rd.
This Water Sensitive Urban Design (WSUD) project is funded as part of the Botany Bay & Catchment Water Quality Improvement Plan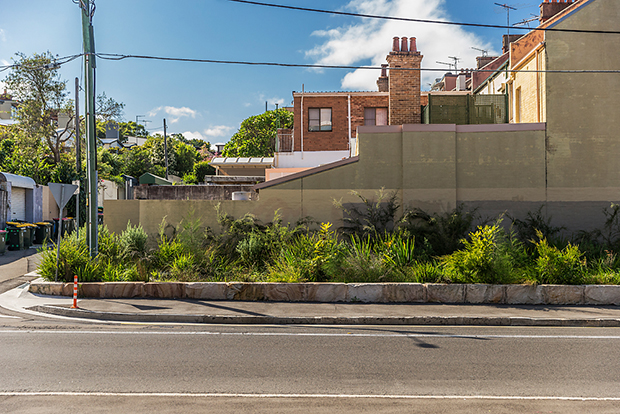 What is special about these raingardens?
Raingardens are natural stormwater treatment systems, specifically designed to capture and filter run-off from hard surfaces such as driveways, roofs and roads. They look like regular gardens, but they use a specially designed filter to remove harmful pollutants. They stop pollution from entering our drains and waterways and help keep Centennial park ponds clean.
How do they work?
Bioretention gardens look similar to a regular garden bed, but are designed specifically to capture stormwater from hard surfaces such as roads, driveways, patios and roofs via downpipes after it rains.
Beneath the garden are layers of sandy soil which remove pollutants such as nitrogen, phosphorus and fertilisers, which are washed off these hard surfaces.
What are the benefits of the raingarden?
Key benefits of the raingarden projects include:
polluted stormwater will be filtered, improving the water quality of the ponds in Centennial Park which will in turn help to protect the ecology of the parklands
the gardens will provide an urban oasis which reduce urban heat and make for a more vibrant and natural streetscape
the construction of a new footpath for safer pedestrian access along Hollywood Ave
new informal public seating near the bus stop on Bronte Rd
the planting of over 180 new plants for a greener streetscape in Bondi Junction
the gardens are self-watering, requiring little maintenance
they will provide a healthy habitat for native wildlife.
How can you help keen the raingarden clean?
Litter and cigarette butts can damage the raingarden and compromise their ability to capture and filter pollution. Below are two simple things you can do to help keep these gardens working and beautiful.
Dispose of your waste correctly so it doesnt attract illegal dumping. Put your bins out just the night before collection and make sure they don't overflow.
Ashtrays were installed near the raingardens. Please use these ashtrays when visiting the raingardens.
Find out more
For more information about the raingarden projects, please email us or call our Customer Service Centre on 9083 8000.