Plastic free businesses
Takeaway packaging items made from single-use plastic are the most commonly found litter items on our beaches, in our local parks, streets and transport hubs. These items find their way into our waterways, causing harm to marine life and human health.
Single-use plastics banned in NSW
The Plastics and Circular Economy Act 2021This external link will open in a new window was passed in NSW Parliament meaning a phasing out of single-use plastics from June 2022. This is expected to prevent almost 2.7 billion items of plastic litter from entering our natural environment and waterways over the next 20 years!
From 1 June 2022 lightweight plastic shopping bags will be banned.
From 1 November 2022, the following single-use plastic items will be banned:

straws*, stirrers, cutlery
plates and bowls without spill proof lids.
foodware and cups made from expanded polystyrene (EPS)
cotton buds
rinse off personal care products containing plastic microbeads
This includes biodegradable plastics, compostable plastic and bioplastics of the same products. Labels on items are not proof of compliance.
*Exemptions will apply to people who rely on particular single-use plastics for disability or health needs.
Visit the NSW Government website for more information on the bans and register with the Great Plastic Rescue if you have excess stock to recycle.
Enjoy takeaway without the waste
In 2022 we partnered with Responsible CafesThis external link will open in a new window and RePlatedto support food vendors to reduce their reliance on single-use takeaway packaging by setting up mug libraries and reusable container swap systems.
Check out the businesses providing takeaway without the waste on the Hello Bondi webpage.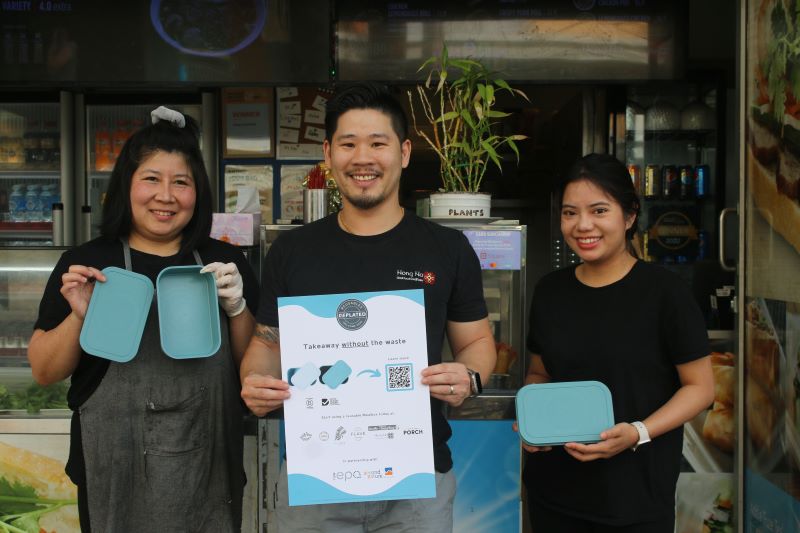 Resources for businesses to reduce single-use plastic
For businesses looking to reduce their reliance on single-use plastic, the following resources are available.
Get in touch for more support to help your businesses start its plastic-free journey: