New Spanish-inspired roof for Bondi Pavilion
27 August 2021
Waverley Council has achieved another milestone in the Bondi Pavilion Conservation and Restoration Project with works progressing on the building's colourful Spanish-inspired roof.
The roof will consist of around 33,000 interlocking terracotta roof tiles in a semi-circular cordova pattern in a nod to the Spanish-style roof tiles installed in 1928. That equates to three roof tiles for every Bondi resident.
The cordova is well-known Spanish tile that was originally shaped out of clay and historically only manufactured in red.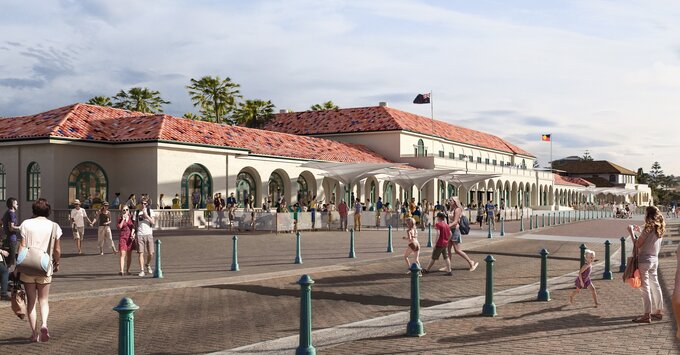 The Pavilion's new roof will make a big impact on the built landscape at Australia's famous beach. Image: TZG.
Mayor of Waverley, Paula Masselos, said the roofing laid thus far is already having a dramatic effect on the built landscape at Australia's famous beach.
"The new tiles have improved the external appearance of the building as our restoration works progress and will have a significant positive heritage impact," Mayor Masselos said.
"Our head contractor Buildcorp and architect Tonkin Zulaikha Greer (TZG) undertook extensive prototyping, sampling and mock-ups to come up with a colour scheme that's not only sympathetic to the heritage of the building, but complements our coastal surroundings. That was achieved by randomly interspersing the glazed and non-glazed Roja [red] tiles with those in shades of blue, green and white."
Buildcorp Managing Director, Tony Sukkar AM said roof tile replacement has taken approximately four months to complete in a staged approach, which ensured that the building's heritage elements remained protected during these works.
"Our team created a small-scale roof section mock-up that enabled them to test that the tiling and trim details would reflect the quality of the original heritage roof materials," Mr Sukkar said.
"Additionally, we undertook repairs to strengthen the roof structure during tiling works and we are very pleased with the progress that we have made for the Council and the people of Waverley."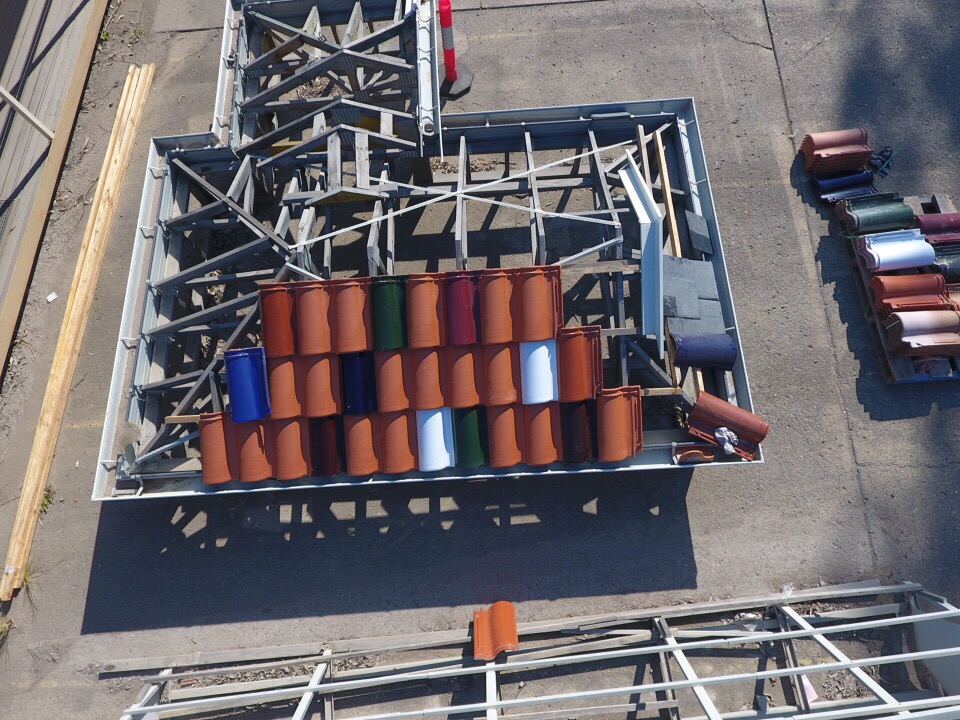 A trial mock-up trial of the colour pattern for the new roof tiles for. Image: Waverley Council.
The Council's restoration and conservation of Bondi Pavilion is progressing with restoration works due for completion at the beginning of next year and take into account current impacts of COVID-19 restrictions on construction in Greater Sydney. Other works due for completion in the coming months include the building's new atrium.
The atrium has been transformed from a simple courtyard with a Perspex roof to a sunlight space with an elevated glass roof and architect-designed sculptural concrete columns. It is located in the heart of the heritage building and will continue to serve as a space of orientation where visitors gather and connect, Mayor Masselos said.
"Lead contractor BuildCorp and our architect Tonkin Zulaikha Greer (TZG) have done an incredible job breathing new life into the atrium and celebrating the heritage elements of this most important space.
"To see the centre of the Pavilion take shape fills us with excitement for when we can welcome residents and visitors back to the building which Council is restoring as a cultural hub of the future."
Situated right on Sydney's most famous beach, Bondi Pavilion has a colourful history dating back to 1928 when the Pavilion was known as the "Playground of the Pacific". People bathed in the Turkish baths, danced in the ballroom and met for all sorts of activities including festivals and exhibitions.
The Council's restoration includes:
a spacious new art gallery
flexible cultural spaces housed within a new 'Bondi Story Room'
a community radio station
two dining venues (a restaurant and a café)
larger Pottery Studio including a second kiln
new toilets, showers and a family and accessible bathroom and change space
expansive refurbishments and upgrade to all the Pavilion's unique existing rooms
landscaped internal courtyard spaces
new grand entrance to the north and creating additional east-west connections through the Pavilion
better connection from Campbell Parade to the beachfront
For more information, or to register for project updates, visit: https://www.waverley.nsw.gov.au/building/major_projects/buildings_and_facilities/bondi_pavilion_restoration_and_conservation_project
-ENDS-
Media inquiries: media@waverley.nsw.gov.au or 0416 075 532.