Building works progress on Bondi Memorial
4 September 2021
Paula Masselos, Mayor of Waverley, and Nicolas Parkhill, Chief Executive Officer of LGBTQ+ health organisation ACON, visited the site recently of the Bondi Memorial at Marks Park, Tamarama as works on the build progress.
Council has been working with ACON since 2015 to establish a permanent memorial in Marks Park to gay and transgender people who were targeted in homophobic and transphobic attacks from the 1970s to 1990s in Sydney.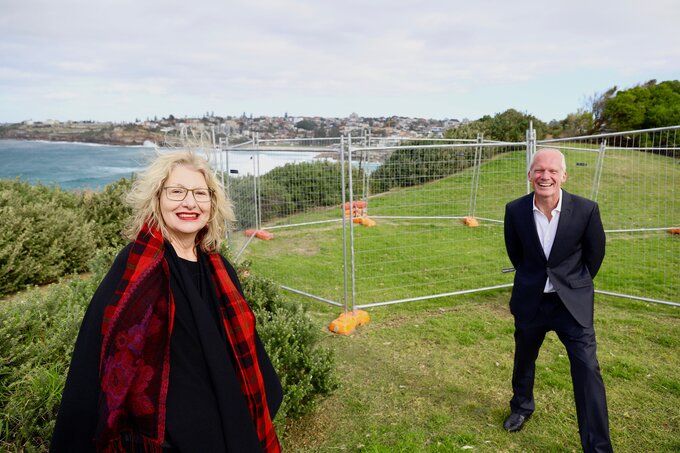 Waverley Mayor Paula Masselos and ACON CEO Nicolas Parkhill at the Bondi Memorial site in Marks Park, Tamarama
The memorial has been designed by Urban Art Projects (UAP) and will comprise a terraced stone structure representing the six bands in the pride flag. It is due for completion the beginning of next month (October).
Mayor Masselos said: "The Bondi Memorial will serve as a place of quiet reflection where we can heal together as a community whilst never forgetting the tragedies of the recent past".
"John Nicholson and UAP's design Rise responds to the project's guiding principles of remembrance, diversity, inclusion, justice and acceptance," Mayor Masselos said.
"The Waverley Public Art Committee, Council officers and ACON staff all noted the subtlety and elegance of the design and its response to Council's Public Art Policy criteria for placemaking, artistic excellence, local culture and heritage, and sustainability."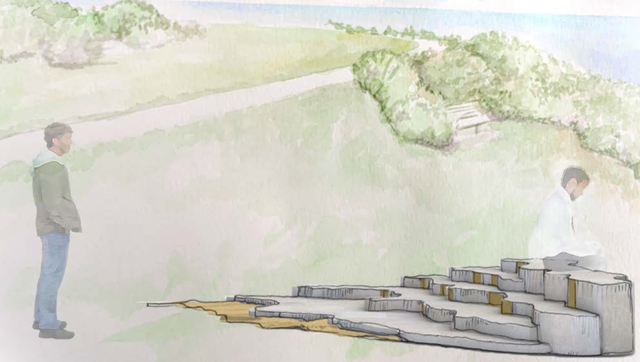 John Nicholson and UAP's design Rise for the Bondi Memorial.
ACON CEO Nicolas Parkhill said: "This memorial will help acknowledge and heal the pain, grief and trauma these events have caused that are felt by so many in our communities, and ensure that the memory of those we have lost will never fade from our collective consciousness".
The memorial is being built in an area of natural amphitheatre on the south-western side of the park in line with current Public Health Orders related to construction.
Council contributed $100,000 to the project and ACON has contributed a further $64,000 through a philanthropic gift from LGBTQ community members Stephen Heasley and Andrew Borg.
"I'm pleased to see that this contribution is helping build a monument that not only shines a light on the impacts of prejudice and discrimination, but also celebrates diversity, inclusion, progress and unity," Mr Heasley said.
Mr Parkhill added: "We are extremely grateful to Stephen Heasley and Andrew Borg for their generous donation towards this important structure. Their contribution underscores the significance of this project and has gone a long way in helping the memorial become a reality."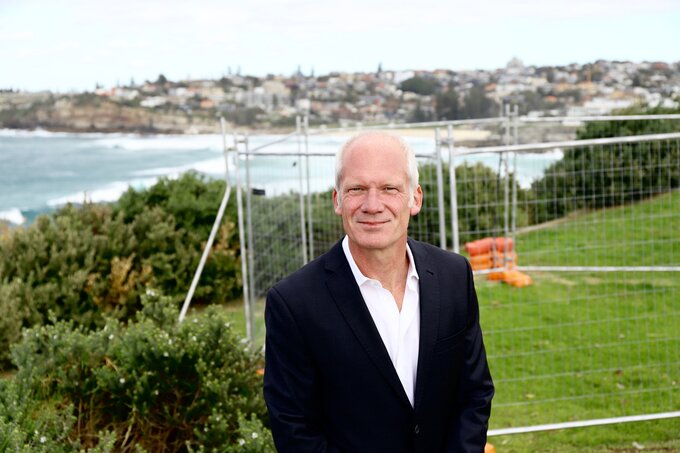 ACON CEO Nicolas Parkhill
To donate to ACON's fundraising effort, visit bondimemorial.com.au
-ENDS-
Media inquiries: media@waverley.nsw.gov.au or 0416 075 532.