Mill Hill Early Education Centre
Find us at
25 Ebley Street, Bondi Junction 2022

Contact
Phone: 9083 8902
Hours
7.30am - 6pm
Monday to Friday
Ages
For children aged 6 weeks - 5 years (16 places for under 2's)
Places available
52 places
Fees
---
Maximum daily fee – for children under 3 years of age
$145
Maximum daily fee – for children 3 years of age and over
$141
Enrolment fee
$141
Waiting list fee (includes all 4 centres)
$30.00
Late pick-up fee - after closing time (per minute)
$3.25
Childcare Subsidy applies for eligible families
---
Fees for Mill Hill Early Education Centres include:
Access to Family and Community Support Services provided by an in-house specialist offering information, parenting classes and 1:1 counselling
Nutritious meals are provided including hot lunches, morning/afternoon tea

Note from Director
Mill Hill Early Education Centre is an exceeding service that offers children's quality learning, development and care based on evolving relationships with children, families and educators in the middle of Bondi Junction.
The MHEEC educators are well experienced and knowledgeable Early Childhood Education and Care professionals.
We respect the early childhood and value children's play.
We challenge children's learning and development through both intentional and spontaneous teachings and endeavour to establish global young citizens.
Our Reconciliation Action Plan (RAP) Vision is to educate young citizens to learn our First Peoples history, culture and contributions and to build relationships where all Australians are united.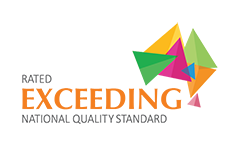 Waiting List
To join the waiting list for all Council Operated Early Education Centre's please click on the link below.