Long weekend In Waverley
Saturday 2 Oct
It was a pleasing start to the long weekend in Waverley with numbers stable at our beaches, beach parks and Coast Walk.
Residents took advantage of the warmer temperatures in the morning before the breeze picked along the coast around lunchtime.
We welcomed the return of our COVID Ambassadors and our ambassadors live locally and worked with us during summer 2020/21.
Our COVID Ambassadors help keep groups COVID-safe by encouraging spacing at our beaches and beach parks through education and crowd management.
Their focus today was at North Bondi in the morning and the Coast Walk. Peak times for these areas were just after 11am when the temperature was 21 degrees.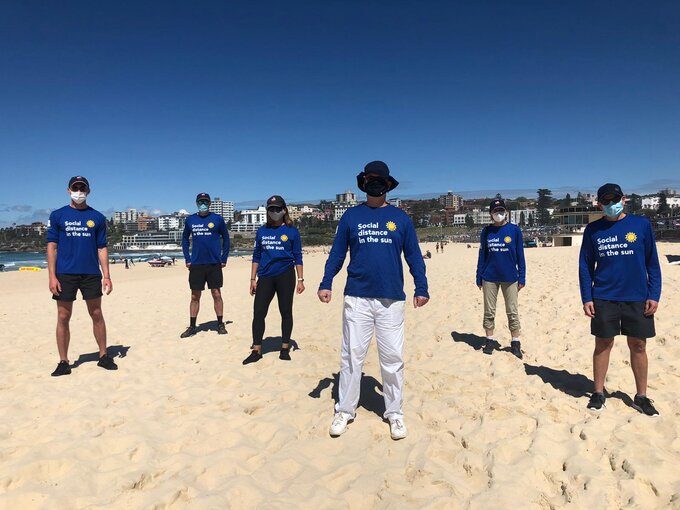 Our COVID Ambassadors (pictured today at Bondi) will be rostered on each day over the long weekend and our Rangers are working to extended summer hours and patrolling later into the evenings.
We remind people that Waverley's beaches and beach parks are alcohol free-zones and Rangers will ask you to tip out any opened alcohol.
Police were highly visible across Waverley's public spaces, including at Biddigal Reserve. There will be an increased Police presence tomorrow and on Monday when the warmer weather returns.
Transport for NSW is activating its COVID-safe procedures to encourage social distancing at the main bus stop on Campbell Parade near Hall Street, Bondi Beach.
Our Communications Team will continue to post updates on social media and our website about what's happening at our beaches, beach parks and Coast Walk.
Council manages its public spaces in line with the directions outlined in the Public Health Orders for gatherings and other activities, and health advice about social distancing. NSW Police enforce the PHOs and we encourage people to be COVID-safe at all times.
COVID-19 is still circulating in the community, at last count Waverley had 117 active cases. The vaccination rate in Waverley is around 78.4% first dose and 56.6% second dose and we want to see that increase.
There should be no barriers to accessing vaccines and at last month's Council meeting I put forward a Mayoral Motion calling for the establishment of a vaccination hub or pop-up vaccination clinics in Waverley. I am pleased to say that a vaccination centre commenced operation this week at University of NSW Building R14, 22-23 King St, Randwick, between 8am - 4.30 pm three days a week.
If you planning on visiting our beaches or parks this long weekend, please, wear a mask, limit gatherings to five fully vaccinated adults and maintain social distancing. If you're feeling unwell, get tested, and if you haven't booked a vaccination, please do so.
For the list of Greater Sydney restrictions, click here.
From all of us at Waverley Council, please, stay COVID-safe and enjoy the rest of the long weekend.
Paula Masselos
Mayor of Waverley