How will we respond to the Climate and Biodiversity Emergency at this year's COP.
What is the United Nations Climate Change conference?
Right now, 20,000 heads of state, diplomats and activists are meeting in Glasgow to agree new targets for cutting fossil fuel emissions that heat the planet, and commit resources to adapting to climate risks already underway, such as deadly heat waves, water shortages, and ecosystem collapse.
The goal of the Conference is to prevent average global temperature rising above 1.5O Celsius, agreed at a previous conference in Paris. Not all countries have made commitments to emissions cuts, and or allocated resources to reducing climate vulnerability, but as awareness grows, so does momentum towards effective and coordinated climate action.
Can I take personal action on this global problem?
Australia's top three sources of emissions are electricity (34%), heating in homes and factories (20%), and transport (18%), but you don't have to be a world leader to reduce your impact on the climate, as technologies already exist to achieve the required reductions. Here are carbon cutting steps you can take: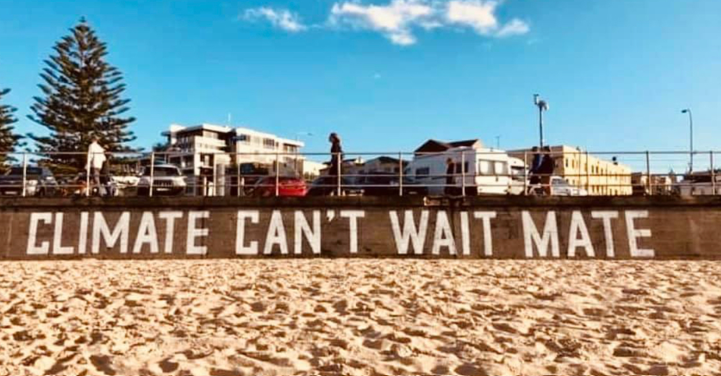 Image: Graffiti at Bondi Beach
Can Councils accelerate actions to combat climate change?
Many Councils' climate ambitions exceed Federal and State targets, and leading local programs have shown the power of community level climate action. It's been calculated that just 60 of Australia's 537 local governments could achieve 96% of the current national target (28% reduction by 2030).
As well as being one of the first to set climate targets for Council and Community, Waverley recently signed the Better Futures Australia Declaration which encourages urgent action towards the goals of the Paris Agreement. As a Climate and Biodiversity Emergency Council, Waverley has strengthened actions to rapidly reduce Council emissions, including:
Bringing forward council's greenhouse target to Net zero for scope 1 and 2 emissions by 2030, based on the 2003/04 baseline, (previously by 2070) (CM/7.7/21.07)
Funding Council's fleet transition to be fully electric by 2030 (CM/6.4/21.05)
Enduring 100% renewable electricity by 2030 and phasing out gas for Council assets. (PD/5.3/20.12)
To address the COVID crisis, we listened to the science, took swift and sometimes difficult actions for the greater good and protected the vulnerable. Let's hope we can apply these learnings to combat the climate crisis to secure a safe and thriving future for us, our place and our planet.
---
Author: Suzanne Dunford
All photos on this page are courtesy of Rohan Kelly and the Daily Telegraph