World Surfing Champion Pauline Menczer honoured at Bondi Beach
25 April 2022
A mural celebrating 1993 World Surfing Champion and former Waverley resident Pauline Menczer has been unveiled at Bondi Beach.
It was painted by Canberra visual artist Megan Hales on the Bondi Beach Sea Wall in time for the Ocean Lovers Festival, proudly supported by Waverley Council.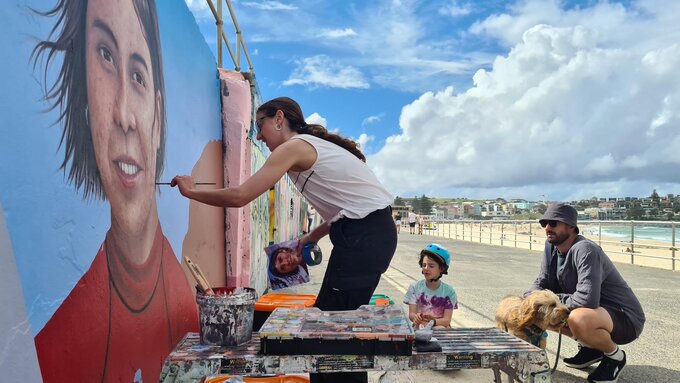 Hales works on the mural to the delight of visitors to Bondi last week. Picture: Waverley Council.
In March last year, the Council supported a Mayoral Minute (see pages 9 and 10 of the Minutes) to investigate options for the appropriate recognition of Menczer's achievements as a professional surfer.
Menczer is the only person from Bondi to ever win a World Title but did not receive any prizemoney or sponsorship. See our previous media release here.
"Waverley Council acknowledges Menczer as an unsung hero of the surfing world and she deserves our formal recognition for all that she has achieved in a sport dominated by men in the 1980s and 1990s," Waverley Mayor, Paula Masselos said.
"We are helping celebrate Menczer's story by providing a most fitting location for this new mural, and by including her story in the Bondi Story Room, our new digital interactive exhibition within Bondi Pavilion, currently under restoration."
Menczer's story is featured alongside other women trailblazers on the formative professional surfing tour in the documentary Girls Can't Surf. A Pauline In Bronze Committee has also been formed by the filmmakers to raise funds to build a statue of Menczer at Bondi.
"We are continuing discussions with the filmmakers about their campaign and the location for a possible statue based on how much is raised" Mayor Masselos said.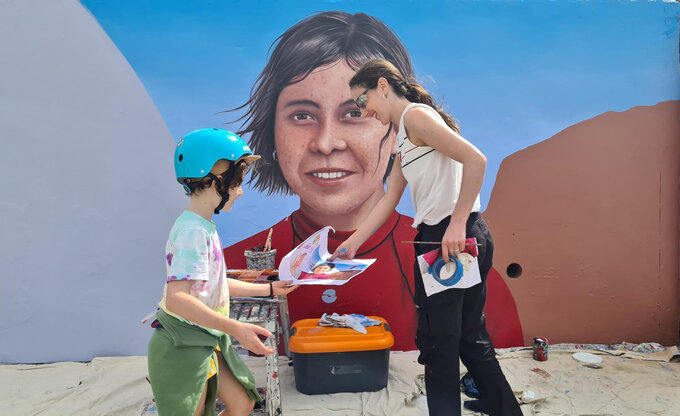 People exercising on Bondi Beach promenade on Friday stopped to congratulate Megan Hales on her life-like mural of Menczer which she began painting last week.
"This is the first mural I've done in a while and these days I only do murals that I love, and I just love this one," Hales said on Friday. "I hope Pauline's really pleased with the mural when she sees it in person."