Wild weather continues to impact the NSW east coast
Waverley Council is urging people to stay safe as wild weather continues to impact the NSW east coast.
The Bureau of Meteorology has issued a hazardous surf warning for the Sydney, Hunter, Illawarra, Batemans and Eden coasts until at least midnight tomorrow, Wednesday 9 March.
Waverley Council's Manager of Lifeguard Services, Matt du Plessis, said large and powerful surf conditions are expected to be hazardous for coastal activities such as rock fishing, swimming and surfing.
"I implore people to observe these weather warning and always follow instructions from our Lifeguards, including during beach closures," Mr du Plessis said.
"As a general precaution, swimming at ocean beaches should be avoided for up to one day after heavy rainfall or for as long as stormwater is present.
"If you witness an in-water emergency, please inform our Council Lifeguards, or if it is after hours, dial Triple Zero (000) and ask for the Police."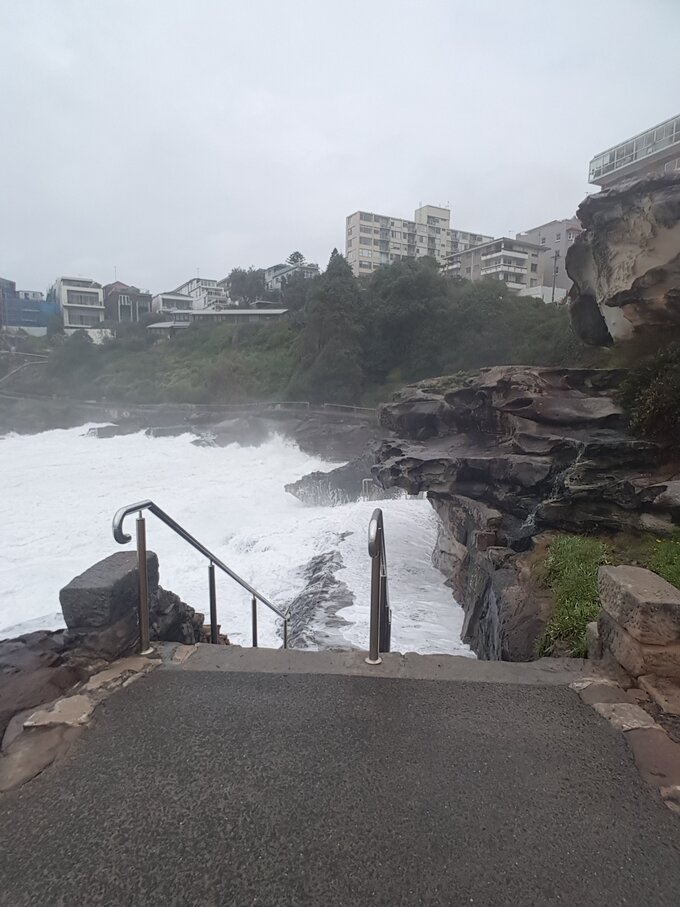 Last week Council closed the Bondi to Bronte coastal walk between Notts Avenue and Tamarama due to the wild surf. Picture: Waverley Council.
The NSW Police Marine Area Command advises:
People should consider staying out of the water and avoid walking near surf-exposed areas.
Rock fishers should avoid coastal rock platforms exposed to the ocean and seek a safe location that is sheltered from the surf.
Boaters planning to cross shallow water and ocean bars should consider changing or delaying their voyage.
Boaters already on the water should carry the appropriate safety equipment and wear a lifejacket.
Boaters should remember to log on with their local Marine Rescue radio base, via VHF Radio or the Marine Rescue APP, and consider their safety management plan.
Residents are also encouraged to monitor the NSW Office of Environment and Heritage's Beachwatch bulletin for warnings about water pollution: https://www.environment.nsw.gov.au/beachmapp/Beaches/SydneyOceanBeaches
Sydney can expect a windy day today (and tomorrow) with heavy rainfalls of between 120 to 150 mm predicted and a top temperature of 23 degrees. The rain will ease tomorrow (Wednesday), with just 0 to 3 mms predicted, and temperatures between 18 to 25 degrees.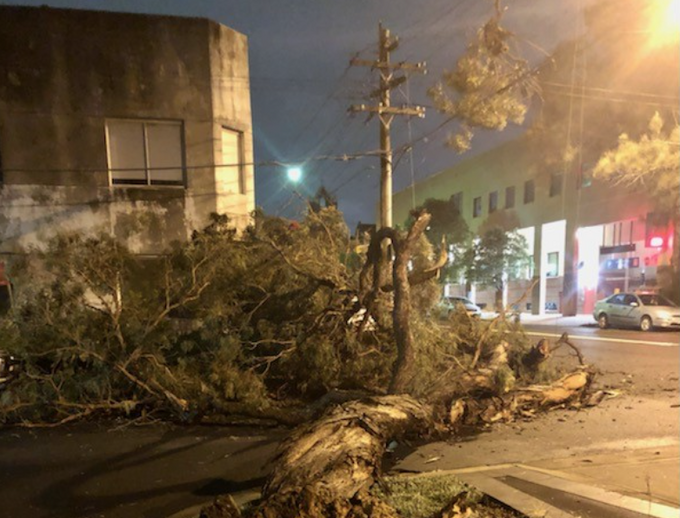 Council officers respond to a clean-up at the corner of Ebley and Lawson Street, Bondi Junction, last Wednesday.
Waverley Council is attending to clean-up and repairs as quickly as possible. The quickest way to report a problem is via the free Snap Send Solve app. The app helps easily identify issues that require attention. You can also make a request here.
In the past week, officers have attended to several trees down in the area including in Ebley St, Bondi Junction, Gould Street, Bondi and Bronte Road, Bronte.
In severe weather, the State Emergency Service advises:
move vehicles under cover or away from trees
secure or put away loose items around your house, yard and balcony
keep at least 8 metres away from fallen power lines or objects that may be energised, such as fences
trees that have been damaged by fire are likely to be more unstable and more likely to fall
report fallen power lines to either Ausgrid (131 388), Endeavour Energy (131 003), Essential Energy (132 080) or Evoenergy (131 093) as shown on your power bill
Don't drive, ride or walk through flood water
keep clear of creeks and storm drains
if you are trapped by flash flooding, seek refuge in the highest available place and ring 000 if you need rescue
be aware that run-off from rainfall in fire affected areas may behave differently and be more rapid. It may also contain debris such as ash, soil, trees and rocks
after bushfires, heavy rain and the loss of foliage can make the ground soft and heavy, leading to a greater chance of landslides
stay vigilant and monitor conditions. Note that the landscape may have changed following bushfires
for emergency help in floods and storms, ring your local SES Unit on 132 500.
Media inquiries: media@waverley.nsw.gov.au or 0416 075 532.