Waverley Council wins big on sustainability
20 July 2020
Waverley Council has been recognised for excellence and leadership across our Environmental Sustainability programs, winning three 2020 LG Pro NSW Local Government Excellence Awards for NSW.
The Awards include:
Innovative Leadership and Management for a 3-Council Public Electric Vehicle Charging Network project
Environmental Leadership and Sustainability for our Building Futures program
Community Partnership and Collaboration for our Collaborating for Impact program delivered in partnership with 10 local community groups.
The Mayor of Waverley, Paula Masselos is delighted the Council's work is being recognised for excellence against other councils in NSW.
"Our Environmental Sustainability team do amazing work and I for one am very proud of our fabulous team for getting the accolades they deserve for their hard work and creative strategies," Mayor Masselos said.
"The winning programs highlight our focus on protecting our beautiful environment, whilst leading the way in community resilience."
Public Electric Vehicle Charging Network
Waverley Council (with Randwick and Woollahra councils) won the Innovative Leadership and Management category for the 3-Council Public Electric Vehicle Charging Network, which has seen a rollout of 6 public charging stations installed across the Eastern Suburbs (with 2 more coming soon).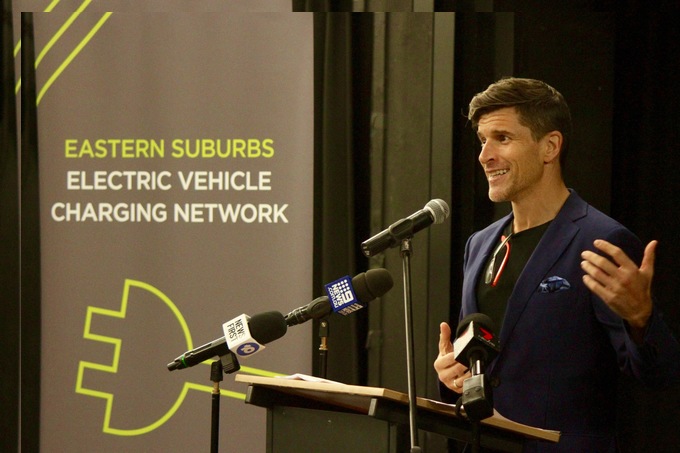 (Above) EV owner and local TV personality, Osher Gunsberg speaking at the launch of the 3-Council Public Electric Vehicle Charging Network.
These are the first on-street public charging stations of this type in Sydney, and the first local government-backed on-street charging infrastructure in NSW.
"I was so proud when the first EV charging station was installed at Bondi Beach in June 2019. It really showed we were leading the way in future-proofing the eastern suburbs. As a great supporter of electric vehicles, I look forward to a time when electric cars are the norm; and to know that Waverley played a leading role in helping to decarbonise our transport system," Mayor Masselos said.
Building Futures
Council's Building Futures program won the Environmental Sustainability and Leadership category for helping large strata buildings (45+ units) reduce carbon emissions and save thousands in energy and water costs, providing support from start to finish.
Council has been working with selected buildings to easily identify and implement cost-saving solutions to:
Reduce operating costs
Reduce common area energy use
Cut greenhouse gas emissions
Reduce water use
Improve waste management.
"The Building Futures program helps Council meet its ambitious community carbon emissions reduction targets, whilst also helping our residents save money. With 80% of our population living in apartments, it's a win/win for everyone," Mayor Masselos said.
Collaboration for Impact
Council's Collaborating for Impact (C4I) program, won the Community Partnership and Collaboration category for partnering with and supporting 10 local environmental groups and more than 30 individuals to mobilise community action on waste avoidance, litter prevention and reducing single-use plastics. C4I initiatives have reached over 3500 people and counting. This award is a testament to the dedication, cooperation and commitment of our leading environmental community groups and we share this win with them.
Thank you to Plastic Free Bronte, Protect Our One, Seaside Scavenge, Transition Bondi, Eastside Group Wilderness Society, Responsible Runners, Boomerang Bags (Sydney Eastern Suburbs),Plastic Free Bondi and Happy Fish.
"Waverley has so many enthusiastic community groups working tirelessly to protect our beautiful environment and help locals make sustainability in their lives second nature. I am truly appreciative of their indefatigable dedication. Council will continue to work closely with our community and community groups to protect our area and to try and instill behaviour change so future generations can enjoy this amazing part of the world, as we do. Well done to everyone," said Mayor Masselos.
More information on these initiatives can be found here.
-ENDS-
Media inquiries: media@waverley.nsw.gov.au or 0416 075 532