Waverley Council welcomes new arrivals from Afghanistan to iconic Bondi Beach
15 December 2021
Waverley Council hosted a picnic day today at iconic Bondi Beach for Afghan families and individuals who have recently settled in Australia after being evacuated from the conflict in Afghanistan.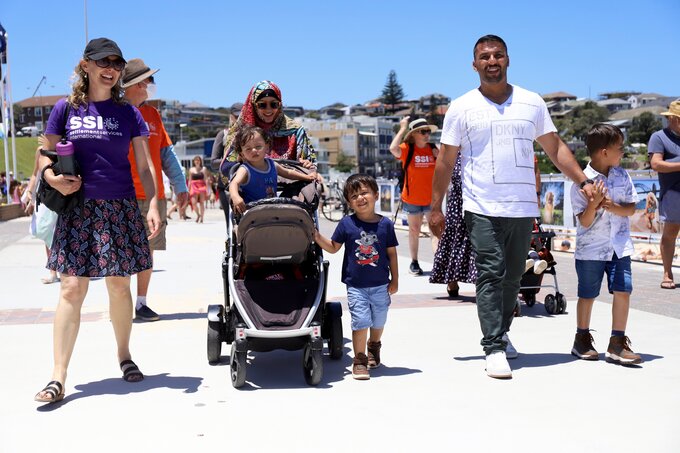 The Council has partnered with Settlement Services International's (SSI) Welcome Project to host the visit to help the new arrivals, who include young children, experience a taste of their new life in Australia.
Emily Scott, General Manager, Waverley Council, said the Council was thrilled to welcome the group to Bondi and the lands of the Biddigal and Gadigal people.
"I hope this first visit to Bondi Beach will be a wonderful experience for everyone today, and that we can highlight some of the great things about this country, including our Indigenous and beach culture. We look forward to welcoming everyone back in the future," Ms Scott said.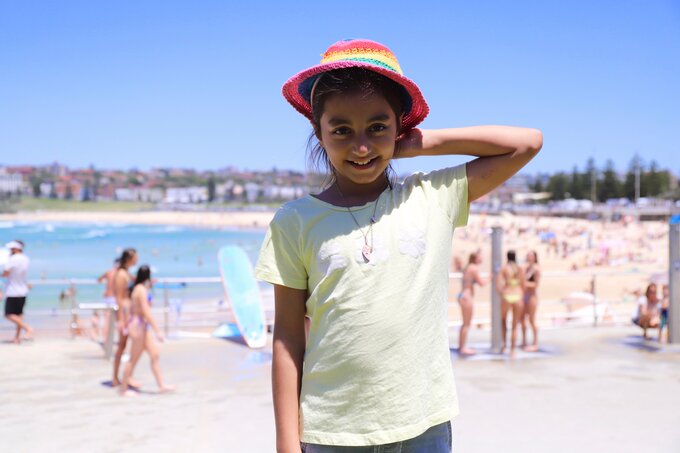 It was a special day at the beach for these two children. Images: Deborah Field/Waverley Council.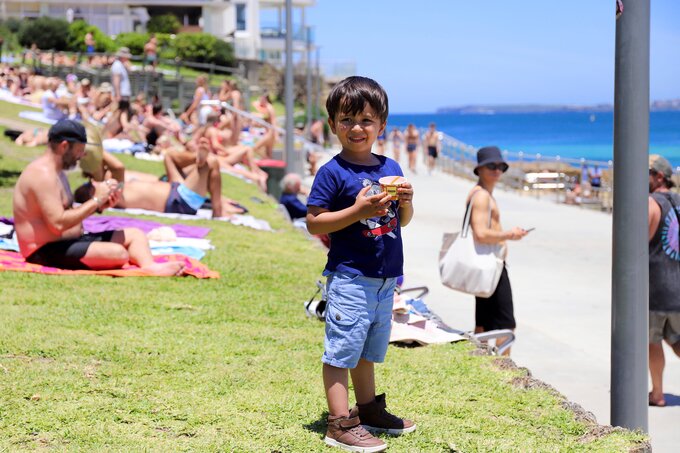 "The Waverley local government area is home to people from all around the world. We see this at our citizenship ceremonies each week, so to be a part of a project that helps people feel connected is very special.
"Waverley has been a Refugee Welcome Zone since 2002 and in 2019 we joined the Welcoming Cities network, a growing network of cities, shires, towns and municipalities committed to advancing communities where everyone can belong."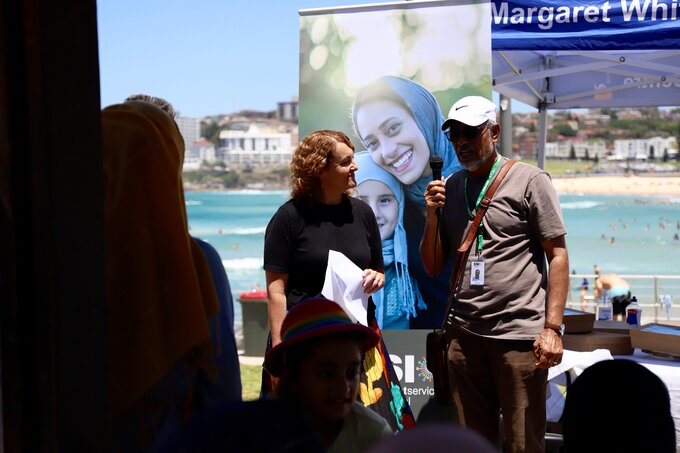 Waverley Council General Manager, Emily Scott, addresses guests through an interpreter. Image: Deborah Field/Waverley Council
Kat O'Neill, Community Engagement Manager at Settlement Services International, said SSI's Welcome Project fostered a sense of belonging and inclusion for newcomers to Australia.
"The project connects volunteer Welcome Ambassadors [established residents] to newcomer families and individuals from refugee backgrounds," she said.
"The Welcome Ambassadors support newcomers to feel more connected to their community through exploring different sites and activities. Visiting the iconic Bondi Beach is a great opportunity to introduce a significant part of Australian culture to recent arrivals who may not have yet travelled to this part of our beautiful city."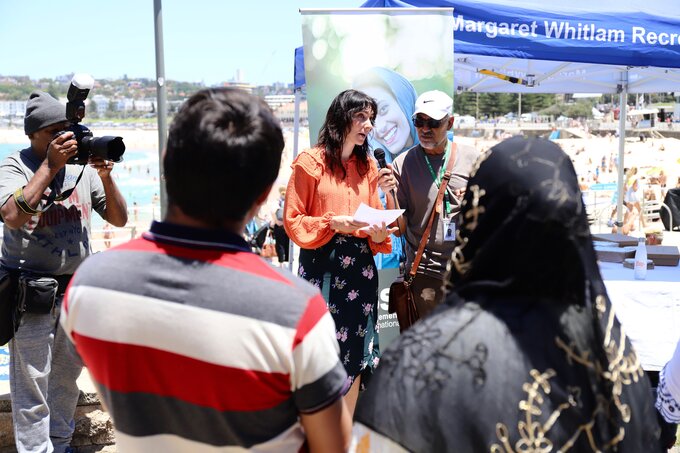 Kat O'Neill addresses guests. Image: Deborah Field/Waverley Council.
The visit includes a picnic provided by the House of Welcome, a surf safety talk by Waverley Council lifeguard coordinator Bruce "Hoppo" Hopkins and lifeguard Trent Falson, a historic walk with Bondi resident and Council officer, Lawrie Williams, as well as activities for the children with Uniting Iluka Early Learning.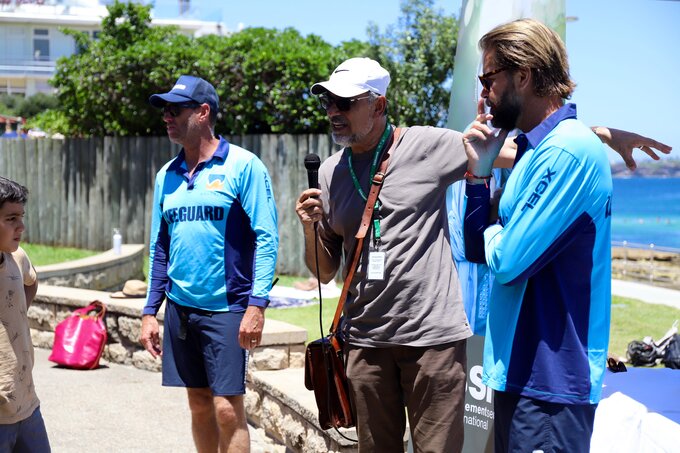 Lifeguards Bruce Hopkins and Trent Falson discuss water safety.
Jess Guerin, Area Manager for Uniting Early Learning, was happy that Uniting Iluka would be helping new children in the area connect with the community and make new friends.
"Uniting is pleased we could welcome these children and families to Sydney. Ten of our Uniting preschool children will be heading to a local park to meet our new visitors," Ms Guerin said.
"We have planned a range of activities with the children to help welcome them to the iconic Bondi Beach."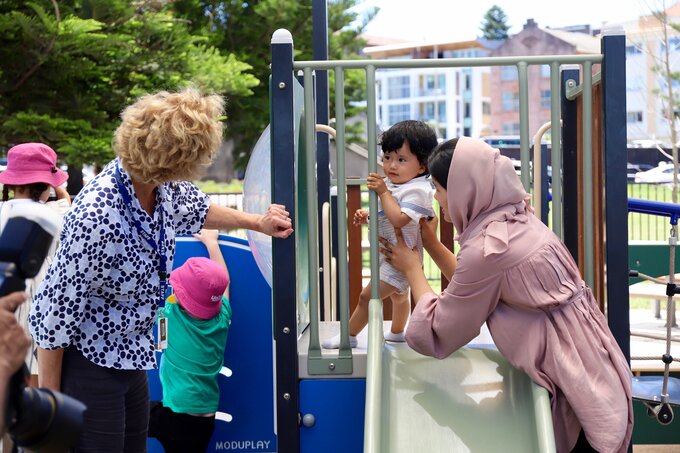 A 14-month-old boy enjoys the children's activities at Bondi Beach Playground. Images: Deborah Field/Waverley Council.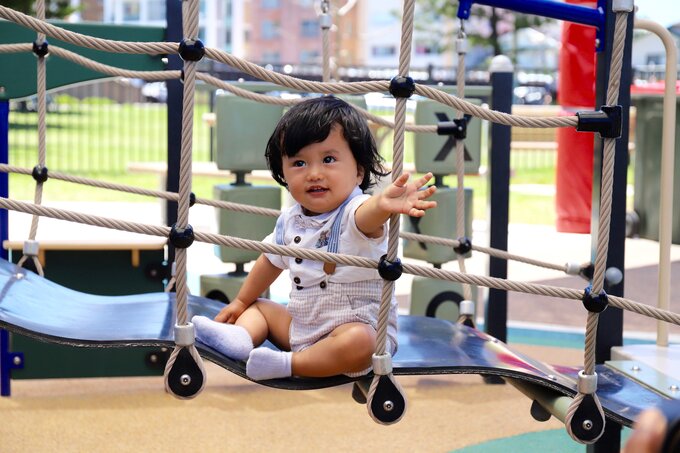 This year, the Council renewed its commitment to being a welcoming and inclusive place to live, work in and visit through its new Cultural Diversity Strategy, which highlights, among other things, opportunities to work with organisations such as SSI in providing vital support.
In November, the Commonwealth Government introduced changes to the migration legislation to support Afghan nationals recently evacuated from Afghanistan to undertake permanent visa processes in Australia. To read the Department of Home Affairs' message to the Afghan Australian community, click here.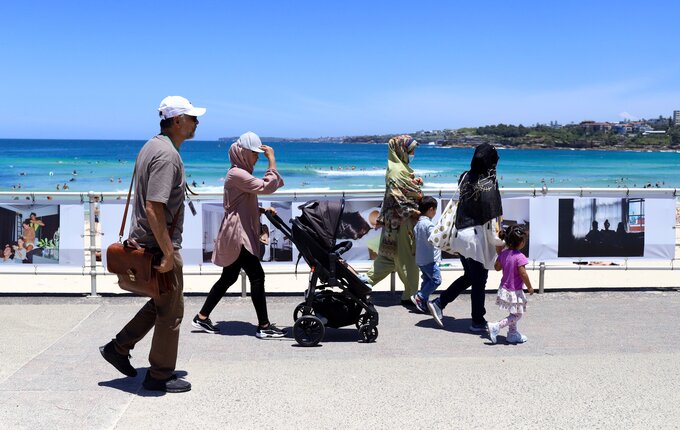 Strolling the famous Bondi Beach promenade, and one of the Afghan families (below) who attended the welcome picnic. Images: Deborah Field/Waverley Council.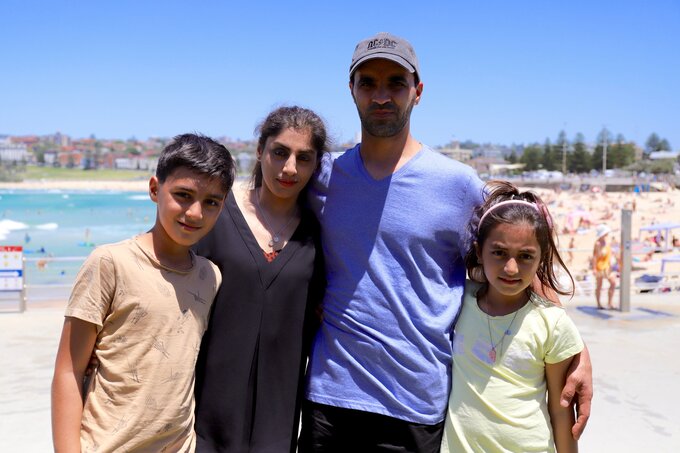 -ENDS-
Media inquiries
Waverley Council: media@waverley.nsw.gov.au or 0416 075 532.
Settlement Services International: Stephen Webb, Manager Corporate Affairs, swebb@ssi.org.au, 0488 684 163.