Waverley Council unveils the area's first electric vehicle fast charging station
5 August 2022
Waverley Council in partnership with Evie Networks has unveiled the local government area's first public electric vehicle fast chargers at Eastgate shopping centre, Bondi Junction.
Powered by 100% renewable energy, the two 50kW fast chargers provide around 150 kilometres of driving range in just 30 minutes of charging and are the fastest public EV chargers currently in Waverley.
Mayor of Waverley, Paula Masselos, said EV drivers in Sydney's east will be able to conveniently charge their cars while doing their shopping or attending appointments in the Bondi Junction CBD.
"Waverley Council in partnership with Randwick City and Woollahra Councils were the first local government areas in Australia to roll-out on-street EV public charging stations, and these new fast chargers are a major boost to our EV charging network," Mayor Masselos said.
"Council has a net zero carbon emissions target of 2030 for Council and 2035 for the community, and these fast chargers will help residents who own an EV or are considering owning an EV to achieve this target."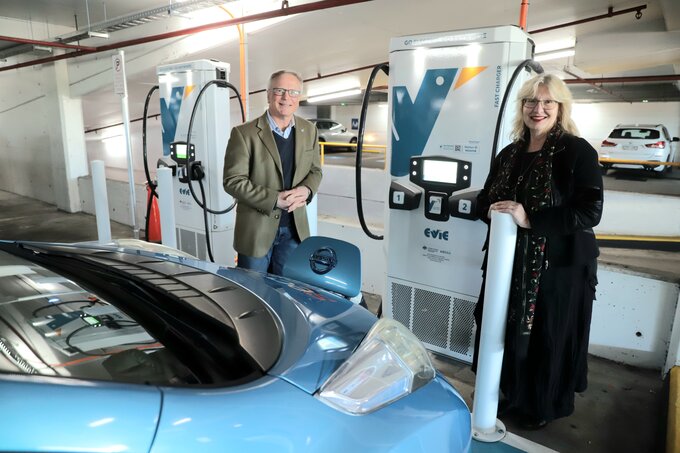 Evie Networks CEO, Chris Mills and Waverley Mayor, Paula Masselos, with the new chargers on level 4 of the Eastgate shopping centre car park.
Evie Networks CEO, Chris Mills, said Waverley Council is a great example of how local government can take a leadership role in the promotion of electric vehicle take up in the community.
"Local government plays an integral role in steering residents towards electric vehicles by supporting publicly accessible fast chargers at convenient locations," Mr Mills said.
In June this year, Waverley Council adopted a new Electric Vehicle Charging Station Plan that will see around 13 new public EV charging stations implemented in Waverley. Work has already begun with Randwick City and Woollahra councils to roll-out these stations as part of the Regional Environment Program to increase the number of EV charging locations in Sydney's east.
"Potentially half of our residents do not have off-street parking or the ability to charge an EV at home so Council is looking at ways we can partner with the public and private sector to provide more charging points to help boost local EV uptake," Mayor Masselos said.
"Just last month the ACT government released its 2022-2030 Zero Emissions Vehicles (ZEV) Strategy, which includes a plan to boost EV ownership by expanding its network of charging stations and making fees for car registration emissions-based, so there's no denying that EVs are the car of the future and that future is now.
"As part of our commitment to achieving a net zero greenhouse gas emissions target for the community by 2035, Council is also moving towards requiring EV charge points on relevant private developments."
In addition to the new EV chargers at Eastgate, Council provides on-street EV charging at Queen Elizabeth Drive, Bondi Beach and Spring Street, Bondi Junction and will soon be installing additional on-street EV charge points at Grafton Street, Bondi Junction, Trafalgar Street, Bronte and Castlefield Avenue in Bondi.
The Evie Network fast chargers at Eastgate are located on level 4 of the car park, to the right of the on-ramp.
-ENDS-
Media inquiries: media@waverley.nsw.gov.au or 0416 075 532.