Waverley Council unveils gardens in the sky project to cool our cities
1 March 2021
Car parks, terraces and other urban spaces will be transformed into thriving gardens in a Waverley Council project to increase green cover across the local area.
The council received a $320,000 Greening our City Innovation grant to research, implement and develop cost-effective methods for greening under-utilised urban spaces through project SkyParks.
Greening our City is proudly funded by the NSW Government in association with Local Government NSW.
Mayor of Waverley, Paula Masselos, said with limited ground-level space in urban centres to establish new parks or canopy, SkyParks will harness the space available on built structures to grow plants and make Waverley a greener place to live, work and visit.
"High temperatures on hard surfaces and no vegetation makes some of Waverley's districts very hot during summer, and things will only get hotter under future climate change," Mayor Masselos said.
"The SkyParks gardens will create unique social and visual spaces that will provide cooler surface temperatures for local communities, increase biodiversity and reduce air pollution."
SkyParks will see gardens planted on key sites in the eastern suburbs such as Westfield Bondi Junction and The Entertainment Quarter, Moore Park to better understand and measure cooling benefits, energy savings, improved air and water quality as well as broader community benefits.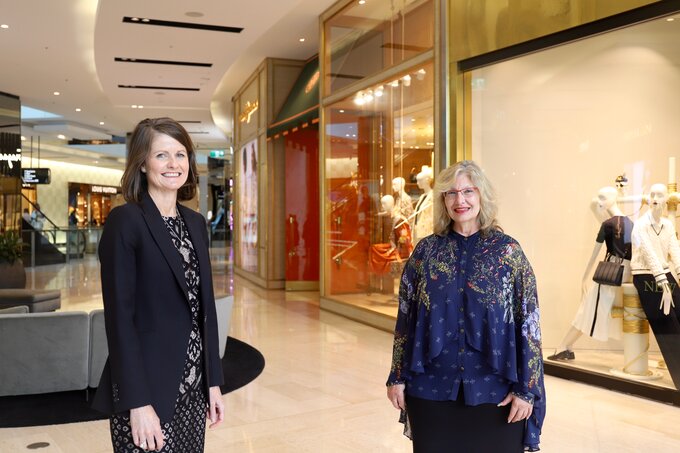 Zeroing in: Waverley Mayor Paula Masselos (on right) with Justine Saunders, Centre Manager, Westfield Bondi Junction. Westfield's owner Scentre Group is committed to net zero emissions by 2030. Picture: Waverley Council.
Westfield Bondi Junction will be home to Waverley's first SkyParks in a move supported by shopping centre owner and project partner, Scentre Group.
Justine Saunders, Centre Manager, Westfield Bondi Junction, said the company was excited to work with Waverley Council and the other project partners to establish gardens on its rooftops.
"The SkyParks project aligns with Scentre Group's community, environmental and sustainability objectives, including our commitment to net zero emissions by 2030," Ms Saunders said.
"Westfield Bondi Junction is an integral part of the local community and this project is another way for us to keep engaging with our customers and communities and share learnings and insights."
Mayor Masselos said Council began monitoring weather and environmental conditions at the Westfield site over Christmas to help inform the requirements for greening the space.
"Mid-year, we will begin installing bespoke greening solutions and educate and engage with residents, including Waverley preschoolers, on the social and community benefits of these rooftop gardens," Mayor Masselos said.
"By 2022, we will have started developing instructional materials and technical information to transfer and scale-up the project to other sites.
"Establishing cost-effective ways to retrofit existing exposed spaces in the built environment offers a huge opportunity for metropolitan councils and their communities.
"This will assist us to achieve sustainability and greening targets, which are particularly difficult to achieve on private land and on developed sites."
Waverley Council is grateful to the support and contribution of its project partners:
Media inquiries: media@waverley.nsw.gov.au or 0416 075 532.