Waverley Council launches Swap and Wash to reduce takeaway food container waste
29 March 2023
Waverley Council is trialing a new Swap and Wash reusable takeaway food container program in Bondi to help reduce plastic pollution and protect its beaches and the environment.
Customers can now order takeaway food in specially designed reusable mealboxes at seven participating food vendors. Once customers have purchased the mealbox they then swap the containers for hygienically cleaned ones when they next order a takeaway meal. Watch how the program works here.
The mealboxes are made from certified ocean bound plastic by Bondi start-up and certified B-Corporation, rePlated and manufactured on Sydney's Northern Beaches. RePlated is a Good Design Award gold winner.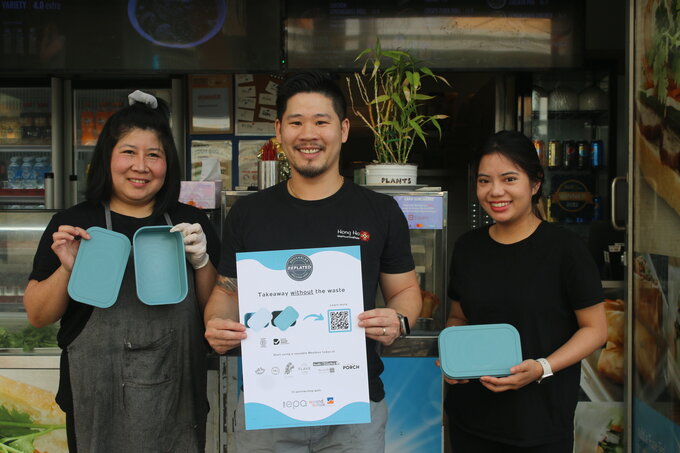 Hong Ha Red Roll is among the eateries where customers can order takeaway food in rePlate mealboxes, as shown.
Mayor of Waverley, Paula Masselos, said the Swap and Wash program had the potential to save 437 kilograms of plastic waste and avoid four tonnes of greenhouse gas emissions.
"Across the course of the 12 week trial, if 100 people participate in the system and purchase three meals a week, rePlated estimates that 5,200 single-use containers will be avoided, so imagine what could be achieved long-term with increased adoption," Mayor Masselos said.
"These types of programs ensure that materials and resources are kept in use for as long as possible and that end of life plans are embedded into the design of products."
All used rePlated Mealboxes are washed in accordance with food safety legislation and are collected by rePlated for recycling at the end of their useful life.
Owner and founder of rePlated, Naomi Tarszisz, said Swap and Wash allows customers to enjoy takeaway without the waste and cuts costs and generates revenue for businesses by replacing their single-use containers.
"4.5 million takeaway meals are eaten every day in Australia with most of these meals served in single-use containers that go straight into the bin" Naomi said.
"rePlated Mealboxes are an excellent demonstration of circular economy in action, showing how ownership and systems can be re-invented to design out waste from our everyday lives."
Mayor Masselos said more than 90% or all marine debris in NSW is plastic and hard plastic is the most abundant litter type found across Waverley's beaches.
"This trial supports Bondi businesses that are trying to make a difference and reduce their own and their customers' environmental impact," Mayor Masselos said.
"It is just one of the ways the Council is helping protect our fragile ecosystems and helping our community achieve net zero carbon emissions by 2035."
Moving towards a zero-waste circular economy is a key focus for Waverley Council, as outlined in its Environmental Action Plan.
"Swap and Wash is a simple concept and an easy to use program that has major benefits. Customers simply purchase the mealbox and then swap it for a washed mealbox when they next order takeaway. This allows customers to order ahead."
This project is supported by NSW Environment Protection Authority, Waste Less Recycle More initiative funded by the Waste Levy, and aims to support businesses during the NSW single-use plastic bans and reduce local litter.
In December, the Council launched a trial in partnership with Responsible Cafes to help local cafes reduce their reliance on single-use disposable cups and containers. Participating businesses included Porch & Parlour, Bronte Surf Life Saving Club Kiosk, Orchard St., Funky Pies, SHUK Bakery, SHUK Falafel, SHUK North Bondi, The Shop & Wine Bar, Harry's Bondi, Cali Press, The Nine, The Depot, Makuto, Bare Naked Bowls Bondi, bRu Coffee and Gertrude and Alice.
This project is supported by NSW Environment Protection Authority, Waste Less Recycle More initiative funded by the Waste Levy