Waverley Council launches SkyParks gardens at Westfield Bondi Junction
4 March 2022
SYDNEY, AUSTRALIA: Waverley Council has celebrated its first major environmental initiative for the year with the unveiling of three SkyParks gardens created in collaboration with Westfield Bondi Junction.
The bush tucker and coastal native gardens located near Good Start Learning Centre on Level 6 of the shopping centre, and a pollinator garden on the rooftop car park, were created as part of the Council's new SkyParks sustainability project aimed at cooling our cities.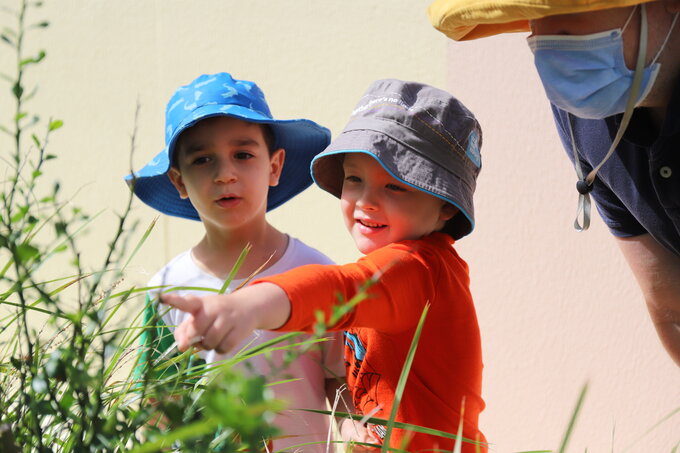 Good Start Learning students Kyron and Fionn explore the new bush tucker garden Picture: Waverley Council.
SkyParks gardens will be established on car parks and rooftops in the local region, providing opportunities to research and measure cooling and species suitability, but also understand potential business, community wellbeing and education benefits of installing vegetation in hot urban spaces.
Mayor of Waverley, Paula Masselos, said a lack of vegetation in parts of the Bondi Junction CBD make the area extremely hot during summer with temperatures likely to increase further under projected climate change.
"With limited ground-level space available to establish new parks or canopy, capturing opportunities to grow plants on top of built structures such as at Westfield is increasingly important," Mayor Masselos said.
"SkyParks is investigating the benefits and performance of different vegetated surfaces, to devise transferable and cost-effective ways to cool dense urban spaces and integrate more greenery into the built environment.
"It has potential benefits for other Sydney councils as we discover ways to adapt and transfer these learnings to other parts of the city and their communities."
NSW Department of Planning and Environment's Executive Director, Green & Resilient Places, Steve Hartley, said the initiative was part of a wider suite of work underway to increase tree canopy cover across Greater Sydney.
"We are pleased to support and fund innovative projects like SkyParks which focus on creative, collaborative, and real-world solutions to help with greening our city," Mr Hartley said.
"Greening car parks and other traditionally not-so-green spaces is something that can easily be scaled up across the city and beyond. This project in Bondi Junction is a great first step."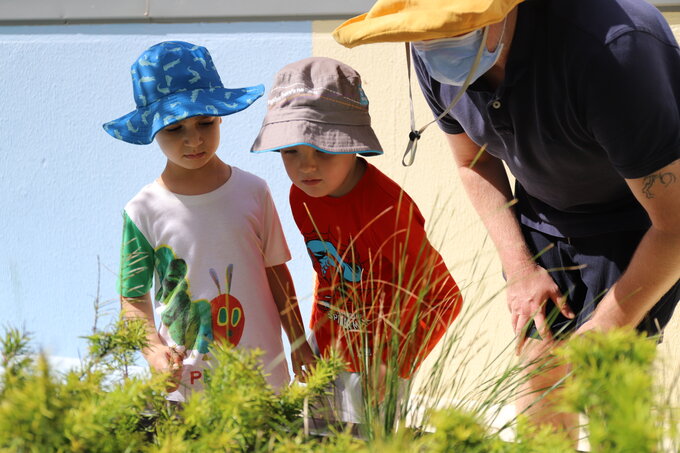 Good Start Learning have incorporated the bush tucker garden into their lesson plans. Picture: Waverley Council.
Justine Saunders, Westfield Bondi Junction Centre Manager, said: "We operate our Westfield Living Centres with a responsible business mindset. A key part of our approach is ensuring we have efficient and resilient destinations that bring people and communities together".
"We've worked closely with Waverley Council to establish three SkyParks gardens here at Westfield Bondi Junction. Not only will the new green space positively contribute to the environment but invite more customers to learn about the positive impact of greenery on our everyday lives," Ms Saunders said.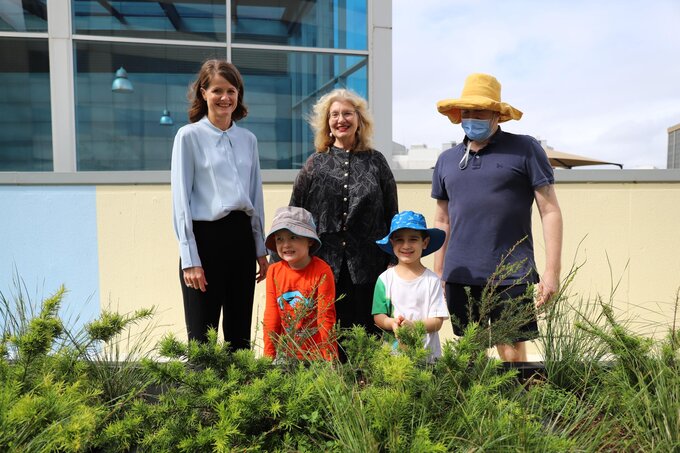 Justine Saunders, Westfield Bondi Junction Centre Manager, and Waverley Mayor, Paula Masselos, tour the bush tucker garden with Good Start Learning staff and children. Picture: Waverley Council.
Customers can visit the bush tucker garden near Good Start Learning Centre on Level 6 and view the outdoor native garden from the Level 6 walkway to learn more about the project. The Council consulted with the Local Aboriginal Land Council on the bush tucker garden to harness opportunities for incorporating local cultural information and learning into the project.
The Gujaga Foundation contributed local Aboriginal language and cultural knowledge input from indigenous researchers, Elders and knowledge holders, including recommendations on local plants with language name uses and cultural importance, and guidance for local promotion that reflects seasonal, authentic and culturally appropriate information relevant to Country [land, waterways and skyways].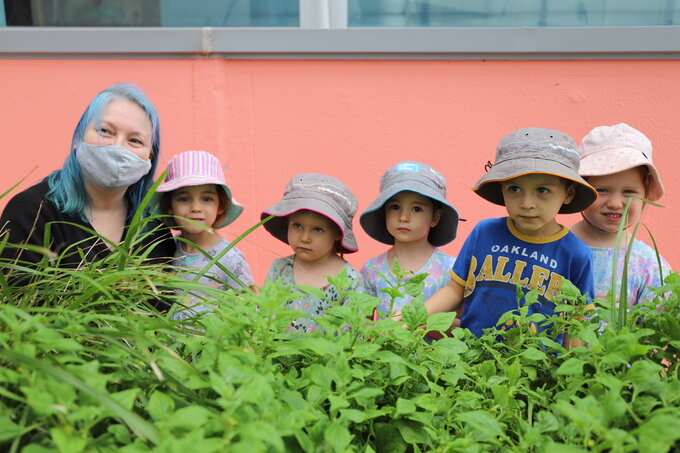 Good Start Learning students (above) learning about bush tucker, and the garden (below). Picture: Waverley Council.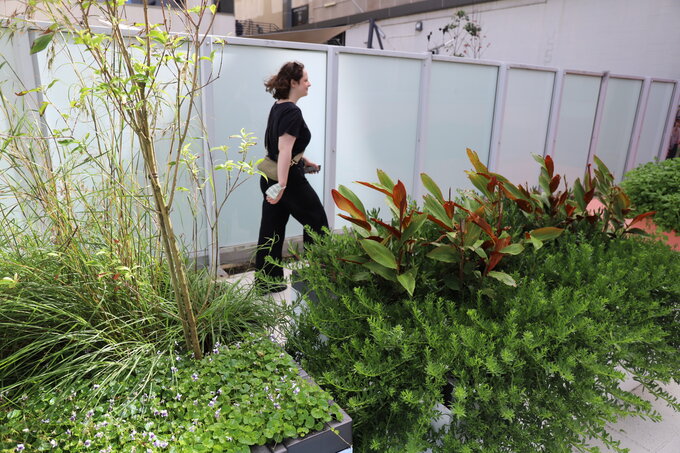 The bush tucker garden has also been incorporated into educational materials and lesson plans for children at Good Start Early Learning centres. Westfield have also contributed to wayfinding aspects of the program to share knowledge on the gardens with customers.
Waverley First Nations Councillor Dominic Wy Kanak, said the native plants used in the bush tucker garden are adapted to the local climate and provide food and shelter for butterflies, insects, birds and other animals.
"Plants have many uses for Aboriginal people – for food, medicine and as raw materials. Plants are also linked to what some call Dreaming stories that are deeply connected to First Nations people and the spiritual ancestors of Country," Councillor Wy Kanak said.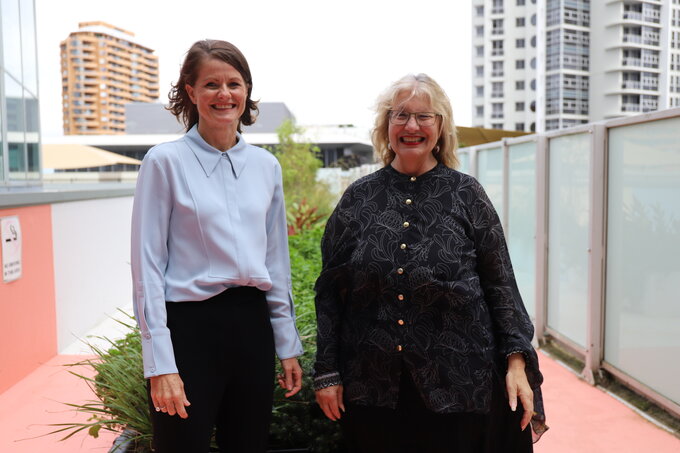 Justine Saunders, Westfield Bondi Junction Centre Manager, and Waverley Mayor, Paula Masselos celebrate the launch of SkyParks. Picture: Waverley Council.
The Waverley local government has a population of around 76,000 people and covers around only nine square-kilometres. At least 60% of residents live in flats, units or apartments and research shows that families who live in urban landscapes depend on being able to access local environments, due to limited space available within their apartment complexes (Andrews & Warner, 2019).
"Our natural spaces are crucial in supporting children's wellbeing and promote creativity and imagination through unstructured style of play," Mayor Masselos said.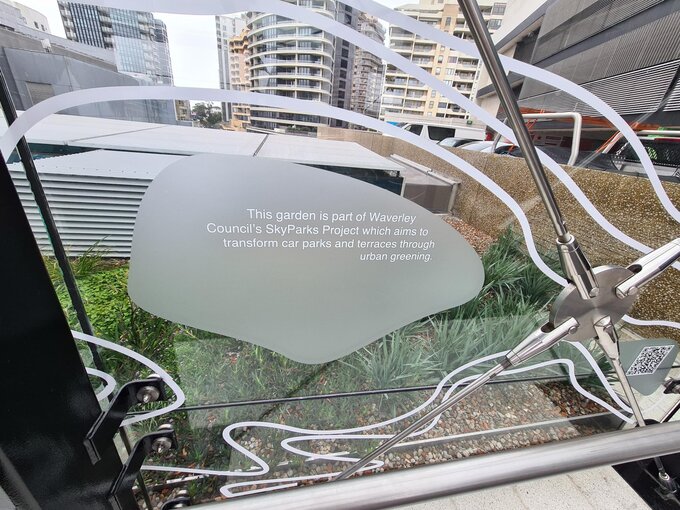 Educational displays feature in the SkyParks native garden located next to the walkway connecting Westfield Bondi Junction car park level R1 to retail Level 6.
For more about SkyParks, click here for our factsheet.
For more info about the bush tucker garden, scan the QR code below:

For more info about the pollinator garden, scan the QR code below.

Media inquiries: media@waverley.nsw.gov.au or 0416 075 532.