Waverley Council wins national award for helping strata apartments slash energy consumption
30 November 2020
Waverley Council's award-winning Building Futures program has helped selected strata buildings in the local area reduce their energy consumption by a higher than expected 24%.
Building Futures was launched in 2018 to help Council deliver its ambitious emissions reduction targets by working with apartment buildings to identify and implement cost and energy-saving solutions in common property.
The program has won a slew of awards to date, most recently including the Local Government Federation Award for Environmental and Sustainability Leadership.
Mayor of Waverley, Paula Masselos, said round one of the free program had helped 10 residential strata buildings reduce their annual carbon emissions by 651 tonnes as well as reduce running costs in each building by an average of $13,000 each year.
"Multi-unit residential buildings account for one third of carbon emissions in Waverley, and with more than 80% of residents currently living in apartments, Building Futures is an innovative program that is helping make our cities more sustainable as the population grows," Mayor Masselos said.
"The 24% reduction in energy consumption was achieved by working collaboratively with landlords, strata managers and residents, and exceeded our original target of 20%, putting us on a pathway towards our carbon neutral by 2030 target."
A further 10 buildings were selected for the second round of the program and preliminary results show that these buildings have been able to reduce energy consumption in common areas by 23%; reduce carbon emissions by 198 tonnes a year and save $37,000 in running costs.
"Building Futures has unlocked opportunities for improving the environmental performance of Waverley's strata buildings, and has been recognised at a state and national level as an important sustainability initiative to meet the evolving needs of the Waverley community," Mayor Masselos said.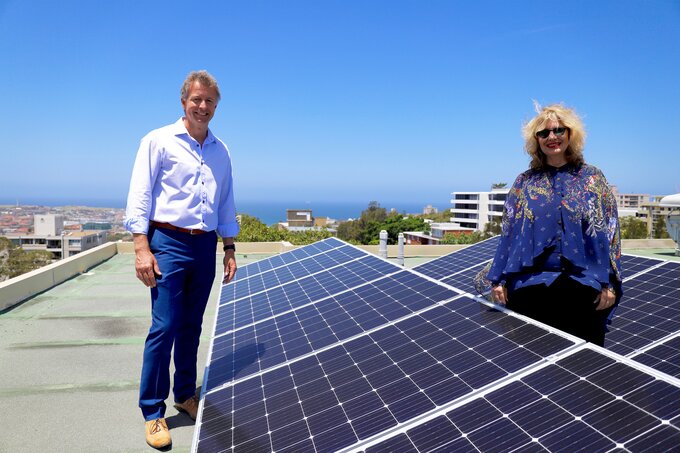 Power of the sun: Mayor of Waverley, Paula Masselos with Gino Farina,a strata owner and Committee member at Penkivil Gardens apartments in Bondi where solar was recently installed through the previous round of Building Futures.
In response to the economic and social challenges presented by the COVID-19 pandemic, the current [third] round of Building Futures includes aged care and social housing participants.
"It was very important for us as a Council to include aged care and social housing in this program, not only to help the community reduce its carbon footprint, but to help lower living costs which we know for many have really been stretched during the pandemic," Mayor Masselos said.
"Our Council is targeting support to those that will benefit directly from energy cost savings, and I'm looking forward to this program continuing into the future."
Building Futures* participating buildings receive:
expert energy assessments
costed efficiency upgrade recommendations
waste advice
funding and expert implementation support
training and networking opportunities
as well as recognition for achieving targets
"The program has shown that upgrading lighting is the easiest way that apartments in Waverley can reduce emissions and save on electricity bills. Optimising carpark ventilation has also delivered significant energy and costs savings," Mayor Masselos said.
To support Building Futures, Council has also launched the complimentary Solar my Strata pilot program to help selected smaller apartment blocks (those with under 45 apartments) address barriers to implementing rooftop solar solutions.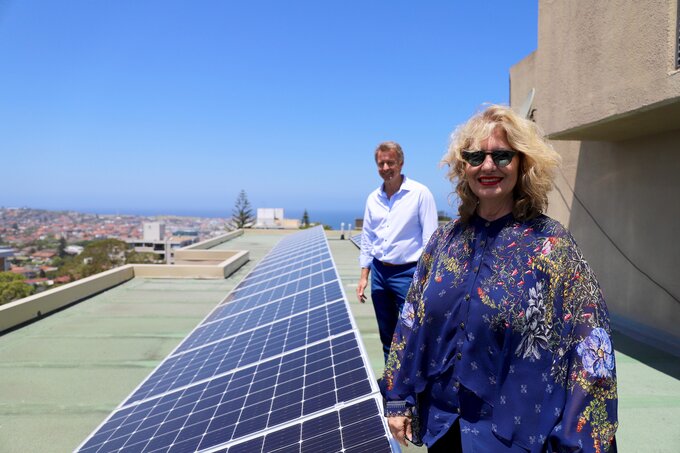 "These size of apartment buildings make up the majority of residential buildings in Waverley and the Solar my Strata program is our response to growing interest from our strata communities to explore renewable energy options," Mayor Masselos said.
"A 10kW solar power system was installed at 22-28 Penkivil St, Bondi, in the second round of Building Futures and shows what is possible when we all work together."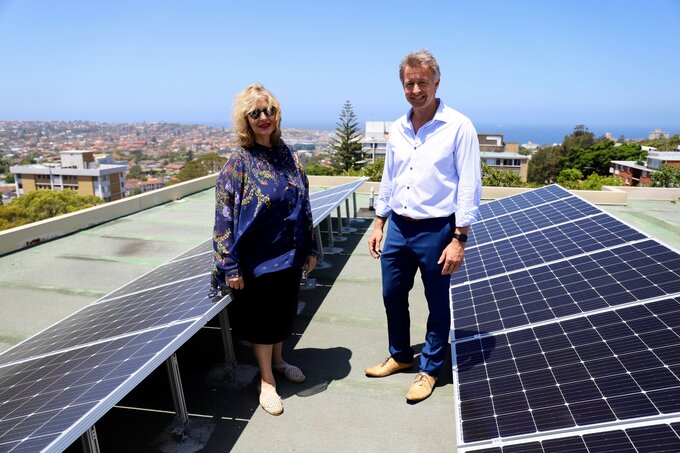 Click here for more.
-ENDS-
*Building Futures is nominated in the national 2020 Local Government Federation Awards for Environmental and Sustainability Leadership being announced on 1 December. It follows receiving the NSW Local Government Award in the same category earlier this year. The program also received the award for Towards Net Zero in the 2019 Local Government NSW Excellence in Environment Awards.
Media inquiries and images: media@waverley.nsw.gov.au or 0416 075 532.