Travel safely in Waverley with PUDO
25 August 2020
Waverley Council and Transport for NSW are making its easier for people to travel safely around Waverley with our newly installed pick-up drop-off (PUDO) bays.
PUDO provides safe access for ride share vehicles, taxis and the general public to pick-up and drop-off passengers safely in high traffic areas such as the Bondi Junction Interchange and Bondi Beach, with two endorsed mobile apps connecting them to the bay locations.
The bays are located in:
Grafton St, Bondi Junction (Bondi Junction Interchange PUDO)
Glenayr Avenue south side between Glasgow Avenue and Beach Road
Curlewis Street north side between Campbell Parade and Gould Street
Roscoe Street north side between Gould Street and Gould Lane
Hall Street north side between Gould Lane and Campbell Parade
Campbell Parade west side between Lamrock Ave and Hall Street
Hall Street north side between O'Brien Street and Gould Street
Adelaide Street west side between Oxford Street and Grafton Street
Ebley St, near entrance to Eastgate Shopping, Bondi Junction
Bronte Road west side between Ebley Street and Spring Street (this will be installed following completion of the Bondi Junction Cycleway).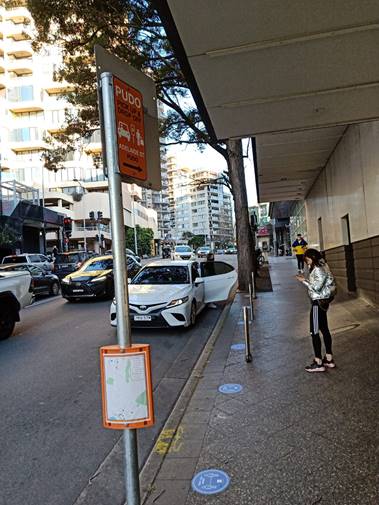 The Adelaide St, Bondi Junction PUDO
PUDO is a Smart City Transport and Parking initiative between the Council, Transport for NSW, ride share operators and other key stakeholders. The bays will be trailed for 12 months.
Mayor of Waverley, Paula Masselos, said the unveiling of the PUDOs coincides with more people looking for alternative ways to travel.
"We know that with the pressure on our public transport system due to COVID-related capacity limitations, more and more people are out and about but looking for alternative ways to travel so it's very important that we make the flow of people and traffic as safe as possible," Mayor Masselos said.
"These bays will help improve safety for all, whether you're dropping your partner to work or at the station, or giving a flatmate a lift to pick-up take-away from your favourite local restaurant."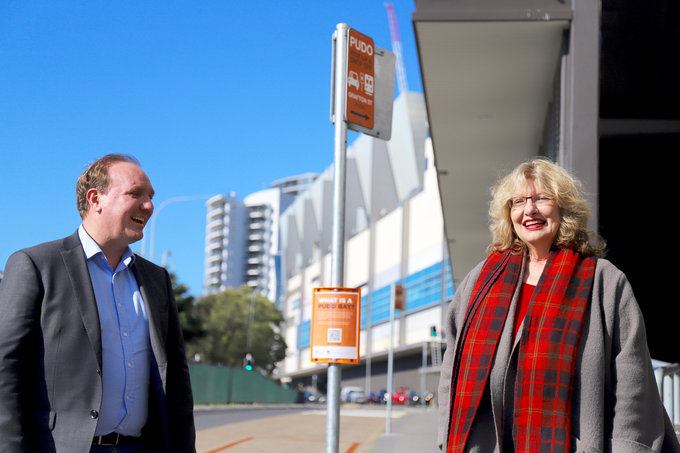 Transport for NSW's Chris Bennetts and Waverley Mayor, Paula Masselos, at PUDO bay outside Bondi Junction Interchange, Grafton Street, Bondi Junction
To support the initiative, Transport for NSW launched the Waverley Transport Innovation Challenge in February this year, which called on innovators, entrepreneurs and start-ups to create a Mobility-as-a-Service (MaaS) application. The MaaS concept proposes a seamless travel experience for planning, booking and purchasing transport as it is required, while also reducing the need for individually owned assets such as cars.
As a result of the challenge, two MaaS apps were endorsed- Moovit and Wave- to help locals plan their journeys around Waverley more efficiently and get to and from the PUDO points conveniently.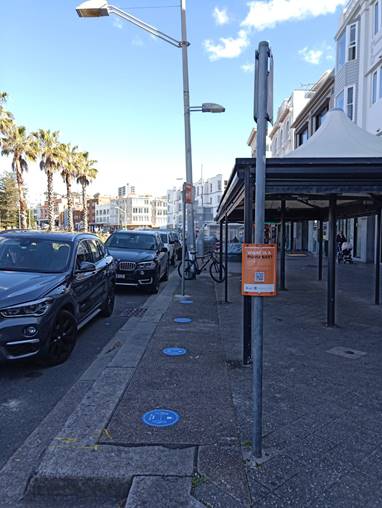 The Campbell Parade PUDO
Be sure to check out your nearest PUDO, and remember to keep 1.5 metres apart from other passengers in the queue.
For more information about the PUDO initiative, visit https://www.waverley.nsw.gov.au/environment/sustainable_transport/smart_city_transport_and_parking_initiative
Media inquiries: media@waverley.nsw.gov.au or 0416 075 532