Tamarama Surf Life Saving Club upgrade and Boot Factory restoration nearing completion
30 August 2023
Waverley Council's upgrade of the Tamarama Surf Life Saving Club (SLSC) and the heritage restoration of the Boot Factory building are scheduled for completion early next year following the appointment of Schiavello Constructions (NSW) Pty Ltd in June 2023 to complete the works.
The Mayor of Waverley, Paula Masselos and representatives from Schiavello today toured the two sites to celebrate the progress made in breathing new life into these community assets.
Council is restoring and upgrading the Boot Factory and Mill Hill Community Centre, at the rear of Norman Lee Place at 27-33 Spring Street, Bondi Junction into a community facility that will include an Innovation and Knowledge Hub where the Council can nurture ideas to further transform Waverley into a 'smart city' of the future.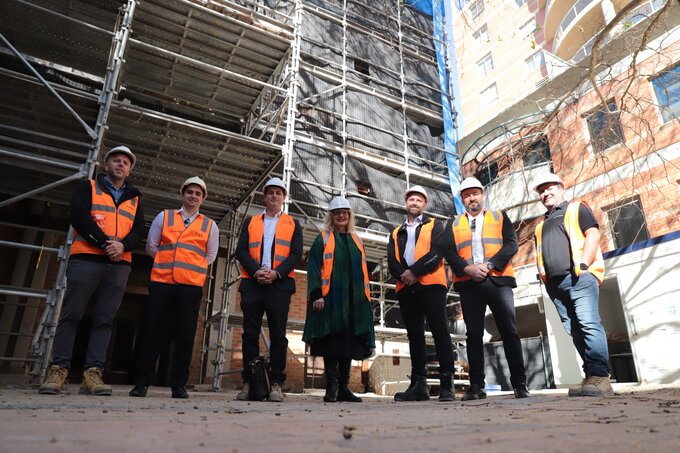 Mayor Masselos (pictured centre) and Alan Al Refaei, Director of Schiavello (second from right), and fellow representatives from Schiavello, toured the site this morning. Picture: Deborah Field/Waverley Council
The restoration includes an upgraded community and seniors centre, flexible community spaces, upgrades to Normal Lee Place and a café and is expected to be completed in March next year.
The building will be home to Council's first ever Thinker In Residence program aimed at innovating and engaging with the Waverley community to actively address priority environmental sustainability issues. Expressions of Interest from academics, non-for-profit organisations and change agents close 29 September 2023.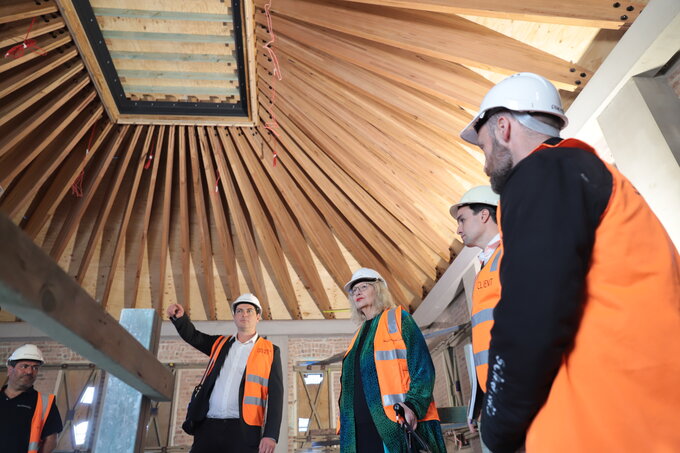 The Boot Factory's dramatic ceiling is one of its key design features. Picture: Deborah Field/Waverley Council.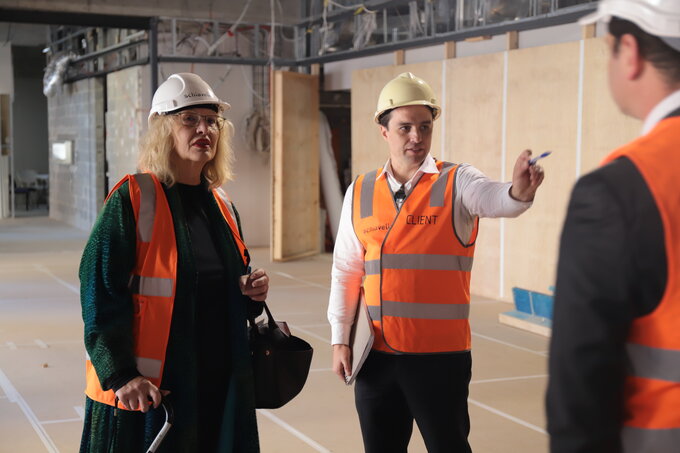 The Tamarama SLSC upgrade will provide amenities that cater to the needs of modern lifesaving, public education and engagement with the community and is being undertaken in partnership with the club.
It will provide improved vantage points for beach surveillance during patrols; improved facilities for female members, offer broader use by community groups and members of the public and addresses acoustic bleed to neighbouring properties.
The upgrade is part funded by the Australian Government via the Local Roads and Community Infrastructure (LRCI) Program. The LRCI Program supports local Councils to deliver priority local road and community infrastructure projects across Australia, supporting jobs and the resilience of local economies to help communities bounce back from the COVID-19 pandemic.
Mayor Paula Masselos said while the two projects are uniquely different, both share the common goal of increasing opportunities for community involvement in Waverley, education and innovation.
"Both the Tamarama Surf Club building and the Boot Factory have a special place in the hearts and minds of Waverley residents, and we're delighted to support the transition of these community spaces into the 21st century," Mayor Masselos said.
Alan Al Refaei, Director of Schiavello said the company is elated to be working with Waverley Council to breathe new life into these iconic spaces for the community to enjoy.
"Our focus has been to protect and restore the rich heritage elements of these buildings while undertaking major external, civil, structural and interior fitout works to create a thriving community hub,' Mr Al Refaei said.
Schiavello Construction has worked on several large-scale projects in recent years within the private and public sector including Crowne Plaza Coogee, Commonwealth Parliament, NSW Parliament, Coombs Centre and Macquarie University.