Tamarama Marine Drive now a safer scenic walk
22 August 2023
Tamarama Marine Drive is now safer for pedestrians and road users thanks to a recent streetscape upgrade by Waverley Council.
Waverley Mayor Paula Masselos said the upgrades to the footpath and raised pedestrian crossing, installation of new energy-efficient light poles and new and improved green bus shelters with wireless charging stations have all been completed in time for spring.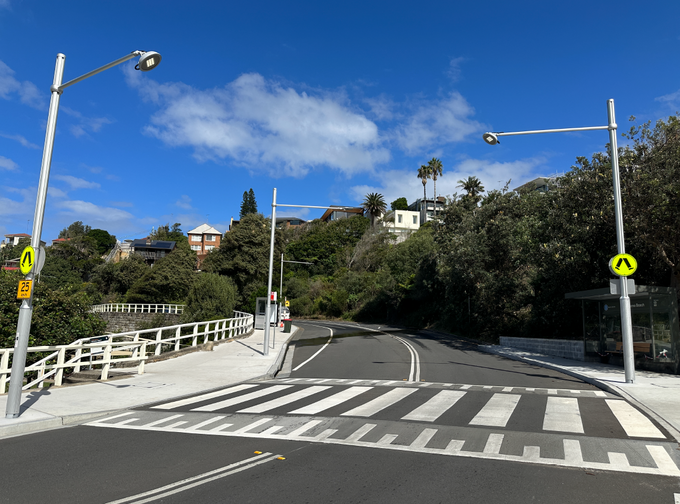 The new-look safety improvements.
"The pedestrian crossing improves pedestrian safety, whilst acting as a traffic-calming infrastructure," Mayor Masselos said.
"The wireless charging stations at the bus stops make them much more functional facilities and represents innovative thinking about the varied infrastructure people need when on public transport."
Landscaping has also been improved and three additional park benches have been installed. The park benches have arm rests to assist people who may have difficulty sitting down and standing up.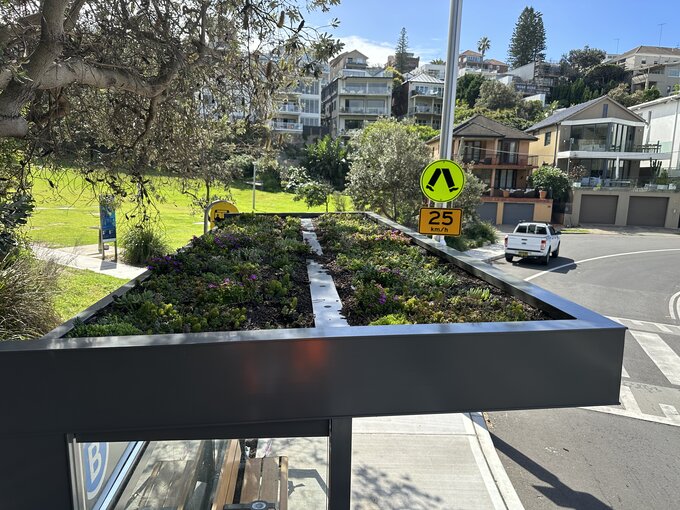 Green roofs are a new feature of the Waverley's streetscape upgrades.
The project is funded by the Federal and NSW government via the Transport for NSW Road Safety Program.
"Waverley has lots of high pedestrian activity areas within just nine square-kilometres, including along the Bondi to Bronte Coastal Walk," Mayor Masselos said.
"The walk attracts more than one million pedestrian visitors each year so the improvements have been vital.
"Waverley Council is committed to improving the pedestrian experience throughout the LGA and beautifying our outdoor spaces."