Take a trip through time on Bondi Bounce
25 February 2023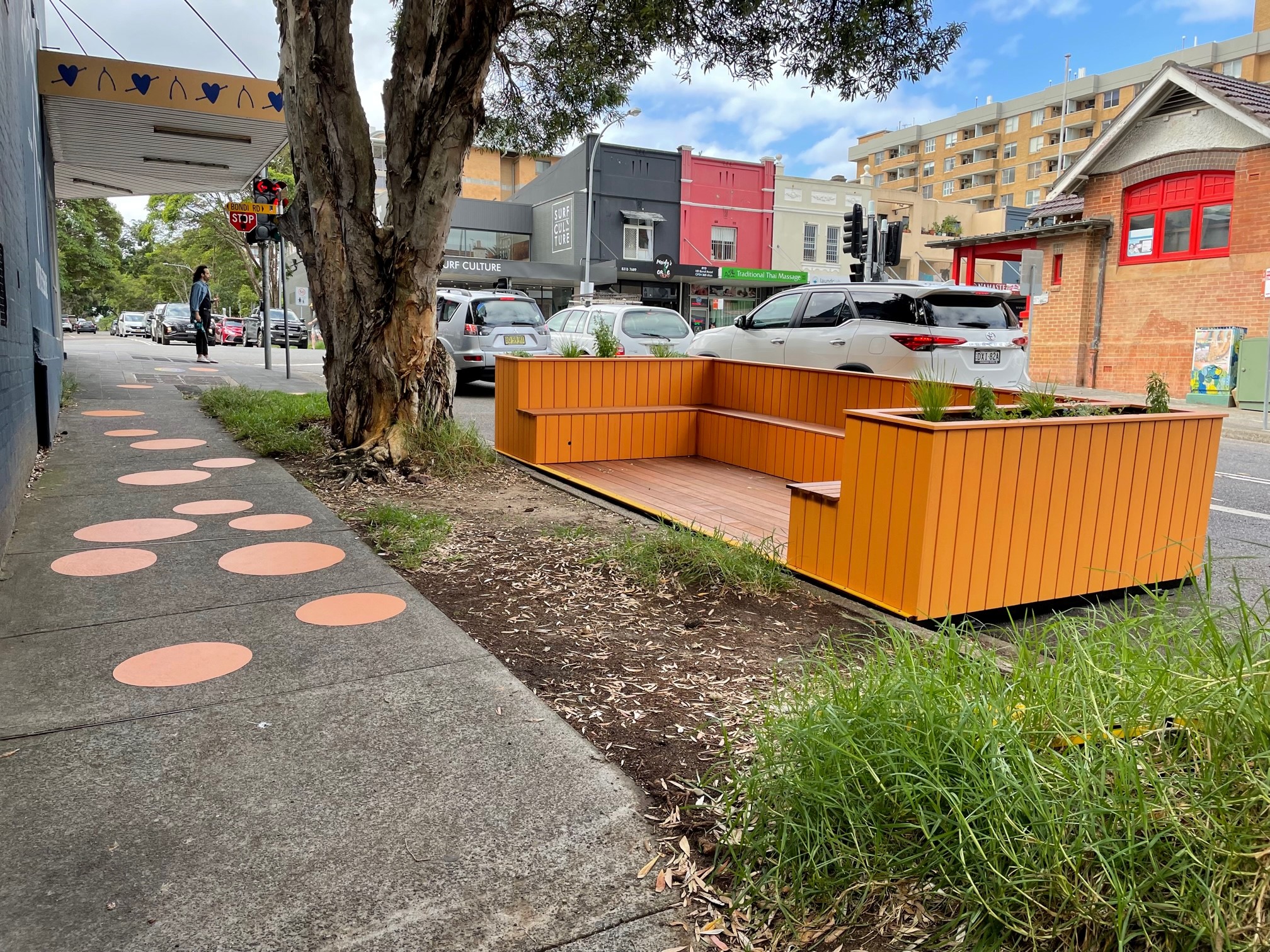 Waverley Council is inviting the community to provide feedback on the five new temporary parklets we've installed between Bondi Junction and Bondi Beach as part of the Bondi Bounce Streets as Shared Spaces project.
The parklets each have their own distinct colour scheme and help break up the 3.6 kilometre walk from the Bondi Junction interchange and the beach.
They are located off Bondi Road and Campbell Parade in Waverley Street, Ocean Street, Watson Street, Boonara Avenue and Wairoa Avenue.
They will remain in place for a trial period of six months, and if you have seen or used one these urban 'mini parks', we want to hear from you!
The Streets as Shared Spaces program aims to provide more and improved public space that improves walkability and connection to quality open, green and public spaces in urban areas, while increasing footfall for local businesses.
Mayor of Waverley, Paula Masselos, said feedback from the community will help determine whether the parklet trial should be extended, or alternatively, if the spaces should be considered and designed as permanent landscaped spaces with seating.
"Our Bondi Bounce parklets provide a safe place to take a moment to rest, relax and take in the sights and sounds of our diverse neighbourhood," Mayor Masselos said.
"They add some extra colour and vibrancy to our streetscapes as we welcome hundreds of thousands of WorldPride visitors to Waverley the Rainbow City.
"And there are benefits for visitors and members of the community who are elderly, or living with a disability, or who have young children who may need a rest along this route."
Waverley Council received funding from the NSW Government's Streets as Shared Spaces Program to deliver this project.
Council officers carefully selected the locations based on the impact to surrounding businesses and whether the road environment was suitable for installation. Adjacent businesses were consulted to ensure their operations wouldn't be impacted.
To learn more about Bondi's hidden history on this self-guided wayfinding journey, just scan the QR codes on our footpath stickers along Bondi Road and Campbell Parade as you bounce from one parklet to the next. Just follow the rainbow of coloured dots on the footpath to celebrate Sydney World Pride or explore the cultural walk online.
The launch of Bondi Bounce and the cultural walk coincides with Sydney World Pride, the biggest global event in NSW since the 2000 Sydney Olympics.
Waverley Council is an official WorldPride Festival and Venue partner. To search all events in Waverley during WorldPride, visit the What's On section of our website.
"I encourage our community to check out the Bondi Junction to Bondi Beach Cultural Walk and learn something new about our home by the sea," Mayor Masselos said.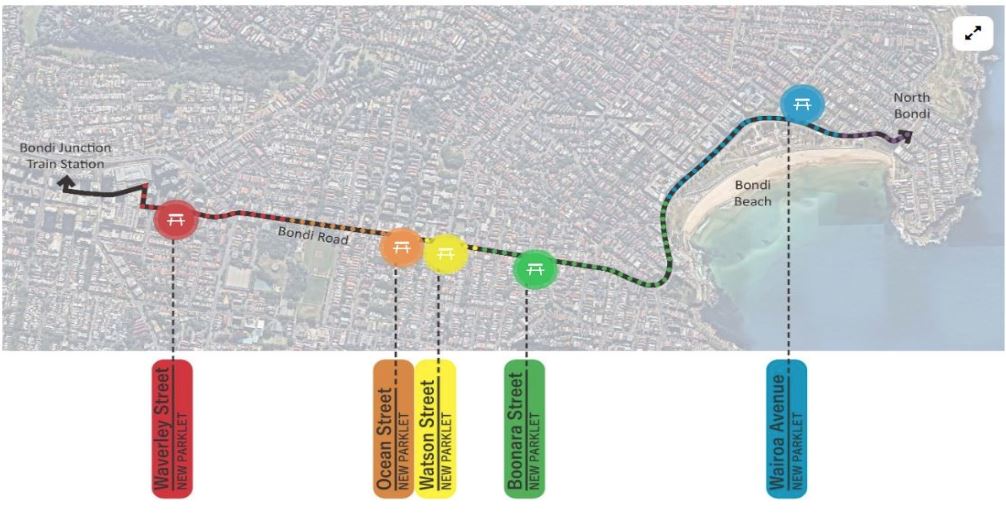 Parklets are an extension of the footpath and act as neighbourhood spaces for everyone to sit back and relax.
And while you're out exploring, be sure to check out our rainbow driveway outside Council Chambers.
Media inquiries: media@waverley.nsw.gov.au or 0416 075 532.