A big thank you to our community
20 January 2020
Mayor of Waverley, Paula Masselos and Bondi Surf Bathers Life Saving Club president, Brent Jackson, have thanked the eastern suburbs community for their assistance and generosity during the ongoing NSW bushfire crisis.
The Club acted as a relief centre this month with hundreds of residents and businesses volunteering their time to sort through more than 30 truck-loads of supplies donated by the community for evacuation centres and firefighters on the NSW South Coast.
The Club has also set aside a further 80 pallets of supplies to support tourism events in the region once the recovery process has progressed.
"The Club's members and volunteers were amazing, as was the generosity of the community," Mayor Masselos said.
Waverley Council supported the Club's relief efforts by providing logistical management and other measures. Mayor Masselos and Mr Jackson said the focus now was on encouraging tourists back to the regional areas that have been affected by the bush fires.
"Brent and I are asking the Waverley community to make plans to visit the NSW South Coast and buy your holiday supplies down there to help these communities get back on track," Mayor Masselos said.
"The South Coast relies on summer holiday trade so the best thing we can do now is to spend in the region and continue to donate money to organisations helping in the area."
Mr Jackson said he was overwhelmed by the support shown by locals during the club's donation drive.
"Our Board felt that a large hall, free for the weekend from Bronze groups, might be able to collect a few supplies to help those impacted by this unprecedented event. This rapidly became a focal point for the Bondi community who engaged with the Club in a way I have not seen before to actively express their empathy by donating, working and organising a substantial relief effort," Mr Jackson said.
"What it demonstrated beyond a doubt is that people trust the crisis support training, discipline and calm control that is the hallmark of a lifesaver. They believed our promise that we would get things to people that needed them.
"Many other Bondi community groups, Waverley and Woollahra Councils, local, state and federal politicians, our sponsors, and especially our sister club North Bondi have provided significant, direct and tangible support. It may have been held in our hall and boatshed, but it the activities of the community have been much greater than just our Club."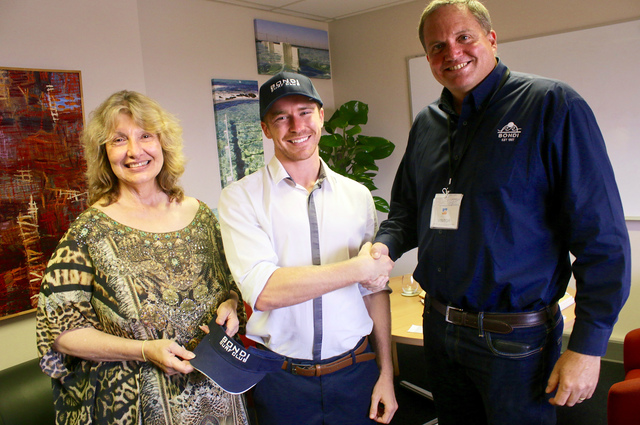 Here to help: Mayor Masselos and Brent Jackson thank Council officer Patrick Connor (pictured centre) for providing coordination support during the Club's donation drive.
Waverley Council is also offering assistance to residents hosting family or friends impacted by the bushfires.
"If you have anyone staying with you who has been impacted by the bushfires and needs assistance with anything from temporary parking permits to library cards, please call our Customer Service Centre who will be happy to assist on 9083 8000. We can also refer them to relevant community groups and other resources available in Waverley."
Mayor Masselos also encouraged residents to dig deep for organisations working with injured and orphaned animals.
"It would be great if people could consider a donation to WIRES or help knit a pouch for orphaned joeys. You can find details at wires.org.au," Mayor Masselos said.
Residents travelling to the South Coast are advised to check the Fires Near Me app and NSW Live Traffic for up-to-date information.
To find out more about bushfire donation, click here.
For more, follow Waverley Council @WhatsonWaverley and Bondi Surf Bathers Life Saving Club @bondisurfclub on Facebook.