Our Harmony Concert is back!
UPDATE: 31 March 2021
Waverley Council's free Harmony Concert will now be held on Saturday 11 April, 11am to 3pm at Oxford Street Mall, Bondi Junction.
Our wonderful artists Yulugi, Eishan Ensemble, Moussa Diakite, are back for a great afternoon of music.
Bring the kids, and enjoy our celebration of diversity!
UPDATE: 9.40AM, FRIDAY 19 MARCH
Waverley Council's free Harmony Day concert this Sunday at Oxford Street Mall, Bondi Junction has been postponed due to adverse weather.
Late yesterday, the NSW SES Metro Zone issued a Flood Watch warning for the Sydney Metropolitan Region, with heavy rain continuing to impact the city over the coming days.
Mayor of Waverley, Paula Masselos, said Council is working with the musicians on new performance dates.
"Although we are disappointed that our concert can't go ahead as planned due to safety reasons because of the weather, Harmony Day remains one of the most important events on Waverley's cultural calendar and a time for the community to reflect on our rich diversity," Mayor Masselos said.
-ENDS-
MEDIA RELEASE:16 March 2021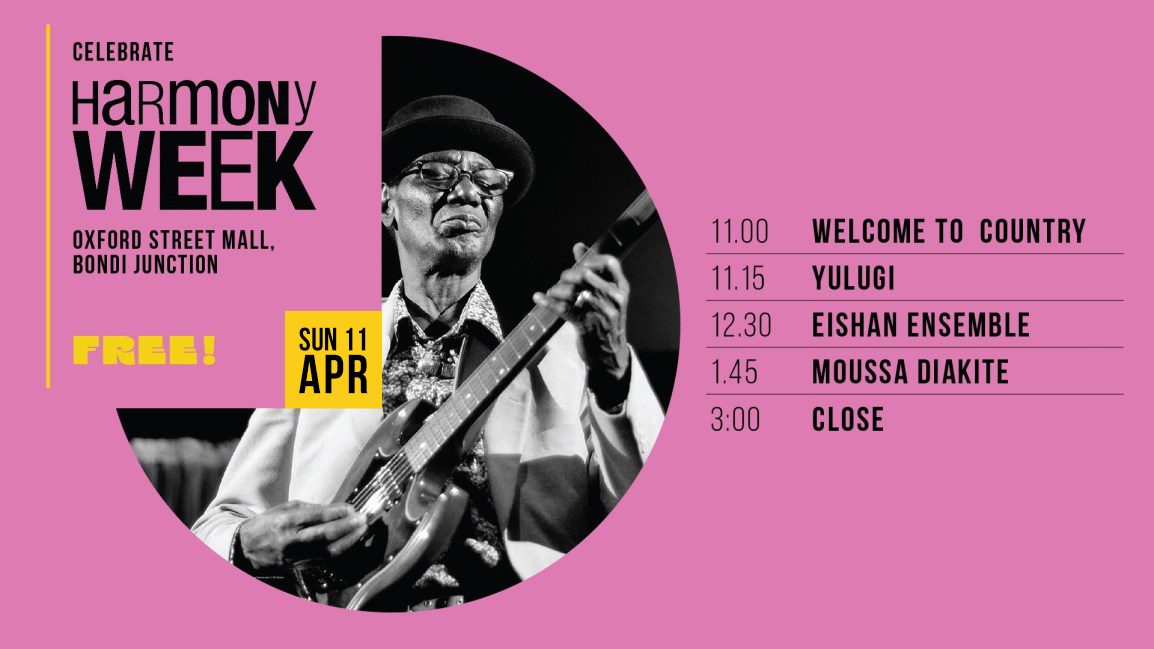 Waverley Council is teaming up with the Sydney Improvised Music Association to celebrate Harmony Day with a free concert in Oxford Street Mall, Bondi Junction on Sunday 21 March, 11am to 3pm.
The event features a range of incredible musicians with musical backgrounds spanning from our rich Aboriginal cultures to Persia and Mali.
The audience will see performances by Yulugi, EishanEnsemble and Moussa Diakite from a stage in the middle of the Mall.
Waverley Mayor Paula Masselos said "Waverley has a diverse community and attracts visitors from all over the world so Harmony Day is a meaningful and poignant time to celebrate and bring vibrancy and life to Bondi Junction.
"Throughout the pandemic year our Arts and Culture team has worked hard on creative COVID-safe events and exhibitions and are thrilled to be able to plan a live music concert.
"I am delighted to partner with Sydney Improvised Music Association and appreciate the support of the State Government."
Supported by the NSW Government's Festival of Place Summer Fund initiative, the community is invited to come down to the Mall, bask in beautiful sounds from across the globe, and take advantage of the wonderful selection of nearby food and drink outlets.
-ENDS-
About the artists
Yulugi
A dialogue across cultures, this collaboration between song man Gumaroy Newman who descends from the Gamilaroi and Wakka Wakka nations of Northern NSW, and British/Australian artist Keyna Wilkins, draws on Australia's landscapes and fauna to create improvised sonic soundscapes.
Eishan Ensemble
Led by acclaimed Persian-Australian guitar player and composer, Hamed Sadeghi, the quartet Eishan Ensemble draws on contemporary and classical music traditions of both East and West. Eishan's repertoire consists predominantly of Sadeghi's original compositions and diverse improvisatory idioms.
Moussa Diakite
Born in Mali, guitarist, singer and composer Moussa Diakite has toured the world with his music, and now resides in Western Sydney, Australia. His style is derived from the Wassoulou style of music from Bougouni area of Mali, fused with elements of Malian, Congolese, highlife, afro-beat, blues and jazz.