Help shape the Bondi Surf Bathers Life Saving Club upgrade
11 August
Waverley Council in partnership with Bondi Surf Bathers Life Saving Club (Bondi Surf Club) is embarking on an historic heritage upgrade of Australia's oldest surf club.
This upgrade aims to breathe new life into the historic clubhouse built in 1934 and foster the next generation of surf life savers.
The Council is inviting the community to register to receive updates about this exciting project at https://haveyoursay.waverley.nsw.gov.au/
Council and Bondi Surf Club encourage everyone to register and be part of this historical community project.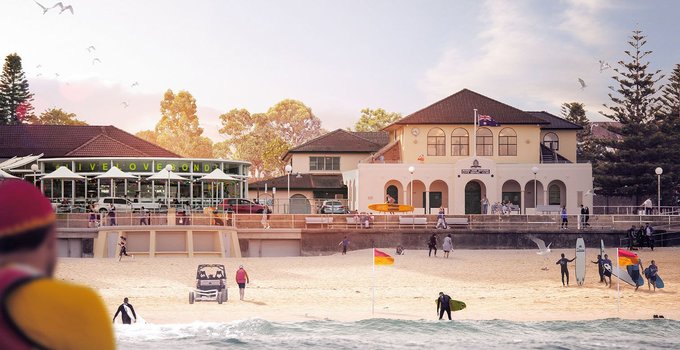 Mayor of Waverley, Paula Masselos, said steering the design are three Conservation Management Plans (CMPs) with ongoing feedback from the NSW Office of Environment and Heritage.
"We are looking forward to what the community thinks about the design for the upgrade to one of Australia's most iconic surf life saving clubs," Mayor Masselos said.
"This upgrade will provide significantly improved amenities to cater to the needs of modern surf lifesaving and the community and help foster the next generation of surf life savers."
Bondi Surf Club President, Brent Jackson, said the concept design proposes equality of facilities for women who comprise more than 40% of the club's new membership and improved facilities for Nippers.
"We're the oldest surf club in the world, and the original clubhouse is hailed for its exceptional cultural and heritage significance. This historic upgrade aims to enhance this," Mr Jackson said.
"In keeping with requirements of the Conservation Management Plans for the area, the draft concept design preserves the 1934 clubhouse in all its glory, with modern lightweight additions that showcase the original heritage.
"We are all very proud of the work we do within the community - from the Dippers program with Autism Swim, to the Wayside Chapel and the bushfire appeals, and so more much. The draft concept is intended to improve interaction between our membership, the public and community groups".
The upgrade aims to:
remove intrusive non-heritage elements of the existing building
highlight and restore historic elements
return space to the local community, improve public amenity, open accessibility, restore views, and increase public parkland and native vegetation
ensure Bondi Surf Club operations, training functions and vital community safety and rescue services are functional and sustainable
provide greater community interaction
improve environmental sustainability
retain existing trees
improve training, first aid and storage facilities appropriate to the water safety and rescue needs of the club.
address significant workplace health & safety and building code non-compliance issues including poor disabled access, adherence to fire standards, flood damage and general disrepair
From 20 August, the Council will invite the public to provide its feedback about the draft concept design for the clubhouse upgrade. This round of consultation will be open until 17 September 2020.
The upgrade is being funded by Waverley Council, NSW state government, Bondi Surf Club and public donations. Construction is anticipated to commence in early 2022 pending outcomes of consultation.
To register your interest in this project, visit: https://haveyoursay.waverley.nsw.gov.au/
-ENDS-
Media inquiries: media@waverley.nsw.gov.au or 0416 075 532