Help keep safe by preparing for emergencies
25 August 2020
To mark Emergency Preparedness Week, 31 August to 6 September, Resilient Sydney member Waverley Council is encouraging residents to download a free app that helps users prepare for emergencies through the development of an emergency plan on their phone.
The Get Prepared app was co-created by the Red Cross and IAG as one-stop tool to help residents prepare for any type of emergency.
It builds on many years of work by governments and the Red Cross to help people prepare both physically and psychologically for disaster.
Resilient Sydney is a strategy that sets the directions all levels of government must take in partnership with businesses and communities to strengthen our ability to survive, adapt and thrive in the face of increasing global uncertainty and local shocks and stresses such as heatwaves, storms and cyber-attacks.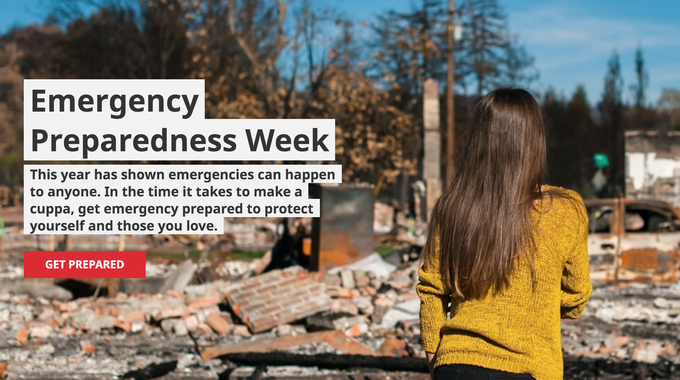 Emergency Preparedness Week is an initiative of the Red Cross. Image: Red Cross
The Get Prepared app works by helping users:
establish a quick and easy network of support with three key contacts
review risks relevant to where they live
provides checklists of actions to make an emergency plan
saves the emergency plan as a PDF to be shared with others.
Mayor of Waverley, Paula Masselos, said the app is a simple way Waverley residents can help strengthen local connections to ensure support and safety is close by during disasters.
"No-one likes to think about 'worse-case scenarios' but if last summer's bushfires have taught us anything, it's that it's essential for the community to be connected to their relevant local emergency services organisations, and to each other," Mayor Masselos said.
"The Get Prepared app helps us think about what we would do in an emergency, and who we can connect with locally to enact a plan that's tailored to our needs and that of our families. Knowing someone next door, in your building, or down the street can help during an emergency. It is the chance for friendship too."
To download the Get Prepared app, click here
For community members who require support during COVID-19, please visit our advice lines and referrals page.
Media inquiries: media@waverley.nsw.gov.au or 0416 075 532