Have Your Say about the Bronte Surf Lifesaving Club building project
7 May 2020
Waverley Council is inviting the community to provide its feedback about the proposed design for the new Bronte Surf Lifesaving Club (SLSC) and community facilities building.
The Council and Bronte SLSC are redeveloping the site into a fit-for-purpose facility to meet the needs of contemporary surf life saving and the community.
Earlier this year, the Council endorsed a preferred design (pictured-below) for the building project which was informed by community consultation held in 2019 and ongoing stakeholder feedback.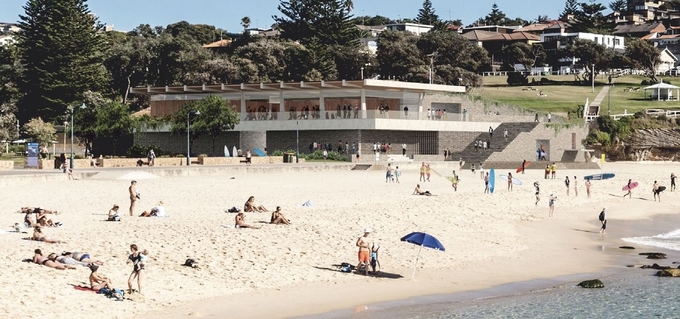 From now until 3 June, the community will be invited to provide feedback on that design which will inform the design lodged with the development application.
The building will include lifeguard and first aid facilities, family and accessible public amenities, administrative offices, kiosk, gymnasium, function room and training and meeting rooms. The promenade will also be upgraded for all users of Bronte Beach.
Mayor of Waverley, Paula Masselos, said the new facility will serve more than 1900 Bronte SLSC members, Waverley Council lifeguards and the wider community.
"The exciting building project will result in significant improvements to amenities, provide better lifeguard facilities, open up new view corridors to the ocean, improve workplace health and safety (WHS) requirements and will ensure the service the Club provides to the community will continue into the future," Mayor Masselos said.
"It will help Bronte SLSC continue its tradition of helping keep our beaches safe since 1903.
"In 2019, we asked what values and activities were important to the community with regards to this project. Now we're asking the community for feedback on the design they helped create".
Bronte SLSC President, Basil Scaffidi said the new facilities will help with essential lifesaving activities and in the education and training of nippers and lifesavers which is something the whole community will benefit from.
"The current clubhouse was built 46 years ago and a lot has changed in that time," Mr Scaffidi said.
"We are delighted that Waverley Council endorsed this preferred design option and we're looking forward to hearing how the community responds."
The community will be asked to provide feedback on the separation of the buildings as well as the proposed green roof on the community facilities building, the layout/landscaping of the sunken community area known as the 'Cubes' and the materials chosen.
Consultation runs until 3 June at haveyoursay.waverley.nsw.gov.au