Have Your Say about our Curlewis Street Streetscape Upgrade
20 May 2022
Waverley Council is inviting the community to have its say about our planned streetscape upgrade of Curlewis Street, Bondi Beach.
Community consultation is open until 15 June at https://haveyoursay.waverley.nsw.gov.au/curlewisstreetscape.
Have Your Say days will also be held later in the month in Curlewis Street and at the Bondi Markets at Bondi Beach Public School. Please see our Have Your Say website for updates.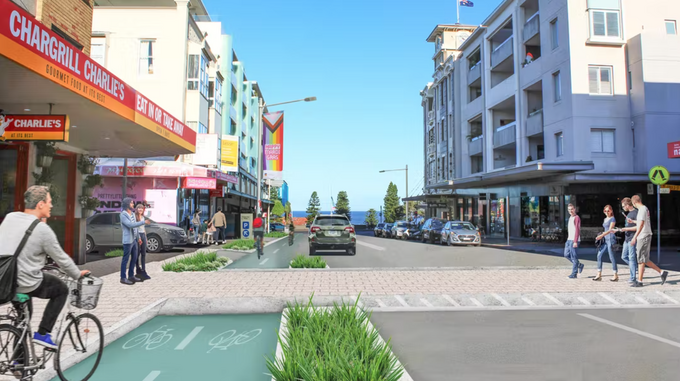 The upgrade will help create a well-connected area for pedestrians and bike riders whilst balancing the needs of motorists.
A key feature of the upgrade is a new permanent separated two-way bike path from Campbell Parade to Old South Head Road, on the northern side of Curlewis Street. Curlewis Street was selected by Transport for NSW and supported by Council as a priority route for a bike path.
Mayor of Waverley, Paula Masselos, said that this key route between Woollahra and Waverley local government areas will better connect the key destinations of Bondi Beach and Rose Bay.
"It will also improve access to Bondi Beach for cyclists via Bondi Road and Curlewis Street, and connect to the Rose Bay ferry service," Mayor Masselos said.
The project development to date has been part funded by the State Government's Active Transport Program.
The planned full streetscape upgrade includes:
Intersection upgrades
New street lighting
Improved footpaths
Verge plantings and canopy trees
Raised pedestrian crossing
"Curlewis Street and its surrounds is a community hub that plays an important role in the liveability of Bondi Beach," Mayor Masselos said. "The land use in the centre is mixed, from residential housing and childcare centres, to shops and cafes, a petrol station and repair stores.
"This streetscape upgrade will help create a safe and well-connected area for pedestrians and bike riders whilst balancing the needs of motorists including parking and vehicle access. A good streetscape should enable safe and easy movement for all, provide spaces for people to connect.
"We'll be increasing urban greening in the area through climate-appropriate planting, canopy trees and raingardens."
To provide feedback about the project, or for more information, click here.