St Vincent's Hospital to open a drive-through COVID-19 testing clinic at Bondi Beach
Sunday 5 April
Waverley Council has welcomed NSW Health's decision to establish a drive-through COVID-19 testing clinic at Bondi Beach.
The NSW Health and Vincent's Hospital-run clinic is due to open tomorrow, Monday 6 April in Park Drive North, Bondi Beach car park.
It will operate from 9am and 5pm daily for motorists to be tested from the comfort of their vehicle.
The pop-up COVID-19 testing clinic at the High Tide Room at Bondi Pavilion will also be open 9am to 5pm daily. Read related news item here.
Mayor of Waverley, Paula Masselos, said the Council supports any move by NSW Health to increase the community's access to testing.
"Hundreds of people have been tested at the pop-up clinic at Bondi Pavilion since it opened this week and the drive-through clinic is another way the community can help slow the spread of this deadly virus," Mayor Masselos said.
"I urge people with symptoms or who meet the testing criteria to visit either of the clinics and speak to the nurses for the right advice.
"Together we can save lives if we follow the advice of the authorities."
The clinics have been established for people living or working in Bondi Beach or Bondi Junction who have fever or history of fever- or- symptoms of acute respiratory infection (cough, shortness of breath, sore throat).
Entry to the drive-through clinic will be from the corner of Beach Road and Campbell Parade (traffic lights near the Return and Earn station) into Park Drive North. Motorists will remain in their vehicle while being tested and will exit via the Queen Elizabeth Drive (Bondi Beach car park) exit.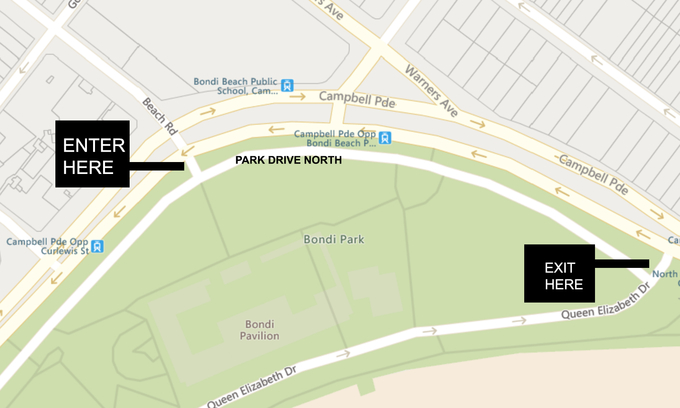 It is recommended that residents who use Park Drive North for longer term parking park elsewhere in the beach car park.
As of Friday 3 April, there were around 174 confirmed cases of COVID-19 in the local community, figures from NSW Health showed, including:
95 cases in postcode 2026 (Bondi, Bondi Beach, North Bondi and Tamarama)
28 cases in postcode 2022 (Bondi Junction, Queens Park)
15 cases in postcode 2024 (Bronte, Charing Cross, Waverley)
13 cases in postcode 2023 (Dover Heights)
10 cases in 2029 (Rose Bay)
13 in 2030 (Vaucluse)
"These statistics show why we must all pull together to stop any further spread of COVID 19 in our municipality and why Council has taken the difficult decision it has to close our beached and other facilities," Mayor Masselos said.
For more about visiting the clinics, visit: https://www.health.nsw.gov.au/Infectious/diseases/Pages/coronavirus-clinics.aspx
For the Council's latest responses to COVID-19, visit waverley.nsw.gov.au. For the latest Health advice, visit health.nsw.gov.au/coronavirus
Media inquiries: David Faktor, Director, Media and Communications, St Vincent's Health Australia, Sydney, 8382 2866 or david.faktor@svha.org.au