Charing Cross Streetscape Upgrade aims to transform Waverley's oldest suburb
1 November 2022
Mayor of Waverley, Paula Masselos, held a Meet the Mayor community session last week in Charing Cross to discuss the Council's proposed streetscape upgrade of Waverley's oldest village centre.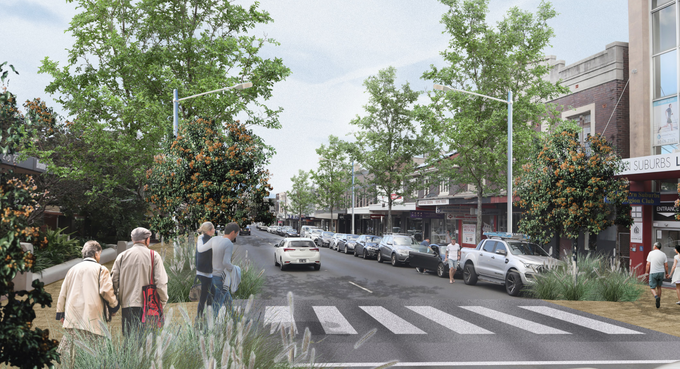 Upgraded landscaping, including new trees and street furniture
Safety improvements for all transport modes, including the introduction of a 40km/h area, as part of a wider LGA project
Improved sustainability through new bioretention tree pits which provide stormwater treatment as well as landscape amenity
Widening of footpaths to improve access
Undergrounding of overhead powerlines
New multipoles and upgraded lighting to replace existing Ausgrid poles and will reduce spill lighting onto buildings
Improved stormwater infrastructure
"Our concept design for the Charing Cross streetscape upgrade aims to preserve and celebrate the traditional village look and feel of this much-loved neighbourhood area while making it more sustainable and safer for pedestrians, motorists and those using public transport," Mayor Masselos said.
"The Charing Cross community is passionate about their village and it was great to talk directly with residents and business owners at our Meet the Mayor session on 26 October 2022 at Cafe Sorelle to discuss the plans.
"Our proposed concept design for the upgrade will make this terrace-lined village centre even more beautiful while employing sustainability measures that will bring it into the 21st century.
"As part of our commitment to increasing tree canopy cover across the entire local government area, I am also very proud of the fact we'll be planting a significant number of appropriate tree varieties and size in the village centre and installing bioretention tree pits which help treat stormwater run-off.
"Most importantly, the Council is continuing to work closely with residents and local businesses on all facets of this proposed upgrade, including staging construction to limit impacts of the project when it reaches that phase."
As part of the concept design, throughout the entire streetscape, only four parking spots will be lost to incorporate a new pedestrian crossing mid-way down the block. The project's traffic study found that a separated cycleway would result in significant losses to parking and narrowing of footpaths (also reducing space to plant trees) and has been ruled out for this location. The Victoria Street car park remains.
Our next Meet the Mayor sessions will held at:
Thurs 10 Nov: Meet at parklet outside Gertrude & Alice Bookstore and Cafe, Bondi Beach
Wed 23 Nov: Meet outside Bru Cafe, North Bondi
Thurs 15 Dec: Meet at Shuk Bondi, North Bondi
All sessions run from 10.30am to 12 noon. Bookings are not required.