Celebrated Bondi artist brings children's stencils to life
3 August 2020
Stencil art designed by 30 local school students are now on display along the promenade at North Bondi in a collaboration with Bondi street artist Cameron Scott @notnotcamscott and Waverley Council.
The children designed the stencils at two workshops Cameron held recently as part of Waverley Council's school holiday program.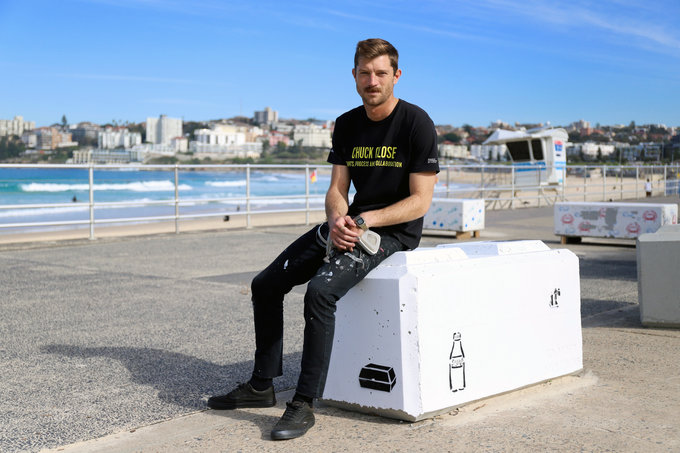 Known in Sydney's street art scene under his moniker NOTNOT, Cameron produces unique works that enrich urban spaces. Working in both street & gallery, digital & material, Cameron has been employed at the Museum of Contemporary Art Australia and the Venice Biennale/Guggenheim, and exhibited in numerous shows both here and abroad.
"A few years ago, Waverley Council was kind enough to hit my up to make some of the first concrete blocks at Bondi look a bit better," Cameron said. "In my more gallery-focused work I do a lot of ocean abstractions which is why I can stare at the ocean for hours and not get bored.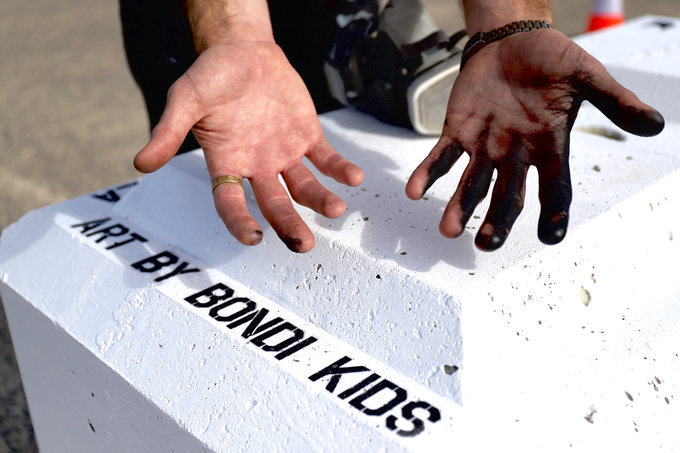 "I used to have a small gallery in North Bondi where we just put on shows for charities and not-for-profits. One of them was Take 3 For the Sea, so when I was asked to do those first blocks I thought Take 3 would ideal because they have a great message, it's a great cause and everyone will love it.
"This time around, the designs on these blocks [at North Bondi] have all been done by Waverley kids. The Council had the great idea of putting together some school holiday workshops where I teach kids to cut their first stencils and after those workshops finish, I take those stencils and put them onto the concrete blocks. There are 22 blocks and about 60 stencils designed by 30 kids.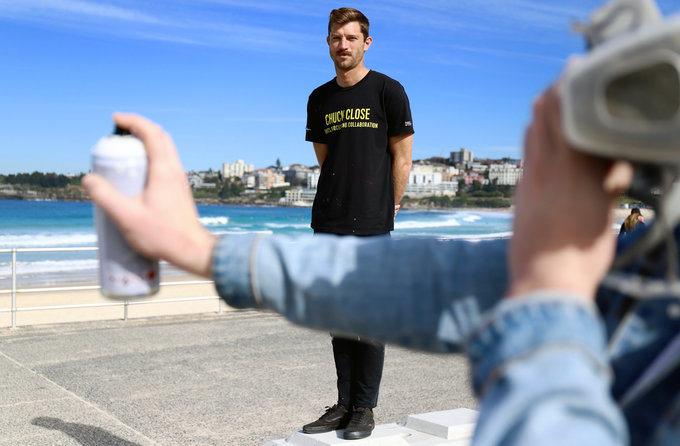 "I would be so stoked as a 12-year-old I once was to be putting works on the beach promenade because it is such a high profile spot. I'm sure when they come down with their parents or after school, they'll be pretty happy to see their stencil. I was lucky enough to grow up in Tama, Bronte and Bondi and It's certainly a great place to raise a family."
Cameron is the latest Waverley resident to be featured in Waverley Council's Waverley 160 campaign. To share your story about your connection to our wonderful area, or to nominate someone to be featured, please email waverley160@waverley.nsw.gov.au
Take 3 is an Australian environmental charity removing plastic pollution and waste from oceans. Take 3 encourages people to take three pieces of rubbish with you when you leave the beach, waterway or anywhere.
Media inquiries: media@waverley.nsw.gov.au or 0416 075 532