Celebrate the essence of Festival of the Winds
3 September 2020
Waverley Council and the Australian Kiteflyers Society invites you to celebrate the essence of the 42nd Festival of the Winds through an exciting offering of online events for the whole family.
Mayor of Waverley, Paula Masselos, said due to COVID-19 restrictions on public gatherings, the famous kite flying displays at Bondi Beach and live cultural events at Bondi Park have been replaced with an online festival featuring on-demand videos, live performances, online galleries, workshops and activit­­­ies.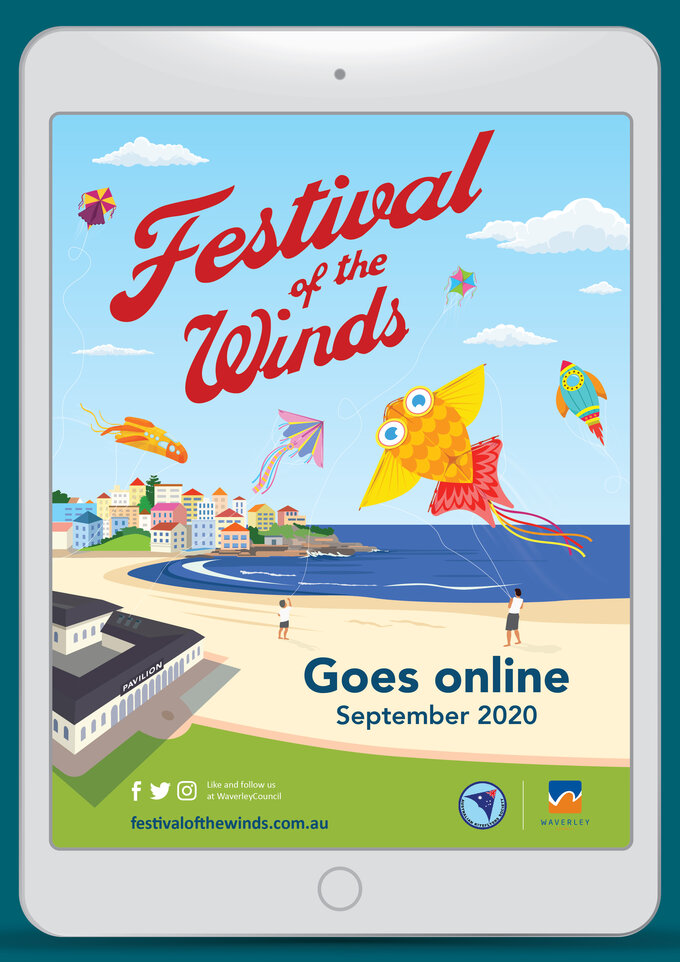 "Generations of residents and visitors have enjoyed Festival of the Winds and we couldn't let this year pass without commemorating this iconic day in our spring events calendar," Mayor Masselos said.
"There won't be the thousands of kites on Bondi Beach this year but we will be able to share the event with the rest of the world as we go online.
"Community spirit is the driving force behind Festival of the Winds and we're inviting the community to share their memories of past Festival of the Winds by uploading their photos to our event website festivalofthewinds.com.au.
"We would also love to see how families will be celebrating this year, whether it's in the backyard or at a local park, by tagging your photos on our social media."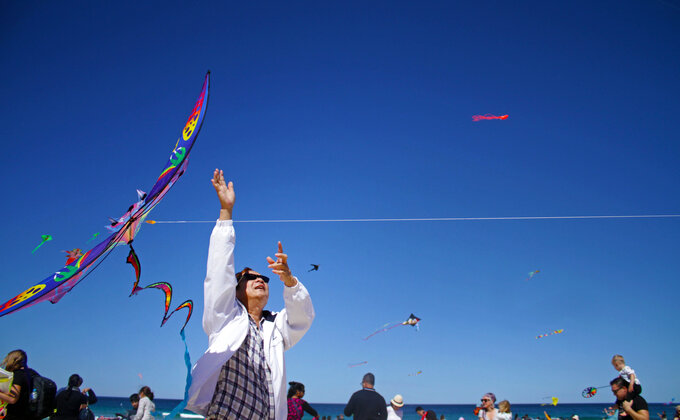 The Festival of the Winds online offering kicks off with on-demand kite-making videos and a green electricity talk on Thursday 10 September hosted by Waverley Council's Second Nature team.
The online program for Sunday 13 September includes:
11am: Let's Go Fly a Kite Online Workshop (6 – 8years) FREE. Join artist Julia Gutman for a kite-flying inspired drawing session.
11.30am: Sydney Improvised Music Association (SIMA) present The Eishan Ensemble featuring Hamed Sadeghi (oud) / Michael Avgenicos (saxophone) / Adem Yilmez (percussion) - Led by acclaimed Persian-Australian tar player and composer Hamed Sadeghi, Eishan Ensemble draws on contemporary and classical music traditions of both East and West.
12pm: Steampunk Poster Online Workshop (9 – 12 years) FREE: For 42 years the Festival of the Winds has been imaging flight in new and unexpected ways. Join Wendy Murray for a fast, fun session exploring the world of poster design using typography tricks and steampunk creations.
12.30pm: SIMA presents Miriam Lieberman featuring Miriam Lieberman (kora/vocals) / Susie Bishop (violin) / Mohammad Bangoura (djeme) - Miriam is a unique singer songwriter, performing on kora ( West African harp) & guitar with her unmistakable voice.
1pm: The Science of Flight Online Workshop (9 – 12 years) FREE: Join Artist and Scientist Laura Jade to create an unusual flying machine and to explore how crafts and creatures manage to take flight.
1.30pm: SIMA presents the Victor Valdes Trio featuring Victor Valdes (harp/vocal) / Mario Melo (Mexican bass) / Atilio Villegas-Vihuela (Mexican guitar) - Victor has been described as a walking encyclopedia of Latin music past and present who has redefined the harp as a solo and lead instrument in a multitude of musical contexts
2pm: 42 Years of Posters Design Online Workshop (Adults) FREE: inspired by the posters of the Festival of the Winds, join international artist and Poster enthusiast Wendy Murray for an at home poster making class. Hear about the history of the festival posters and explore some simple techniques to enhance your design, composition and typography.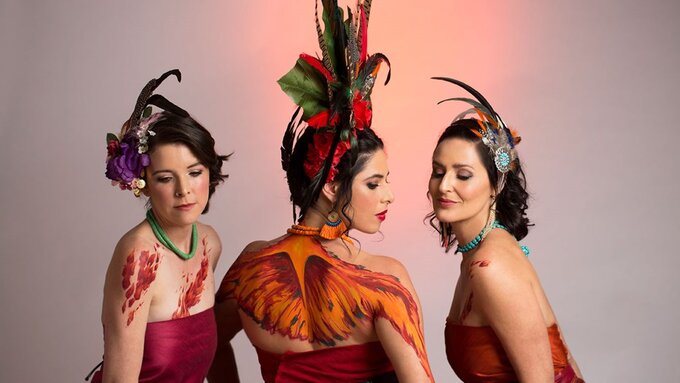 Move to the beat: Vocalist and Bondi local Miriam Leiberman (pictured-center) will be joined by trio member violinist Susie Bishop as well as special guest Mohammed Bangoura for their FOW peformance. Picture: SIMA
REGISTER FOR ALL EVENTS here.
Waverley Council wishes to thank its Festival of the Winds partners Australian Kiteflyers Society, Bondi Surf Club and the Sydney Improvised Music Association.
"The Sydney Improvised Music Association (SIMA) is delighted to partner with Waverley Council to present a program of superb multicultural artists during the 2020 Festival Of The Winds, renowned for its broad cultural experience," a SIMA spokesperson said.
"During these difficult times it's inspiring that these performances can be podcast and enjoyed by an audience throughout Australia and the world."
Don't forget to tag us on social media @WaverleyCouncil (Instagram), @WhatsonWaverley (Facebook) and #festivalofthewinds
For more, visit: festivalofthewinds.com.au
Media inquiries: media@waverley.nsw.gov.au or 0416 075 532