Building Futures helps slash greenhouse gas emissions in the Waverley LGA
15 December 2022
Waverley Council's award-winning Building Futures program has helped another nine strata apartments in the local area collectively slash their common area energy usage by 20 per cent and greenhouse gas emissions by 277 tonnes in just 12 months.
Building Futures is a free building efficiency and retrofit program launched by the Council in 2018 to help strata apartments with more than 35 apartments easily identify and implement cost-saving solutions to reduce operating costs, common area energy use, greenhouse gas emissions, water usage and improve waste management.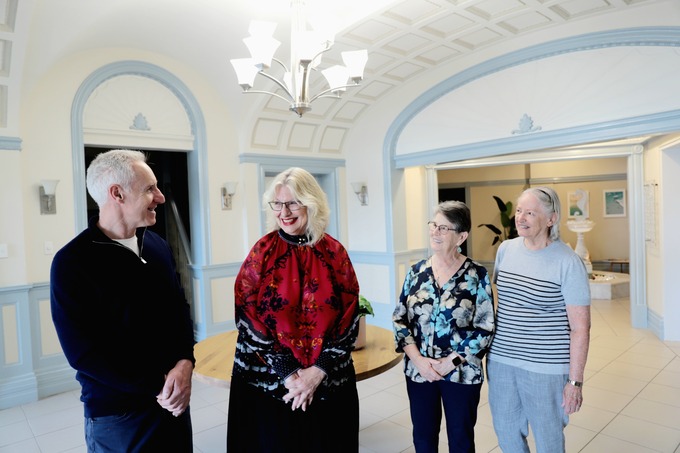 Mayor Paula Masselos (in red) with representatives from the Astra Retirement Village, Bondi Beach. The Astra was one of the participant buildings in Round Three of the Building Futures program.
The program has won a slew of awards to date, most recently including the Local Government Federation Award for Environmental and Sustainability Leadership in November 2020 and the NSW Local Government Award in the Towards Net Zero Emissions category in 2019.
Round Three participant buildings helped achieve the energy and cost-savings by:
Replacing common area fluorescent lights with LED lights and step dimmer controls, for example in carparks and fire stairs
Optimising the performance of the centralised air-conditioning system.
Ensuring major HVAC equipment did not run outside office hours.
Mayor of Waverley, Paula Masselos, said having these measures in place means participant buildings will be able to enjoy their new-found energy and cost savings year after year.
"Building Futures is just one of the ways the Council is helping the community achieve net zero carbon emissions by 2035, a target declared by the Council in March this year," Mayor Masselos said.
"It's a great example of how easy it is to make sustainability second nature on a large scale in an area as populous as Bondi Junction and Bondi Beach.
"Residents who live in our participant buildings should be very proud of the being a 'Building Futures' building and what that means for the planet."
Participant buildings in this latest round of the program were:
Berkley Court, Beach Rd, Bondi Beach
136 Curlewis St, Bondi Beach
Princess Gardens, Princess St, Rose Bay
17-23 Victoria St, Queens Park
Bondi Beach Astra Retirement Village, Bondi Beach
Boheme, Hall St, Bondi Beach
Park Place, Waverley St, Bondi Junction
Encore, Oxford St, Bondi Junction
The Beach House, Campbell St, Bondi Beach
The energy savings recorded equate to an electricity saving of 325,861 kWhs per annum and cost savings of more than $67,000 (excluding GST) each year. Participant buildings also saved on average $1,400 per site by moving onto the correct electricity and gas tariffs.
Generally, the cost to implement the various energy saving measures is recouped within two-a-half years, with some projects paying off in as little as a few months.