Bondi to Cronulla Lifeguard Challenge
6 March 2020
It's a grueling 30km challenge that pits some of Sydney's fittest and fastest lifeguards against each other, all with the aim of raising funds for kids in need.
And this year the annual Bondi to Cronulla Lifeguard challenge from 6.30am on Sunday 15 March is once again set to draw fierce competition between lifeguards from Waverley, Randwick and Sutherland Shire Councils as they battle it out for supremacy across sand and surf.
But it's not just bragging rights that each crew will be vying for, with lifeguards from each Council leading fundraising efforts in support of Sydney Children's Hospitals Foundation (SCHF).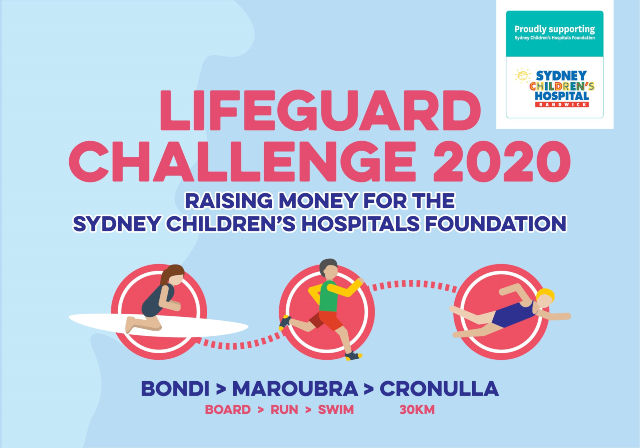 Waverley Mayor, Paula Masselos, said the Waverley Lifeguards are more than up to the challenge.
"The Lifeguard Challenge is a wonderful initiative we look forward to every year. I think it's great for our women and men in blue to raise money and awareness for the Hospital," Mayor Masselos said.
"Our Lifeguards do the important job of keeping our beaches safe, whilst the Sydney Children's Hospital work tirelessly to help keep sick children safe. I have had firsthand experience of the wonderful care the Sydney Children's Hospital gives to sick children, when my own son was admitted as a patient. I am sure the money raised will go to good use".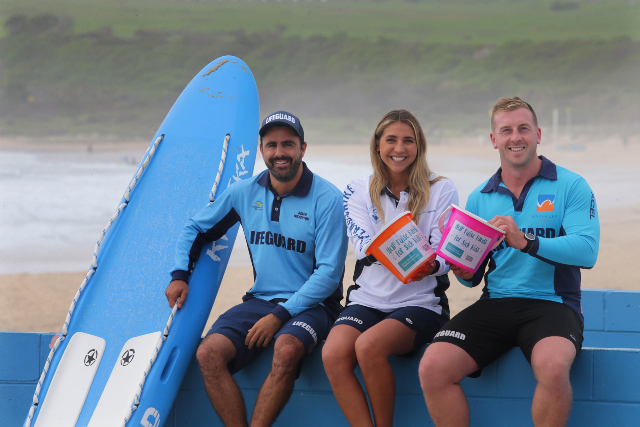 Winners are grinners: Will Bigelow (pictured far right) is among the Waverley Lifeguards taking part in the annual challenge.
Randwick City Mayor, Danny Said also threw his support behind the event, saying that Randwick's dedicated lifeguards were not only keen to support an incredible cause, but were aiming to beat out strong competition from their compatriots down the coast.
"I have full confidence that our Lifeguards will do us proud in the Lifeguard Challenge. They work hard all year to keep their skills, training and fitness levels at the top of their game, and I'm sure this will be evident when race time comes around," said Mayor Said said.
"I encourage everyone in each of the Council areas to get out, support and cheer on the Lifeguards during the race as it really lifts their spirits and pushes them on. There will also be lots of opportunities to help raise money for the Sydney Children's Hospital along the route, so it's worth digging deep."
Sutherland Shire Mayor, Carmelo Pesce said the event always draws strong support from residents lining the course or gathering at the finish line to cheer on their local lifeguards, with attendees also readily reaching into their pockets in support of a worthy cause.
"The staff at Sydney Children's Hospital at Randwick deliver lifesaving specialist care to kids who are seriously ill or injured, including many families from the Sutherland Shire," Mayor Pesce said.
"It's obvious there is a deep appreciation in our community of the vital role played by staff at Sydney Children's Hospital in treating young people in need of urgent medical care, which is why this event continues to draw such incredible support.
"Sutherland Shire's lifeguards are very proud of the work they have done in spearheading this fundraising challenge.
"I know they can't wait to reignite the rivalry with their colleagues from Randwick and Waverley, and I encourage our entire community to join us at the finish line to cheer our local legends on!"
In previous years the competition has helped cover the cost of vital lifesaving equipment, including trauma beds for the emergency department and an ambulatory EEG monitor to help with the assessment of children's seizures.
Sydney Children's Hospitals Foundation Community Partnerships Manager, Clare Sayer said all funds raised would once again be put towards the purchase of much needed medical equipment.
"The Sydney Children's Hospitals Foundation has a vision to ensure that every child - now and in the future - can access world-class medical care whenever they need it. This is only possible through the ongoing support from our generous community groups such as our local councils and lifeguards," Ms Sayer said.
"We're extremely grateful to our local councils of Randwick, Waverley and Sutherland Shire, and especially the participating lifeguards, for the opportunity to provide a platform to build awareness for fundraising of the Sydney Children's Hospitals Foundation."
The Lifeguard Challenge continues to be a great family day out supporting your local community and a very worthy cause, with particularly strong crowds expected to attend a finish line BBQ event from 10:30am at Cronulla Beach.
The challenge is set to take off from Sydney's iconic Bondi Beach at 6:30am on Sunday 15 March.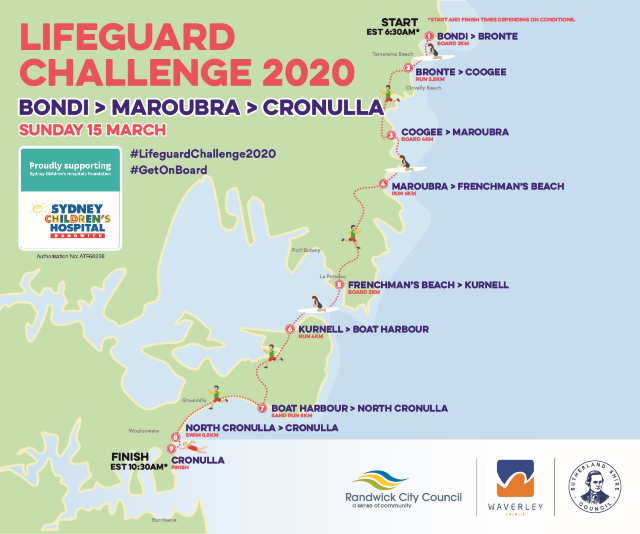 The first leg of the course is a 2 kilometre paddle board to Bronte Beach.
Bondi Beach – Bronte Beach: Board Paddle 2km
Bronte Beach – Coogee Beach: Run 3.5km
Coogee Beach – Maroubra Beach: Board Paddle 4km
Maroubra Beach – Frenchman's Beach: Run 6km
Frenchman's Beach – Kurnell Beach: Board Paddle 2km
Kurnell Beach – Boat Harbour: Run 4km
Boat Harbour – North Cronulla: Sand Run 5km
North Cronulla – Cronulla: Swim 0.5km
On the day, people can watch the lifeguards put themselves to the test from vantage points along the course. At certain running points, lifeguards will be carrying donation tins for onlookers to donate.
To make a donation online, visit our 2020 Lifeguard Challenge donation page: https://www.fundraiseforsydneykids.org.au/fundraisers/Lifeguardchallenge/lifeguard-challenge-2020
and share the spirit by tagging #2020LifeGuardChallenge #GetOnBoard on socials.