Bondi Pavilion housewarming artists bring our restored heritage venue to life
26 July 2022
Waverley Council has welcomed its new Artists in Residence to Bondi Pavilion in the lead-up to the community reopening of the newly restored heritage building in spring.
The seven new housewarming artists and artist collectives are bringing their powerful and engaging art and ideas to the restored Pavilion, supporting its 'artist-first' ethos.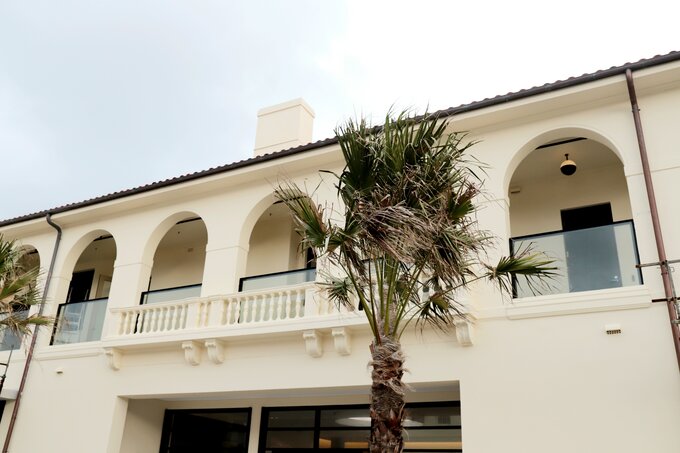 The final touches are being made to Waverley Council's stunning transformation of Bondi Pavilon. Picture: Waverley Council.
Mayor of Waverley, Paula Masselos, welcomed the artists to the heritage building on Thursday for a special site visit ahead of lead contractor Buildcorp's final touches to the restoration works.
"We are very excited to welcome the housewarming artists to the new Bondi Pavilion to test and activate its spaces and celebrate our diverse art and culture," Mayor Masselos said.
"Our artists were selected from a range of disciplines and levels of experience and will each participate in one to two-week residencies in the Bondi Pavilion Theatre, Art Gallery, the Seagull, High Tide and Yalagang Rooms and the Music, Art and Pottery Studios."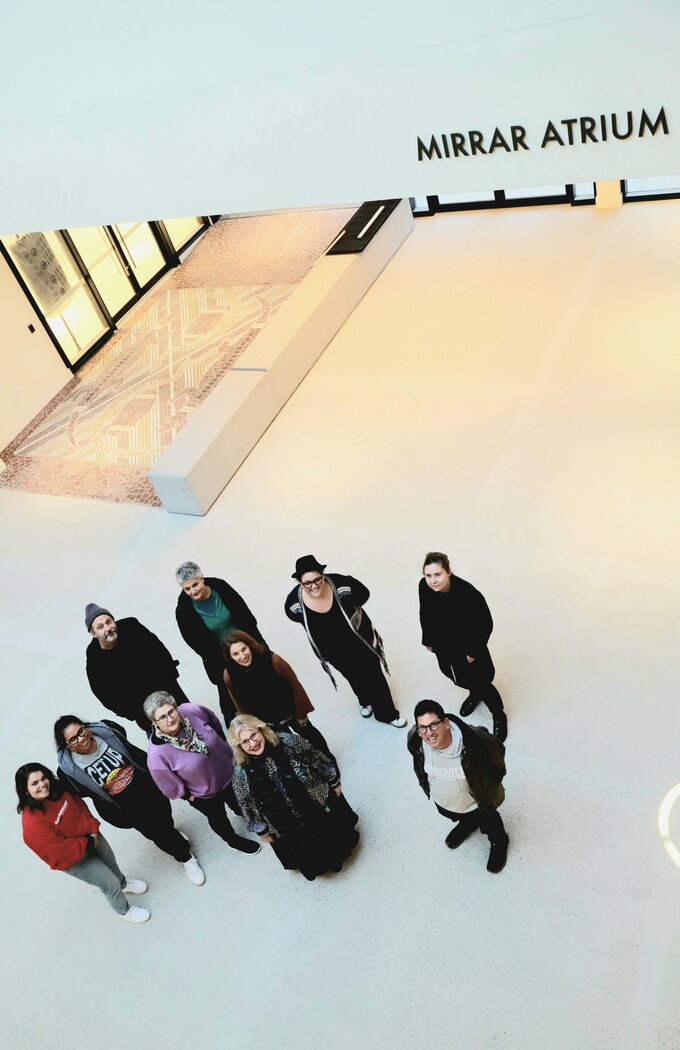 The housewarming artists are:
Composer and performer Elizabeth Jigalin who will be composing a new soundtrack to accompany the 1926 silent film Beautiful Bondi about the lives and surrounds of Waverley residents in that era
Multidisciplinary artist Dr Sarah Jane Moore of Bondi will be collaborating with fellow artist Dr Steven Durbach (aka Sid Sledge) on a new work and will spend the second week of her residency focusing on the development of her one-woman show, Behold, Belong, Become
Director and producer Sally Sussman of North Bondi will be developing a site-specific audio guide traversing the streets from South Head Cemetery, Vaucluse to Bondi Pavilion
Lost All Sorts Collective is a multi-disciplinary collective of independent First Nations artists from many different Nations, all of whom graduated from the NAISDA Dance College, Australia's leading Indigenous dance college
The Joanna Cole Collaboration comprises women with strong connections to Bondi, each responding to the landscape and community, each working in diverse media
Anna Munster and Michele Barker will collaborate with singer Nadia Piave and local community groups orientated to surfing and mental health to develop Holding On, a series of audiovisual performances
Felicity Nicol will continue to develop her new work Political Animals, a historical exploration of the role of protests, parties, politics and the personal in the LGBTQIA community.
Council is planning a massive community event a little later in the year to celebrate the reopening and showcase the Pavilion's revamped and expanded cultural and recreational spaces in all their glory.
The building will be activated to give the community a taste of what to expect from the beloved, re-invigorated beachside venue, including live entertainment and music for all ages.
"There is such growing excitement in the community about the reopening as more and more of the building and our world-class restoration works are revealed" Mayor Masselos said.
"It has been an honour for everyone working on this project to bring the building back to life and for Council to retain the building as a cultural and community centre for future generations, including welcoming our Housewarming artists."
Key features of the restoration and conservation works include:
an updated art gallery
new cultural spaces including the 'Bondi Story Room'
two dining venues (a restaurant and a café)
better connection from Campbell Parade to the beachfront.
larger Pottery Studio including a second kiln
new toilets, showers and a family and accessible bathroom and change space
expansive refurbishments and upgrade to all the Pavilion's unique existing rooms
landscaped internal courtyard spaces
new grand entrance to the north and creating additional east-west connections through the Pavilion
The Pavilion restoration was designed by architects Tonkin Zulaikha Greer (TZG) who have integrated the outdoor and indoor spaces, connecting beautiful Bondi Beach to the parklands and Campbell Parade, whilst celebrating the rich history of the building.
Bondi Pavilion began life in 1911 as the Bondi Surf Sheds, a collection of 1000 dressing shed 'boxes' for men (750) and women (250). The current building, designed by architectural firm Robertson and Marks in the Georgian revival and Mediterranean styles, opened on 20 July 1929 and originally housed the Turkish and Hot Sea Water Baths.