Bondi Junction Cycleway and Streetscape Upgrade in its final stage
UPDATE 31 August 2022
Cycleway works on Oxford Street, west of St James Road, start on Monday 5 September.
This stage of works, shown on the map below, are expected to take three to four months to complete, weather permitting.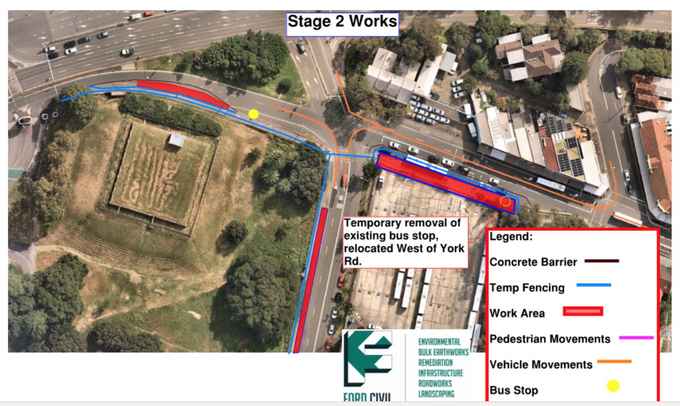 During construction of this stage, the westbound bus stop on Oxford St will be relocated west of York Rd and signage will be in place to direct customers to the alternative bus stop.
Customers can plan their trip by visiting transportnsw.info or calling Transport Info on 131 500.
Works will be carried out site during the day between 7am and 5pm, Monday to Friday and from 8am–3pm Saturdays (weather permitting). As previously notified, three weeks of night works started on Sunday 28 August. Night work times are 8pm–5am, Sunday to Friday (weather permitting). Please keep to speed limits and follow signs and traffic controllers' directions.
The cycleway is a state government initiative delivered by the Council as part of the Australian & NSW Governments' commitment to stimulating the NSW economy.
8 August 2022
The Bondi Junction Cycleway and Streetscape Upgrade is on track for final completion in summer with works starting today on the remaining 210 metre-section of the cycleway along Oxford Street, west of St James Road.
Construction will take around 18 weeks to complete, weather permitting, and will be held in three stages to minimise disruption.
The Bondi Junction Cycleway is Council's largest sustainable transport project to date and links Bondi Road to York Road via Bronte Road, Spring Street, Oxford Street and Denison Street, providing a connection to the city on existing cycling infrastructure.
Waverley Council officially opened the cycleway (Bondi Road to St James Road section) in June this year and more than 3000 trips are being taken on the route each week.
Member for Vaucluse Gabrielle Upton said the Bondi Junction Cycleway delivers an important active alternative to travel between Bondi and the city.
"This is another example of how the NSW Government is delivering safe cycling infrastructure for cyclists in our local community. It will also ease congestion on our local roads and the upgrades to pathways including the planting of new trees, garden beds, street furniture and lighting will improve the street amenity for everyone," Ms Upton said.
Mayor of Waverley, Paula Masselos, said the cycleway has transformed connections for cycling, walking and access to public transport in Sydney's east.
"It allows people of all ages and abilities, including families, to hop on a bike and travel safely from A to B and beyond, and we are excited that construction is on the home stretch," Mayor Masselos said.
The Bondi Junction Cycleway and Streetscape Upgrade is a priority project of the Council's Complete Streets plan to enhance the vibrancy of the Bondi Junction CBD, making it a more beautiful place to live, visit and do business.
It also aligns with Council's vision to reduce car travel overall and help Council achieve its new community greenhouse gas emission target of net zero by 2035, as announced by Council in March this year.
"We know that a separated cycleway is best practice infrastructure, and since the bike link was first proposed, extensive work was undertaken to achieve a world-class design," Mayor Masselos said.
"Throughout this project, Council has been working closely with our local businesses to support their needs during construction and we value these relationships as we continue to see an increase in visitation to the Bondi Junction CBD during this vital period of economic recovery after lockdowns, and this project supports that."
All the pathways and streets along the cycleway have been upgraded with new street furniture and garden beds and 57 trees have been planted along the route.
"These new trees are part of our commitment to increasing tree canopy in our area to help cool our dense urban spaces, with temperatures likely to increase further under projected climate change," Mayor Masselos said.
The upgraded streetscape will greatly improve safety, accessibility and the general aesthetic around Bondi Junction, and businesses are reporting increases in foot traffic and visitation. The public infrastructure enhancements Council has delivered are also expected to improve locality values.
To enhance the safety of the cycleway, Council is launching an awareness campaign for pedestrian and bike riders, including increased signage and education.
Properties along the final leg of route have been notified of works. During construction of the first stage, the eastbound kerbside approach lane to Nelson Street will be closed for about five weeks and the eastbound bus stop on Oxford St will be relocated east of Denison St.
See maps: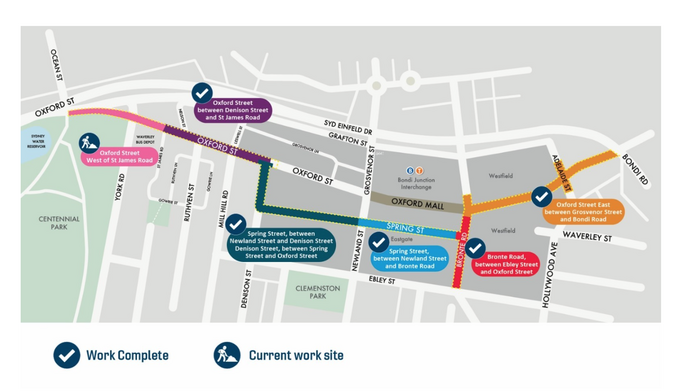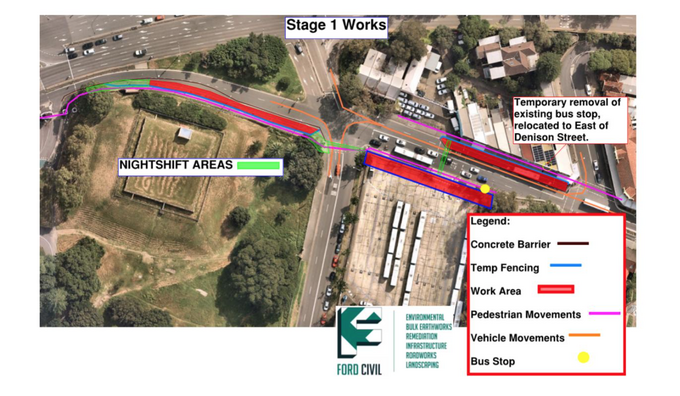 Waverley Council acknowledges its stakeholders on the project including the Waverley Cycling Advisory Committee, Scentre Group [operators of Westfield], Eastgate shopping centre, BikeEast, Bicycle NSW and Walk Sydney.
As part of the Australian & NSW Governments' commitment to stimulating the NSW economy, funding was provided to Waverley Council deliver this project.