Bondi Junction Cycleway and Streetscape Upgrade enters next stage
10 February 2020
Stage 3 of the Bondi Junction Cycleway and Streetscape Upgrade will begin in March on Spring Street between Newland Street and Bronte Road.
To minimise impacts on residents and businesses, works will be carried out in two phases, each taking 12 weeks to complete.
New street furniture, garden beds, footpaths, paving, lighting and additional trees will be installed on both sides of the street, beginning on the southern side. Around May/June, the same works will commence on the northern side of the street and include installation of the two-way cycleway.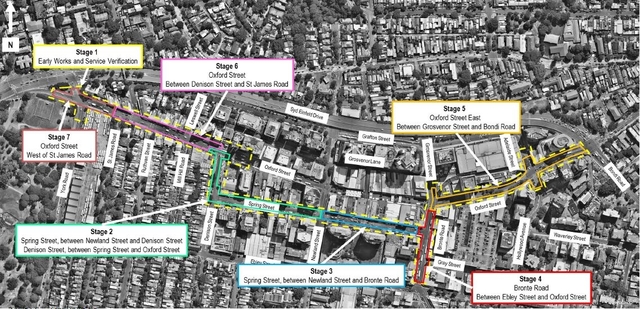 Loading zones will remain on either side of the road throughout construction, and once completed, parking will be reinstated on both sides of the street.
The Council has been working with businesses to prepare a traffic management plan to assist with deliveries and truck movements. The contractor Ford Civil will always provide access to residents and businesses/shops and will work with commercial tenants to make the works as efficient as possible.
The Bondi Junction Cycleway and Streetscape Upgrade is part of Waverley Council's Complete Streets plan to enhance the vibrancy of the Bondi Junction CBD, making it a more beautiful place to live, visit and do business. The cycleway will improve connections for cycling, walking and access to public transport and is Waverley's component in the state government's Eastern Suburbs Cycleway.
The project is for a separated two-way cycleway through the Bondi Junction commercial centre linking Oxford Street, Syd Einfeld Drive and Bondi Road intersection to an existing cycleway at the north eastern corner of Centennial Park.
Information drop-in sessions will be held at Level 2, Mill Hill Community Centre, Spring St, Bondi Junction for:
General community: Thursday 13 February. Session 1: 10am-12pm. Session 2: 4pm – 6pm
Businesses: Thursday 20 February, 2pm to 6pm.
If you cannot make one of the drop-in sessions, feel free to call:
Olivia Lavelle, Community Liaison, Ford Civil, 0437 655 703 (Construction related inquiries).
Eliza Milenkovic, Engagement Officer, Waverley Council, 9083 8322 (Council inquiries)