A new look for one of Australia's most iconic addresses
27 April 2021
Waverley Council is tomorrow, Wednesday 28 April, celebrating the transformation of one of Australia's most famous and picturesque streets.
The Council recently completed its streetscape and safety upgrade of Notts Avenue, Bondi Beach, home to the iconic Bondi Icebergs at the northern entrance to the renowned Bondi to Bronte Coastal Walk.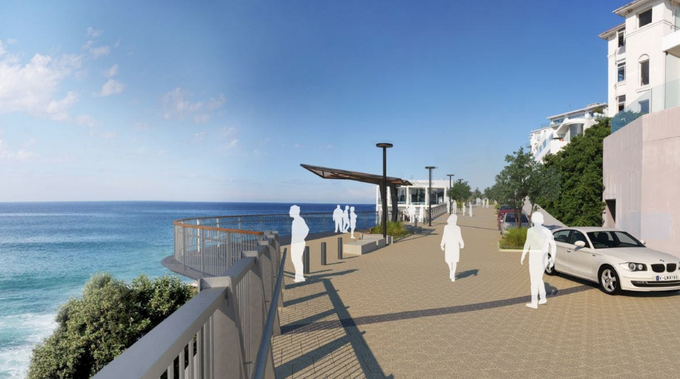 The upgrade includes a spectacular new cantilevered northern lookout, shade structure, mature palm trees, new paving and a 10km/h shared traffic zone.
Mayor of Waverley, Paula Masselos, said the final design for the stunning upgrade had been informed by two rounds of community consultation, with almost all (98.3%) of people who provided feedback in favour of Council's plans for the upgrade.
"The design not only compliments the natural forms of the surrounding coastal environment but enables people to gather to enjoy this glorious view without having to queue up along the path," Mayor Masselos said.
"It also provides improved access for pedestrians using the stairs north of Icebergs, which is really important especially during the height of summer.
"Notts Avenue is such a beautiful place to soak in the view of beautiful Bondi Beach or for visitors to start their journey along the coastal walk.
"Our design consultant Tract Consultants and construction contractor QMC Group have done a wonderful job and we thank them for being a part of this journey with us."
The streetscape and safety upgrade also includes new paving, upgraded balustrades, energy efficient lighting, 20 car parking spots and soft landscaping that will not obstruct views of the Icebergs club.
This project was proudly delivered on time and on budget for the ratepayers of Waverley, visitors and local businesses.
Media are invited to attend Council's official opening of the project at 9.30am, Wednesday 28 April at Notts Avenue. To RSVP, email media@waverley.nsw.gov.au or contact 0416 075 532.
-ENDS-