A message from the Mayor
Friday 8 October 2021
As we prepare for another great weekend in Waverley, I would like to remind the community that current gathering and travel restrictions remain in place until Monday.
Outdoor gatherings remain restricted to five fully-vaccinated adults and the 5km rule on travel applies.
Please, remember to always follow the public health orders (PHOs) and please book a vaccination if you haven't already done so.
We want our residents, particularly those aged 18-30, to get vaccinated as soon as possible so they can return to doing the things that they enjoy.
As of this afternoon, there were 119 active cases of COVID-19 in the Waverley local government area and at least one in ten eligible people are yet to receive their first dose of the vaccine, so we must remain vigilant.
There should be no barriers to accessing vaccines and I am pleased to say that a vaccination centre commenced operation last week at University of NSW Building R14, 22-23 King St, Randwick, between 8am - 4.30 pm three days a week.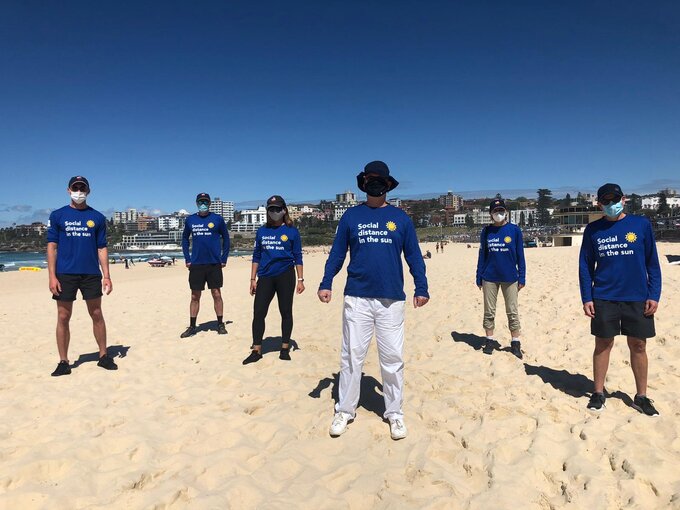 As for our outdoor spaces, our fantastic COVID Ambassadors (pictured-above) are back this weekend to help keep groups COVID-safe by encouraging spacing at our beaches, beach parks and the Coast Walk through education and crowd management.
Our Enforcement officers are also working to extended hours and we remind people that Waverley's beaches and beach parks are alcohol free-zones.
Council manages its public spaces in line with the directions outlined in the PHOs for gatherings and other activities, and health advice about social distancing, as per our Summer Operational Management Plan.
We are also closely monitoring the NSW roadmap out of lockdown, and will provide updates on Council's facilities and programs as soon as we can.
The Waverley Library click and collect service has successfully started this week with the Library planned be open to HSC students from 18 October and the general public from 25 October. We expect outdoor sports fields to return to use Monday 18 October, and we hope indoor venues will follow a week later. The Customer Service Centre will open on Monday 25 October.
Please follow our Facebook page for updates or check our website for details.
Let's work together to help keep our community #covidsafe
Paula Masselos
Mayor of Waverley