Waverley Mayor welcomes award-winning artist to Bondi
8 November 2019
Award-winning Greek artist Danai Nikolaidi-Kotsaki is taking part in Sculpture by the Sea as part of an initiative of the Mayor of Waverley, Councillor Paula Masselos and developed by the Hellenic Club of Sydney and members of the Greek Australian community.
The talented 27-year-old Greek artist received the inaugural $20,000 Greek Artist Program for Sculpture by the Sea, Bondi, 2019. The program was developed with help from the Consulate General of Greece in Sydney with the aim of presenting Greek artistic talent and to help raise Greece's profile in the art world.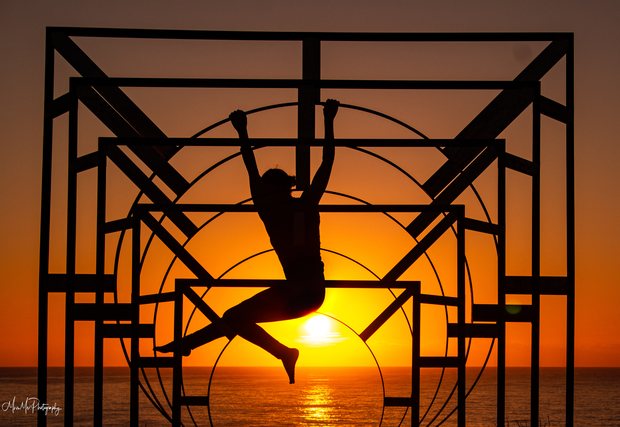 Danai Nikolaidi-Kotsaki pays homage to her artwork with a breathtaking performance. Photo: Kim Kench @MumMe Photography, Tamarama.
The piece showcased at Sculpture by the Sea was created using steel, stainless steel, train rails and scrap materials from railways.
Mayor Masselos said Waverley Council and the residents of Waverley have proudly supported this world-famous event for the past 23 years.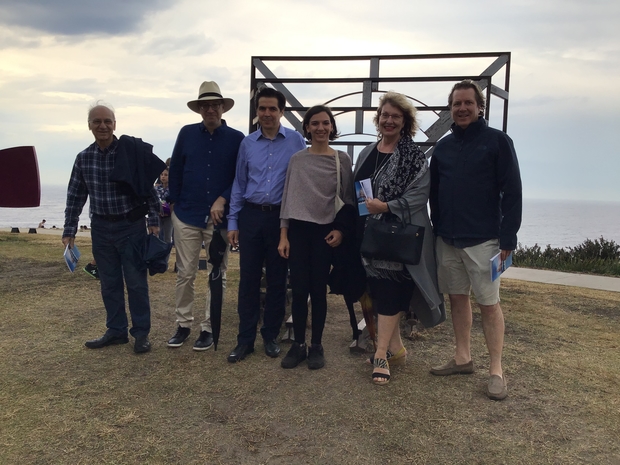 Prof Elias Masselos, Councillors Steven Lewis, Christos Karras, Greek Consul General, Sydney, Danai Nikolaidi Kotsaki, artist Danai Nikolaidi-Kotsaki, Waverley Mayor, Paula Masselos and Sculpture by the Sea founding director, David Handley viewing the sculpture at Marks Park.
"I am delighted to continue to offer our iconic coastal walk from Bondi to Tamarama Beach and our community headland park, Marks Park, as the setting for this event," Cr Masselos said.
"I have a long history within the arts sector and a great respect for the endeavours of the Sculpture by the Sea artists and look forward to what they have in store for the community this year."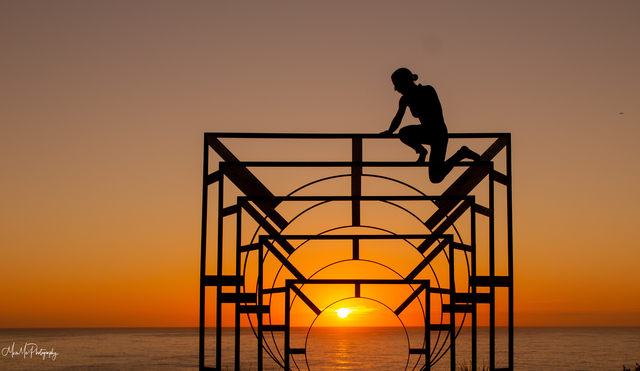 Visitors to Sculpture by the Sea can view Danai Nikolaidi-Kotsaki's performance at 5.45am and 7.15pm tomorrow, Saturday 9 November. Photo: Kim Kench @MumMe Photography, Tamarama.
Signalling the beginning of summer, Sculpture by the Sea draws up to 450,000 visitors over 18 days. It is held along two kilometres of the Eastern Suburbs coastline with more than 100 works by sculptors from Australia and around the world.
Waverley Council supports the event to the tune of around $150,000 each year. This is mainly for work done in kind, including covering the cost of turf remediation, venue usage and traffic control around Marks Park. This $150,000 also includes $20,000 in grants, including $5000 in the form of a Small Grant for 'Tactile Tours'.