Waverley gets festive
12 December 2019
Waverley Council is helping spread the joy this holiday season with a festive lights community initiative, window display competition, Christmas carols in Oxford Street Mall and plenty more.
As part of Mayoral Minute, Council is encouraging residents to get into the festive spirit by decorating their homes with colourful lights and to share images of their festive displays and streets using the hashtag #WaverleyGetsFestive.
Mayor of Waverley, Paula Masselos, said many streets in Waverley are famous throughout Sydney for their Christmas and Chanukah displays.
"This spontaneous community response enlivens our residential streets and creates wonder, joy and excitement for many in our community," Mayor Masselos said.
"The purpose of our Council motion is to celebrate and acknowledge what is already taking place in our community and to encourage more residents to get into the festive spirit.
"We want to see lots of photos of our residents' hard work via Council's Facebook and Instagram."
You can check out Waverley Council's festive light displays at:
Campbell Parade, Bondi Beach
Corner Blair and Curlewis St, North Bondi
Oxford Street Mall, Bondi Junction (check out the big Christmas tree!)
Norman Lee Place, Spring Street, Bondi Junction (next to Mill Hill Community Centre)
Charing Cross main intersection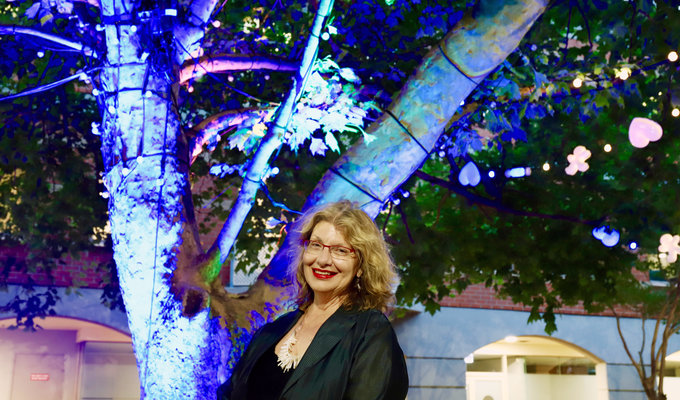 (Above) Council's festive lights display in Normal Lee Place, Spring St, Bondi Junction.
Council's giant public Menorah will be at Oxford Street Mall from 20 December and lit each evening by Rabbi Mendel Kastel from the Great Synagogue Sydney.
"We are proud to support public Menorah lightings which are important reminder of the history and story of Chanukah," Mayor Masselos said.
The Sunshine Singers and Cassy Darvall will be carolling in Oxford Street Mall from 11.45am to 1.15pm (break for lunch) on December 18, 19 and 20. This comes off the back of their beautiful performance last night at Waverley Council's Carols by the Sea at Bondi Beach.
The Waverley Library mobile library returns to the Oxford Street Mall markets on Wednesday 18 December.
Small business in Charing Cross and around Hall and Gould streets, Bondi Beach, are also encouraged to enter our Christmas window competition. All windows will be in the running to win one of three fantastic prizes for their team party. Entries close 18 December with winners announced on 20 December. To register, visit https://www.waverley.nsw.gov.au/recreation/events/holidays_in_waverley/christmas_window
-ENDS-