South Bronte Amenities and Community Centre upgrade
3 May 2019
Waverley Council's South Bronte Amenities and Community Centre upgrade project has entered its next phase, with the final concept design open for community feedback on 6 May 2019.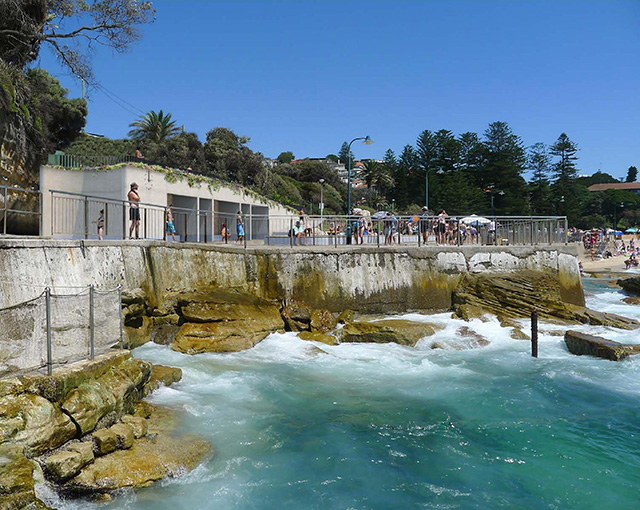 Following two rounds of community consultation, architects Panovscott has developed a final concept design (pictured) which includes:
additional outdoor showers
additional shower in the female amenities
Additional wash basins in male and female amenities
larger female, male and family/accessible amenities
exposed stonewall incorporated into the design
functional and accessible interiors and roof terrace
light and airy internal spaces
Waverley Mayor, John Wakefield, said project will enhance the amenity and quality of the facilities at South Bronte to support the growing needs of residents and visitors.
"We want to know the community's thoughts about the concept design which the community and key stakeholders including local swim clubs and Bronte Surf Lifesaving Club have helped inform," Mayor Wakefield said.
"The community told us during consultation for the Bronte Park and Beach Plan of Management (POM) 2017 that the upgrade of the area, particularly the amenity building, is a top priority, and we listened.
"We then conducted a needs analysis in July 2018 which lead to the development of three floorplan options based community consultation, the needs of current users of building and the information provided in the POM.
"Architects Panovscott used the results of the previous consultation findings, along with feedback received during our community consultation workshops to develop a hybrid option of the most preferred options, which is now on public exhibition.
"This will be the final opportunity for wider community contribution, and feedback from final consultation will be provided to architects to review, and this will be included in the DA and detailed design stage.
"The end result will be a beautifully designed new amenities building responding to the needs of immediate stakeholders, locals and visitors of this space.
"The South Bronte Amenities and Community Centre will be a notable addition to Bronte Beach for generations to come."
The concept designs are on public exhibition until 6 June 2019. To provide feedback, please complete the survey at https://haveyoursay.waverley.nsw.gov.au/.