Plan your trip to Festival of the Winds 2019
23 August 2019
Almost 70,000 people are expected to visit Bondi Beach on Sunday, 8 September for Waverley Council's 41st annual Festival of the Winds.
Visitors are strongly encouraged to catch public transport and leave the car at home as traffic will be heavy on roads within and approaching Bondi.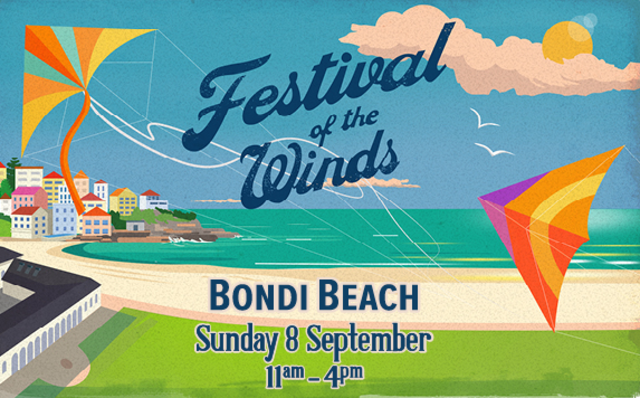 Additional route 333 bus services will run between the city, Bondi Junction and Bondi Beach but allow plenty of extra travel time as services will be in very high demand and long queues are expected. Alternatively, the walk from the station to the beach is around 25 minutes via Bondi Road.
Festival of the Winds was founded in 1978 at Bondi Beach and is held in partnership with the Australian Kiteflyers Society.
Waverley Mayor, John Wakefield, said it had become one of the world's largest kite flying festivals.
"Festival of the Winds isn't just for professionals, anyone can bring a kite and see it fly in the sunny skies above Bondi Beach and Park," Mayor Wakefield, said.
In addition to the kite flying displays, there will be live entertainment and multicultural performances on Council's festival main stage, food stalls, kid's entertainment and kite making workshops.
Internationally acclaimed artist Michaela Gleave also brings her famous durational performance 7 Hour Balloon Work to Bondi Pavilion gallery, 5-22 September, for Festival of the Winds. The exhibition documents a live video performance where for seven hours the artist sat in her studio in Berlin continuously blowing up balloons, gradually filling the space until she buried herself under her labours. The archival footage of the performance has been rendered down into 17 minutes for the Bondi exhibition where visitors will have an opportunity enjoy the balloons.
For more visit, waverley.nsw.gov.au or https://transportnsw.info/events/2019/09/festival-of-winds
-ENDS-