Bondi to Manly Walk now officially open!
Sunday 8 December
Representatives from all three levels of Government in Australia came together today to officially open an 80km public walking track from Bondi Beach, around the harbour foreshore, all the way to Manly Beach.
As of today, walkers will be able to set out from Bondi Beach, and follow the distinctive Aboriginal Whale Symbol signs, installed along the walking path, all the way to Manly (see map here). A digital walking app is also available.
Over 350 of these distinctive "way marks" have already been installed, with over 500 individual signs, planned for the 80km walking track, ensuring the path is well signed for the length of this world-beating urban walk.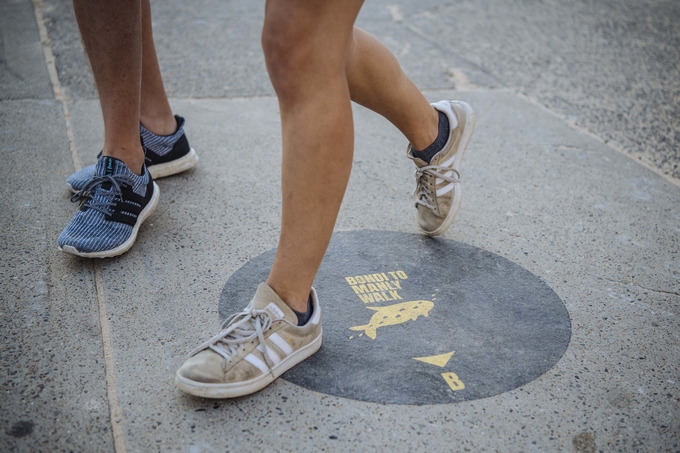 The walking track, which is all on existing public land, was opened by representatives from the Local Aboriginal Land Councils, the Commonwealth Government, as well as Ministers from the New South Wales State Government, and Mayors from all the relevant Councils.
View the Bondi to Manly Walk on Google Maps here.
The Walk is rich in Indigenous heritage and includes four iconic Australian landmarks, the Sydney Harbour Bridge, Sydney Opera House and our two most famous surf beaches - Bondi Beach and Manly Beach.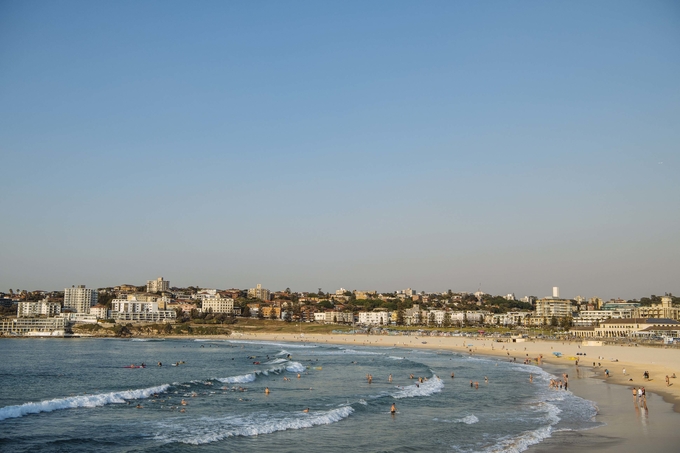 It will provide an unsurpassed experience to explore Sydney and discover our beautiful natural harbour, incredible cultural gems and rich heritage.
The Bondi to Manly Walk is the product of a collaboration between all six Councils along the Walk (City of Sydney, Mosman Council, North Sydney Council, Northern Beaches Council, Waverley Council and Woollahra Council); seven state agencies (NSW National Parks and Wildlife Services, Place Management New South Wales, Roads and Maritime Services, Port Authority of NSW, the Royal Botanic Garden Sydney, Sydney Opera House, Taronga Zoo) and at the Federal level, the Sydney Harbour Federation Trust, as well as supporting partners; the La Perouse and Metropolitan Local Aboriginal Land Councils, Destination NSW and the Greater Sydney Commission.
The partnership to create the Bondi to Manly Walk was officially announced in Sydney on the 25 November 2018. Today that partnership has become a reality; a fully signed posted, and digitally mapped walking track, and a truly world-beating long distance urban walk.
The key Bondi to Manly Walk locations in the Waverley local government area include:
* Bondi Beach
* Ben Buckler
* Hugh Bamford Reserve
* Dover Heights Coastal Reserves
* Rodney Reserve
* Dudley Page Reserve
* Diamond Bay Reserve
Comments from partners who collaborated on the Walk:
Rob Stokes, Planning and Public Spaces Minister: "The Bondi to Manly Walk is a perfect example of the whole being greater than the sum of its parts, and shows what can be achieved when everyone works together to deliver spectacular public space for the whole community to enjoy".
Matt Kean, Minister for Energy and Environment: "For anyone visiting Sydney, Bondi and Manly are two of its greatest attractions. Linking these two iconic Australian gems will provide public access to a world class walk through Sydney's national parks, teeming with natural wildlife and fauna".
Stuart Ayres, Minister for Jobs, Investment, Tourism and Western Sydney: "The Bondi to Manly Walk is a great project to open the Harbour and its foreshore for the people of Sydney to enjoy and share with the world. Cooperation from all levels of government has created a cherished national asset which is arguably one of the most beautiful paths any keen walker can travel".
Nathan Moran, Chief Executive Officer of the Metropolitan Local Aboriginal Land Council: "The Bondi to Manly Walk will showcase all of the beauty that is Sydney aka Eora. Be it the oldest living human culture or the most beautiful natural harbour on Earth".
Paula Masselos, Mayor of Waverley: "I would like to congratulate John Faulkner for bringing together all three tiers of government for this positive initiative and vision. The Bondi to Manly Walk will be a place where visitors and locals alike will come together to celebrate both our stunning coastline and the stories of our Indigenous past. Waverley Council is excited to be working alongside our coastal neighbours to showcase our iconic part of Sydney to the world. The Bondi to Manly Walk has wellness, social and economic benefits as well as highlighting a strong environmental message. This will be a 'must-do' attraction for people young and old".
Susan Wynne, Mayor of Woollahra: "As an avid walker, I love taking in the stunning scenery that Woollahra has to offer and I am delighted that our spectacular harbour foreshore will be showcased as part of the Bondi to Manly Walk. Woollahra Council looks forward to welcoming visitors to enjoy highlights including Camp Cove, Gap Park, Macquarie Lighthouse and our many other magnificent locations along what will no doubt become one of the world's truly great walks".
Clover Moore, Sydney Lord Mayor: "The Bondi to Manly Walk will quickly become an icon that invites thousands of locals and visitors to explore Sydney every year. No other urban walk can offer the significant historic, scenic and cultural wonder of this track, which connects two extraordinary beaches. Not only will it be a boom for tourism and local businesses, it will encourage people to walk, bringing health, social and environmental benefits".
Jilly Gibson, Mayor of North Sydney: "The Bondi to Manly walk will encourage our residents and visitors to explore our beautiful city by foot. When walkers make it to our side of the bridge, they will find there's a lot to see and do, from enjoying a few laps of our historic Olympic Pool to a ride at Luna Park or a visit to Wendy Whiteley's Secret Garden".
Carolyn Corrigan, Mayor of Mosman: "Mosman is so excited to be a partner in this amazing walking trail that joins Sydney's north and east. Mosman is known for its unique and beautiful foreshore walks which cut through bushland and look out across the city, the harbour and the heads to the Pacific Ocean. It is a wonderful gift to share this beauty and provide people from near and far the opportunity to enjoy one of Australia's most spectacular coastal walks."
Michael Regan, Mayor of Northern Beaches: "What a great coup for both Sydneysiders and our visitors to have such an incredible asset hugging our spectacular coastlines and harbour. And from next year when we have completed the Coast Walk, people will be able to continue walking along the beaches from Manly all the way to Palm Beach. "
Mary Darwell, Executive Director, Harbour Trust: "The new Bondi to Manly Walk now connects our unique harbour-side places. These Harbour Trust lands were once locked away from public access for defence and industrial purposes and have now been remediated and opened for public enjoyment. This Walk includes the recently opened Sub Base Platypus at North Sydney. We look forward to inviting visitors to experience these heritage sites, rich in historical value".
John Faulkner, President, Bondi to Manly Walk Supporters: "Bondi to Manly Walk Supporters believes that the unprecedented partnership to establish the Bondi to Manly Walk - developed between so many Departments and Agencies across three levels of government, as well as with the strong support of Aboriginal Land Councils, other non-government organisations and community leaders - will be rewarded with the Bondi to Manly Walk soon to become an internationally recognised multi-day urban walk and the world's best harbour walking experience; a must do for locals, tourists and serious walkers alike".
Bondi to Manly Walk Supporters is a not for profit incorporated association established to help promote the Bondi to Manly Walk. Each of the parties to this joint statement can be reached separately for further media comment.
Details: www.bonditomanly.com
Waverley Council media inquiries: media@waverley.nsw.gov.au or 0416 075 532.
Bondi to Manly Walk Supporters media inquiries: Elle Pacholski, Elle@bonditomanly.com or 0411 783 959.
Photography credit: Destination NSW.