Are you up for the Challenge?
11 March 2019
The 2019 Lifeguard Challenge kicks off at 6.30am on Sunday 17 March at Bondi Beach.
Watch the sunrise and cheer on our Lifeguards as they paddle, swim and run to Cronulla with lifeguards from Randwick and Sutherland Shire to raise money for the Sydney Children's Hospitals Foundation (SCHF).
There will be vantage points along the way, so bring your cheer squad.
To donate, visit our 2019 Lifeguard Challenge donation page www.schf.org.au/fundraisers/lifeguardchallenge2019.
We'll also be collecting donations at several beaches. We hope to see you there!
* Bondi Beach – Bronte Beach: Paddle 2km (departs 6.30am, arrives 6.50am).
* Bronte Beach – Coogee Beach: Run 3.5km (departs 6.55am, arrives 7.20am)
* Coogee Beach – Maroubra Beach: Board Paddle 4km (departs 7.25am, arrives 8.05am)
* Maroubra Beach – Frenchman's Beach: Run 6km (departs 8.10am, arrives 8.50am)
* Frenchman's Beach – Kurnell Beach: Board Paddle 2km (departs 9am, arrives 9.30am)
* Kurnell Beach – Boat Harbour: Run 4km (departs 9.35am, arrives 10.10am)
* Boat Harbour – North Cronulla: Sand Run 5km (departs 10.10am, arrives 10.45am)
* North Cronulla – Cronulla: Swim .5km (arrives from 11am)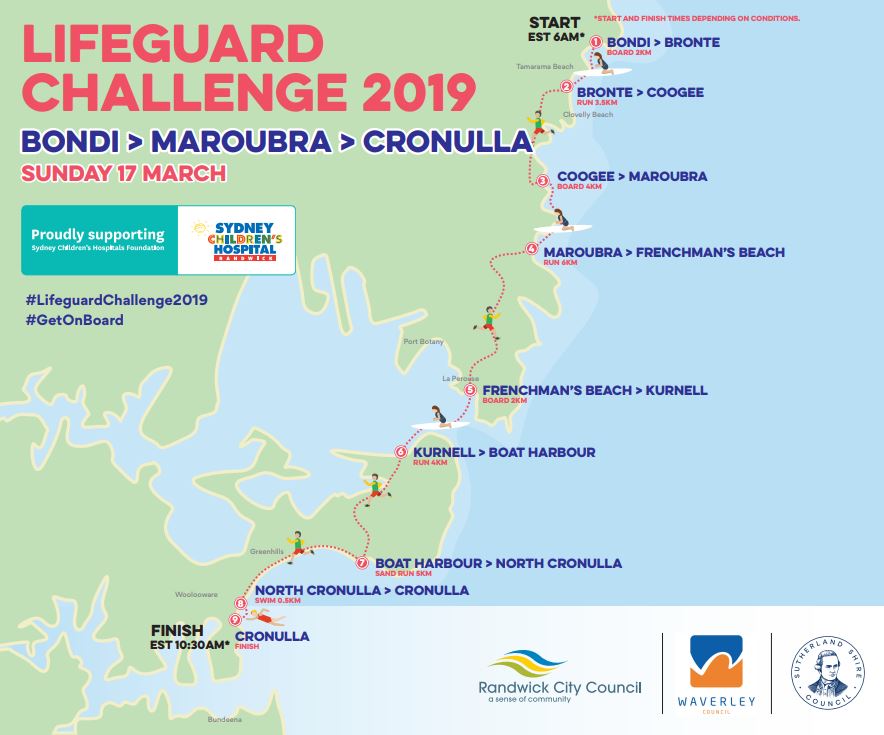 Media inquiries:
Waverley: Deborah Field, 0416 075 532 or media@waverley.nsw.gov.au
Randwick City: Joshua Hay, 0402351459 or joshua.hay@randwick.nsw.gov.au
Sutherland Shire: Amie Lindsell, 9710 0944 or alindsell@ssc.nsw.gov.au