2019 Lifeguard Challenge, Sunday 17 March
17 January, 2019
Lifeguards from Waverley, Randwick City and Sutherland Shire councils are gearing up for the 2019 Lifeguard Challenge: a gruelling 30-kilometre fitness challenge on Sunday 17 March from Bondi to Cronulla via Maroubra to raise money for the Sydney Children's Hospitals Foundation (SCHF).
The course includes swimming, rescue paddle boarding, soft sand running and road running, in a true 'Battle of the Beaches'.
The event begins at 6.30am at Bondi with a 2km paddle board to Bronte Beach (arriving around 6.50am). It is followed by:
* Bronte Beach – Coogee Beach: Run 3.5km (6.55am-7.20am)
* Coogee Beach – Maroubra Beach: Board Paddle 4km (7.25am-8.05am)
* Maroubra Beach – Frenchman's Beach: Run 6km (8.10am-8.50am)
* Frenchman's Beach – Kurnell Beach: Board Paddle 2km (9am-9.30am)
* Kurnell Beach – Boat Harbour: Run 4km (9.35am-10.10am)
* Boat Harbour – North Cronulla: Sand Run 5km (10.10am-10.45am)
* North Cronulla – Cronulla: Swim .5km (from 11am)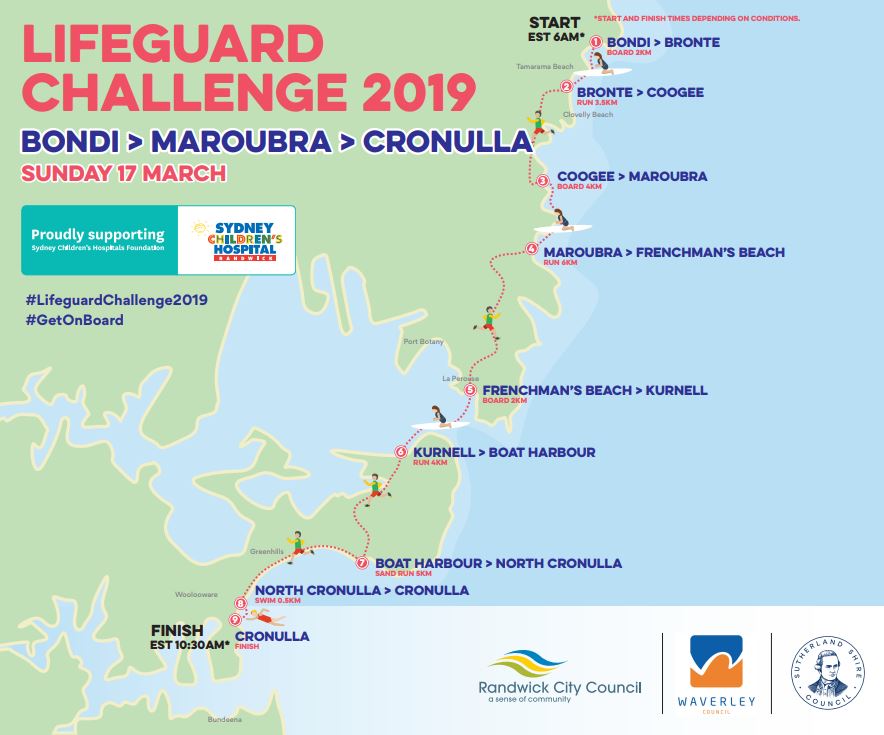 Waverley Mayor, John Wakefield, said the Council was excited to be working with our coastal neighbours at Randwick City and Sutherland Shire to raise money for SCHF.
"As a parent, I have first-hand experience of the superior care the Sydney Children's Hospital provides to families in Sydney's east and all of NSW, and I cannot think of a more valuable organisation to support," Mayor Wakefield said.
"Our Lifeguards not only save the lives of people on the beach, but are doing what they can to help raise money for life-saving equipment to help sick kids.
"I am biased and have to say our lifeguards are going to give the Randwick and Sutherland Lifeguards a run for their money."
Sutherland Shire Mayor, Carmelo Pesce says it's great to see three Councils joining forces for such a great cause.
"Our lifeguards do such an amazing job saving lives on our beaches each year, but they want to do more by helping to give young people in hospital the best chance of living a healthy and long life," Mayor Pesce said.
Randwick Acting Mayor, Danny Said, said he is incredibly proud of the Randwick Lifeguards and the demanding job they do, providing a safe swimming environment for our community.
"I have absolutely no doubt they'll also do us proud in the Lifeguard Challenge because they work hard all year to keep their skills, training and fitness levels at the top of their game, and I'm sure this will be evident when race time comes around," Mr Said said.
In 2018, the Lifeguard Challenge raised more than $16,000 for the purchase of two new trauma beds for the Emergency Department at Sydney Children's Hospital, Randwick.
To donate, visit our 2019 Lifeguard Challenge donation page www.schf.org.au/fundraisers/lifeguardchallenge2019
On the day, people can watch the lifeguards put themselves to the test from vantage points along the course. At certain running points, lifeguards will be carrying donation tins for onlookers to donate.
Media inquiries:
Waverley: Deborah Field, 0416 075 532 or media@waverley.nsw.gov.au
Randwick City: Joshua Hay, 0402351459 or joshua.hay@randwick.nsw.gov.au
Sutherland Shire: Amie Lindsell, 9710 0944 or alindsell@ssc.nsw.gov.au